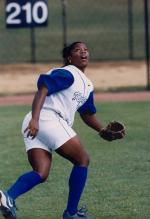 15
Jessica

Nance
class

Junior

High school

Gibbs
2003 – One of three players to start all 56 games … Led the team with 17 stolen bases and moved into fifth on UK's career list … Went 3-5 with 4 RBIs and 2 runs in doubleheader sweep of Morehead State … First career three-hit game against Alabama on March 22 – 3-3 with a triple and 3 RBIs … Matched that feat one week later against Mississippi State going 3-4 with a run and 3 RBIs … Hit a game-winning, bases-loaded triple in season-ending win against #23 Iowa.
2002 – Appeared in 55 games as a freshman, starting in right field 54 times…Had 29 hits…Tied for team lead with three triples…Tied school record by tripling twice in a 9-1 win over Louisville (4/10/02)…Had seven multi-hit games…was third on the team with five multiple RBI games…Had seven game hitting streak (2/4-3/16)…Hit her first career homerun, a grand slam, in 10-2 win over Morehead St. (3/5/02)…Her 13 stolen bases in 15 attempts ranked second on the team.
High School – All-District and All-Region in softball… All-District and All-Region in basketball… Honorable Mention All-State in basketball… John Meyer Award recipient for academic and athletic accomplishments on and off the field.
Personal – Full name is Jessica Nicole Nance… Parents are Alvin and Jackie Nance… Was born Oct. 16, 1983… Chose UK because of its proximity to home… Also considered enrolling at Tennessee, Radford and Maryville.
Nance's Career Stats
Year
AVG
GP/GS
AB
R
H
2B
3B
HR
RBI
TB
SLG%
BB
HBP
SO
GDP
OB%
SF
SH
SB-SBA
2002
.216
55/54
134
14
29
4
3
3
20
48
.358
15
0
52
0
.295
0
4
13-15
2003
.199
56/56
151
15
30
4
3
0
23
40
.265
14
0
52
1
.265
1
6
17-19
Totals
.207
111/110
285
29
59
8
6
3
43
88
.309
29
0
104
1
.279
1
10
30-34
The Nance File
Favorite movie: "The Matrix", "Gladiator"
Favorite band: Three Six Mafia
Favorite type of food: Lasagna
I wear #15 because: My high school number was 30 and 15 is half of that
My favorite sport other than softball is: Basketball
If I could see only one professional sports team play, it would be: Los Angeles Lakers
If a movie was to be made about me, I would like this person to portray me: Tyra Banks
The person I admire most is: Dad
Read more