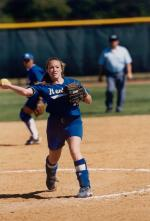 11
Jennifer

Howland
class

Senior

High school

Deer Valley
Kirchner on Howland: "Jen deserves to have a great senior season. She is a hard working player with a great passion for the game. She will provide valuable innings on the mound and at first base."
2001 – Is second at UK in career appearances (80), innings pitched (354.0) and games started (54)… Ranks third on UK's career lists for opponent???s batting average and strikeouts (103)… Career ERA is fourth best in UK history… Started 44 of 49 games played… Finished the season 5-13 with a 4.83 ERA in 30 appearances with 113.0 innings pitched… Ranked fifth in the SEC in games finished with 12… Hit .256 with eight RBIs… Had a fielding percentage of 1.000 on 62 chances… Made 13 relief appearances… Tied the UK single-game record with 15 putouts vs. New Mexico State… Hit her first career triple vs. Pacific (2/16/01)… Pitched a four-hit complete game shutout against Eastern Kentucky (2/28/01)… Hit two singles and pushed across two RBIs in 4-1 win over Georgia (3/7/01 – game 1)… Earned her first career save in UK's 8-5 win over Auburn (4/28/02 – game 2)… Earned a spot on the SEC Academic Honor Roll… Named PNC Bank Scholar Athlete of the Week.
2000 – Started 58 of 59 games… Had nine RBIs and three doubles… Made 22 appearances as a pitcher… Had an earned run average of 2.30… Is in the top three on UK's single season lists for ERA (2.30), shutouts (4) and opponent batting average (.258)… Is in the top five individual single season records for wins with 10… Earned fourth career shutout in Kentucky's first victory of the 2000 season against Purdue… Versus Akron, struck out two batters and did not allow a hit… Hit into a fielder's choice to score a runner against Florida… Set a record against Morehead State for playing four different positions in one game and has now played all nine positions… Inducted into the Omicron Delta Kappa Leadership Society??? Named Academic All-Southeastern Conference.
1999 – Started in 66 games for the Cats… Tied the school record for sacrifice bunts with 11… Hit .249 with 201 at-bats and recorded 50 hits… Scored 23 runs and drove in nine runs… Recorded 15 multiple-hit games… Pitched in 28 games while starting 24 games… Pitched 134.1 innings, three shutouts and 14 complete games, second best on the squad… Won her first career start, an 8-0 victory against Temple (2/19/99) in which she allowed just four hits… Struck out a career high four batters on three occasions… Recorded first-career hit in UK's 3-1 win against Stephen F. Austin (2/13/99)… Went 3-for-4 including a double, two runs, and an RBI in the Cats' 8-2 win over Ohio in the Triangle Classic… Went 3-for-4 with an RBI and scored two runs, while pitching a scoreless two-hitter in UK's 14-0 win over St. Louis (2/27/99).
High School – Earned four varsity letters from Deer Valley High School… Was a member of the 1998 5A State Champions that were ranked No. 10 nationally by USA Today… Posted a pitching record of 21-1 during senior season… Named 1998 first team All-Arizona pitcher… Earned All-City and All-Region honors in 1996, 1997 and 1998… Named 1998 Co-Player of the Year for the city of Glendale… Earned MVP and Most Outstanding defensive player honors in 1998… Was a member of the 1997 state semi-finalist team and the 1996 state runner-up team… Was a member of the 1992 ASA National Champions… Named to Who's Who Among American High School Students and National Honor Society in 1997 and 1998.
Personal – Jennifer Marie Howland was born on March 7, 1980… The daughter of Debbie and Cully Howland.
Howland's Career Hitting Stats
Year
AVG
GP/GS
AB
R
H
2B
3B
HR
RBI
TB
SLG%
BB
HBP
SO
GDP
OB%
SF
SH
SB-SBA
1999
.249
66/66
201
23
50
1
0
0
9
51
.254
7
2
15
0
.280
1
11
2-2
2000
.257
59/58
152
23
39
3
0
0
9
42
.276
9
4
14
2
.313
1
2
4-7
2001
.256
49/44
121
13
31
2
1
0
8
35
.289
3
0
8
0
.270
2
6
0-0
2002
.230
42/41
122
11
28
5
1
0
8
35
.287
8
1
18
0
.282
0
4
3-4
Totals
.248
216/209
596
70
148
11
2
0
34
163
.273
27
7
55
2
.287
4
23
9-13
Howland's Career Pitching Stats
Year
ERA
W-L
APP
GS
CG
SHO/CBO
SV
IP
H
R
ER
BB
SO
OPP/AVG
WP
1999
3.33
5-16
28
24
14
3/0
0
134.1
166
96
64
4
45
.301
9
2000
2.30
10-7
22
13
11
4/1
0
106.2
107
51
35
8
30
.258
8
2001
4.83
5-13
30
17
6
1/2
1
113.0
162
97
78
44
28
.333
12
2002
3.60
7-10
25
20
10
1/1
0
122.2
145
82
63
48
34
.291
7
Totals
3.52
27-46
105
74
41
9/4
1
476.2
580
326
240
104
137
.297
36
Q&A with Howland
Favorite movie: "American Pie"Favorite band: JaRule
Favorite type of food: Mexican
I wear #11 because: I have worn it since I was 10 years old and I have had many accomplishments wearing it.
My favorite sport other than softball is: Basketball
If I could see only one professional sports team play, it would be: Arizona Diamondbacks
If a movie was to be made about me, I would like this person to portray me: Sandra Bullock
The person I admire most is: Mom and Dad
Read more