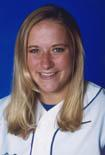 22
Ingrid

Lochelt
class

Sophomore

High school

Lake City
2003 – Started the first 24 games at third base … Shoulder surgery caused her to miss the final 32 games … Third on the team in batting average (.290) and slugging percentage (.435) … Hit first career home run – the game winner – against Florida International at the Fun & Sun Classic on Feb. 1 … Had a home run, a double and four RBIs at the Houston Invitational … Went 4-5 with three runs and four RBIs in a doubleheader against Morehead State on March 12.
High School – Hit .435 with 37 hits and 31 RBI as a junior…Named All-League three consecutive years…Member of the National Honor Society
Personal ? Born on October 8, 1984 ? Parents are David and Lori Lochelt ? Has one brother, Murl, and one sister, Elle ? Hobbies include listening to music, eating and being with friends ? Chose UK for the team, the facilities and the possibilities.
Lochelt's Career Stats
Year
AVG
GP/GS
AB
R
H
2B
3B
HR
RBI
TB
SLG%
BB
HBP
SO
GDP
OB%
SF
SH
SB-SBA
2003
.290
24/24
69
8
20
4
0
2
14
30
.435
3
0
17
0
.311
2
0
1-1
The Lochelt File
Favorite Movie: ?Bridges Over Madison County?
Favorite TV Show: ?Ally McBeal?
Most memorable softball moment: Winning the 2001 State Championship.
If I could be stranded on a deserted island with one person it would be: Val Kilmer
If I won the lottery the first thing I would buy would be: A jet
If I were to go on vacation for a month I would most want to go to: A small town in northern France
If I could trade places with one person in the world for one week it would be: Serena Williams
Read more