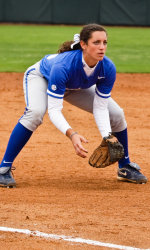 30
Ginny

Carroll
class

Senior

High school

Beech
Junior (2013): Strong junior season with two homers, seven doubles and 22 RBI … Was a perfect 6-for-6 in stolen base attempts … Played in 54 games with 42 starts … Singled and earned an RBI in UK's win over No. 3 Cal … Tapped home twice and went 2-for-2 with a double and three RBI against Western Michigan … Also had two hits and two RBI against Oregon State … Went 1-for-3 with a homer for two RBI vs. Illinois … Collected two RBI and two walks vs. North Carolina … Had a great game against Lipscomb, going 3-for-4 with two RBI in front of her family and friends … Recorded a hit in all three games of the South Carolina series, also tapping home once … Had the game-winning hit against Marshall, finishing 1-for-4 with an RBI… Went 1-for-2 with two runs scored in the win over then-No. 3 Florida … Had a multi-hit game against Louisville, going 2-for-2 … Had two clutch doubles in the Missouri series, leading to a run scored and two RBI … Hit her seventh double of the season in the series opener over Alabama, going 1-for-3 on the day … Posted a .429 batting average in the Lexington Regional before scoring a run in the Tempe Super Regional.
Sophomore (2012):Saw action in all 60 games while making 52 starts … Charted seven home runs which ranked second on the squad … Played in all four games in the season-opening tournament vs. UCLA … Hit her first career homer as a part of the first back-to-back homers of the season … Drew a pair of walks and tapped home in the win over Wright State … Drew two walks vs. Stephen F. Austin … Blasted a two-run homer in a loss to Western Illinois … Had a double, home run, and six RBI in the UK Invite as well as drawing three walks on the weekend … Blasted a two-run homer to propel UK to a win over WKU … Crossed home plate three times in series win over No. 18 Auburn … Walked in a loss to No. 11 Louisville … Went 2-3 at the plate and scored two runs in a win over No. 10 Tennessee … Picked up a hit in the opening game of the South Carolina series … Doubled and drove in a score in the victory over Arkansas … Plated a score with a double in the series-clinching win over Georgia … Had a two-hit day which included a home run and two runs scored in a loss at Mississippi State … Drove in a run in the win over Morehead State … Registered two hits in sweep of LSU while also accounting for a double and the game-winning homer in Saturday's 2-1 win … Had a career-high three hits in the NCAA Tournament vs. Michigan … Logged a hit and scored in UK's NCAA Tourney win vs. Valpo.
Freshman (2011):Played in 29 games in her freshman season … Was 2-for-5 with seven runs scored on the year … Saw her first career action as a pinch runner in a win over FIU … Rounded home to score the game's winning run on a wild pitch … Drew a walk in her first career plate appearance against Memphis … Tapped home in a pinch-running situation in the win over North Florida … Walked in a win over Georgia Southern … Drew a walk and rounded home to score in a win over Colorado State … Made a start at a designated player in the win over North Dakota St … Scored in the opening win over Mississippi State … Recorded her first career hit and drove in a run in the opening win over Austin Peay … Smacked a single in a pinch-hitting situation in a win over Tennessee Tech … Swiped her second base in as many games in a win over EKU … Tapped home as a pinch runner in a win over Auburn.
High School: An infielder from Hendersonville, Tenn. … Led her squad to state runner-up finishes three times in her career… Beech High School claimed the District 9-AAA, Region 5-AAA and Sectional Championships in each of those seasons as well … Batted .359 with 47 hits as a senior… Named All-District in 2010 … Was a two-time state All-Tournament team member … Also a dynamic basketball player and cross country runner … Holds the school record for the highest rebounding average per game and the most blocked shots in a season … An All-District team performer and a member of both the District and Regional All-Tournament teams … A two-time participant at the state cross country meet … In 2006 and 2007, she was voted as Beech's most valuable performer after setting the school record for the fastest 5K race … Possessed a 4.00 grade point average … Was named Miss Beech High School as a senior … Father, Chris, was a baseball player at Kentucky … Mother, Nina, played basketball at Lipscomb.
Loading…
Read more