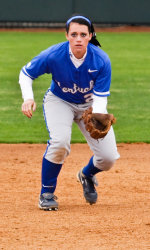 21
Emily

Jolly
class

Senior

High school

Owensboro Catholic
2011 All-SEC Freshman Team
Junior (2013): Played in 54 games with 32 starts … Had 59 at-bats with one double, one homer, two RBI and four stolen bases … Recorded two hits against top-20 ranked Stanford in the Kajikawa Classic … Scored two runs against Howard… Went 1-for-2 with two runs scored against WKU … Went 1-for-3 with a homer for two RBI in the final game of the SEC series vs. Mississippi State … Had a stolen base and a run scored after going 1-for-3 in the second game of the South Carolina series … Recorded a stolen base in the Florida series … Smacked her first double of the season in game three of the Alabama series, going 1-for-2 at the plate …… Commonly entered games late as a defensive replacement.
Sophomore (2012):Saw action in all 60 games and made 56 starts … Hit a career-high five home runs … Drew a walk to earn a base and then was brought home on Rachel Riley's game-tying homer in the seventh inning rally vs. Pacific … Had three hits, two runs scored, and two RBI at the FAU Invite … Connected for a two-run homer in the fourth which marked her first long ball of the season vs. Radford … Scored three runs and tallied two hits in UK's win over Stephen F. Austin … Scored two runs on three hits including a homer that jump-started UK's offensive effort in the opening game of the series with Auburn … Earned a hit vs. No. 10 Tennessee … Batted .500 with four hits, two runs scored and a double in the series with South Carolina … Batted .500 with a homer in the Arkansas series … Led UK with a .500 average, five RBI, three runs scored, a home run and two stolen bases in the series with Georgia … Homered in a Wildcat victory over Morehead State … Scored a run and tallied a hit in sweep over LSU … Singled and drove in a score in the SEC Tournament … Plated a pair of scores in the NCAA Tournament … Also notched a hit and a run scored.
Freshman (2011):Appeared in 54 games and made 51 starts in her first season … Matched a UK single-game record with three doubles in a win over DePaul … Made her first career start at second base in the upset victory over No. 22 Ohio State … Drilled a two-run single along the right field line to help guide UK to the win … Posted a hit in a win over Georgia Southern … Scored in a win over North Dakota State … Tapped home in a win over Southern Illinois … Had a multiple hit outing while driving in a run and scoring once in a win over Purdue … Totaled three hits, including her first career home run in helping UK upset No. 7 Tennessee in the series-clinching win … Scored in the 11-inning win over Arkansas … Singled in the win over LSU … Doubled and plated a score in the series-clinching win over Mississippi State … Had a hit in every game of the Florida sweep including a two-hit, two-RBI day in the final victory … Totaled a pair of hits in the Georgia series … Singled and scored in a win at Marshall … Plated a run with a sacrifice fly in a win over Tennessee Tech … Singled in a win over South Carolina … Singled and scored in a loss to South Carolina … Batted .500 with a pair of runs scored and an RBI single in the bottom of the seventh in a late-game rally situation in the series with Auburn … Singled in the SEC Tournament game against Tennessee … Notched a two-out two-run single in the first victory over No. 2 Michigan in the NCAA Tournament.
High School: Two-time KHSAA Class A Player of the Year … Named to the NFCA first-team South Central All-Regional team … A five-time letterwinner and a five-year starter … A two-time State Champion … A three-time All-State player … In her career, she charted 260 career hits, 66 doubles, 151 RBI and 24 home runs … Batted .447 as a senior with 20 doubles, seven home runs and 35 RBI … In her junior campaign, she hit .418 with 14 home runs and 42 RBI … Twice has been named to the KHSAA State Tournament team and served as her team's captain as a senior … Also a 2008-09 NFCA All-American Scholar athlete and an Academic All-State team member … National Honor Society member and a National Society of High School Scholars … Sister Megan, was a two-year letterwinner for the UK softball team from 2007-08 … Father, Kerry, lettered at UK in baseball.
Loading…
Read more