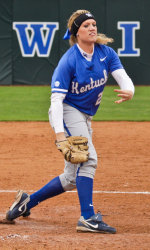 26
Ellen

Weaver
class

Senior

High school

Salem
Statistics
2011 Game-by-Game
2012 Game-by-Game
2013 Game-by-Game
Junior (2013): Pitched in 11 games with nine starts … Finished the season with a 4.69 ERA, striking out 20 batters in 28.1 inning pitched … Concluded the year with a 1-2 record … Recorded six strikeouts in 4.2 innings versus Oregon State … Went five innings against Portland State … Recorded an RBI against UC-Riverside … Best outing of the season vs. Georgetown, where she went five innings, allowing only one hit and no runs to get the victory … Four strong innings against USF, allowing two runs … Returned from a minor injury to record two strikeouts in two innings pitched against Lipscomb … Allowed only two hits and had four strikeouts in two innings against EKU … Pitched two innings against MTSU with no runs scored on her.
Sophomore (2012):Appeared in 44 games and made 29 starts including 10 in the pitching circle … Started the Wildcats' opening game of the season at UCLA … Struck out two batters in six innings of work … Pitched 12.1 innings in the FAU Invitational striking out nine batters … Went 2-for-2 and scored twice in a win over Radford … Was 2-for-2 and drove in a run in a loss to Western Illinois … Blasted a home run in UK's victory over NC State … Had bases-clearing double to give UK the series-clinching victory over Auburn … Earned the win over No. 10 Tennessee pitching five innings and striking out three … Doubled and tossed a season-high six strikeouts in a loss to No. 10 Georgia … Drilled a two-run homer over the center-field fence in a loss to Mississippi State.
Freshman (2011):Appeared in 21 games, making 10 starts in the pitching circle … Capped her first season off with a 6-1 record on the mound … Scored after reaching base by way of a walk in the loss to Memphis … Tossed her first career victory with a complete-game effort and five strikeouts against North Florida … Also had her first career hit in that outing … Posted a hit in the loss to Florida State … Earned her second career win in as many starts with a victory over Florida State … Worked 5.1 innings and yielded just two runs and no walks while striking out two … Earned her third victory in as many starts with 4.0 innings worked in a combined shutout victory over UC Davis … Totaled a career-high two hits at the dish and struck out a career-best 10 batters in the circle as she earned the pitching win over Southern Illinois … Scored the game-winning run in the series-clinching upset of No. 7 Tennessee … Became the second freshman to earn a win on the mound in Baton Rouge, La., with a complete-game victory and nine strikeouts in the opening game of the series with LSU … Also charted a single in that win … Limited Mississippi State to just one hit in a complete-game win to seal the sweep of the Bulldogs … Blasted her first career extra-base hit to drive in three runs with a homer over the right-center fence in a win at Marshall … Singled in a win over Tennessee Tech … Had a single as a pinch-hitter in the first loss to Auburn … Tossed six strikeouts in four innings of action, yielding just four hits but taking the loss due to a pair of unearned runs against Auburn.
High School: Dynamic player who is a crafty pitcher and powerful hitter … Among the Adidas Futures top-100 players in the nation … Three-time All-State selection … VHSL Region IV Pitcher of the Year in consecutive seasons … As a senior, she earned an 18-3 record in the circle with a 0.85 ERA and 270 strikeouts … Also tossed four no-hitters in her final season … At the plate she batted over .440 … Led her team to the River Ridge District Championship for three straight seasons … Additionally, she was a member of the National Honor Society and the Spanish Honor Society … An honor roll student that was active in Fellowship of Christian Athletes and the Spanish Club … Father, Mike, played baseball at Virginia Tech.
Loading…
Read more