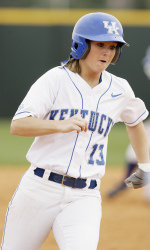 13
Destinee

Mordecai
class

Senior

High school

Midway
Junior (2009): An All-SEC Academic team performer … Started all 57 games in right field … Scored a career-high 25 times … Blasted a walk-off grand slam in the bottom of the eighth inning to give UK a 4-0 win over Stetson … Tallied an RBI triple in UK's win over Hawaii … Plated a score after taking a base on balls in the win over UNLV … Scored after earning a double against UConn … Walked twice and scored in the second win over UConn … Had a sacrifice bunt to advance runners against LSU … Doubled and scored two runs in a win over Morehead … Had a two-run home run in the first game of the series sweep of Auburn … Doubled in a win over Miami (Ohio) … Singled and scored twice in the win over Arkansas … Scored the game-winning run after leading off with a double in the ninth inning of a win over Kent State … Tallied a two-run single in a win over WKU … Blasted her career-best third home run of the season in UK's upset win over Tennessee … Stole a base and scored twice in Kentucky's win over EKU … Drove in a run with a double in the series-clinching victory over South Carolina … Scored twice after singling and earning a walk in the victory over Canisius in the NCAA Tournament.
Sophomore (2008): Started 45 games for the Wildcats in the outfield … Led the squad with 23 base-on-balls to move into UK's all-time career leaders for walks … Had six doubles and a pair of home runs on the year … Belted her first career round tripper in the loss to Chattanooga … Had a double in her only plate apparence in the win over Central Florida … Notched another two-run double in the win over Toledo … Matched a career-high with three hits in the win over Marshall … Went 2-for-2 with two runs scored and an RBI in the win over Eastern Illinois … Scored the game-winning run in the series-clinching victory over Ole Miss.
Freshman (2007): Started 35 of her 40 appearances … Scored 20 runs and accounted for 11 RBI … Had two multiple-hit games, including a season-high three hit performance against Butler in the second game of the doubleheader … Drove in three runs with a triple against IUPUI.
High School: Versatile player who saw time at first base and in the outfield while playing for Midway High School in McGregor, Texas … Four-year letterwinner … She earned second-team all-district honors as a center fielder in 2005 … Named honorable mention in 2003 and 2004.
Read more