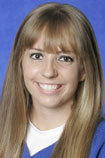 26
Ashley

Dimkich
class

Senior

High school

San Marino
2007 (junior): Appeared in 36 games, earning 27 starts … Knocked in four RBI … Registered two doubles and four walks on the season … Had four or more put outs in 27 games, including a season-high 10 in the first game against Tennessee … Smacked a two-run double against IUPUI.
2006 (sophomore): Played in 25 games and started 14 times for the Wildcats … Tied her career-high with four at-bats against Auburn … Scored four runs and recorded three RBI on the year … Drew three walks and laid down one sacrifice bunt … Went 1-for-1 with a run scored in the win over Morehead State … Finished1-for-3 with a run scored and an RBI against Arkansas … Named to the SEC Academic Honor Roll.
2005 (freshman): Saw action in 17 games and made nine starts primarily at second base … Batted .103 with a run scored … Recorded three RBIs … Played solid defense with just one error on the year … Went 1-for-2 with a run scored and an RBI in UK's win over Virginia … Was 1-for-3 with an RBI at LSU … Named to SEC Freshman Academic Honor Roll.
High School: Coached by Mitch Dimkich … Hit .342 in her four-year high school career, including a .429 clip in her senior season with 17 RBI … Was named an All-CIF second-round choice in her senior season … Also competed in golf and was the first girl in her high school's history to compete as a CIF Freelance Golfer.
Personal: Lists her most memorable softball moment as the day she decided to become a Kentucky Wildcat … Chose UK for the beautiful campus, the College of Education and the opportunity to play for a school with such a rich athletic tradition … Chose UK over Arizona State, UC-Davis and UC-Santa Barbara.
Dimkich's Career Stats
Year
AVG
GP/GS
AB
R
H
2B
3B
HR
RBI
TB
SLG%
BB
HBP
SO
GDP
OB%
SF
SH
SB-SBA
2005
.103
17/9
29
1
3
0
0
0
3
3
.103
0
0
13
0
.103
0
1
0-0
2006
.049
25/14
41
4
2
0
0
0
3
2
.049
3
3
17
0
.170
0
1
0-0
Totals
.071
42/23
70
5
5
0
0
0
6
5
.071
3
3
30
0
.145
0
2
0-0
Dimkich's Career Highs
Category         Career High (Last)At Bats          4, three times (Auburn - 3/12/06)Runs             1, five times (Arkansas - 4/14/06)Hits             1, five times (Arkansas - 4/14/06)RBI              1, six times (Arkansas - 4/14/06)Walks            1, three times (Mississippi State - 5/6/06)Stolen Bases     N/AHitting Streak   2 (2/25-2/26/05)
Read more