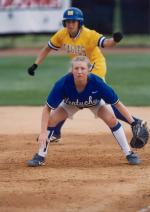 3
Andy

Eilertson
class

Senior

High school

Anamosa
Kirchner on Eilertson: "Andy was one of our hottest hitters in the fall. Look for her to really make a move offensively. If she hits, she will play either at first base or in the outfield. Andy is ready for a breakout season."
2001 – Tops the UK career putouts list with 743… Has played in 183 career games, third most at UK… Is ranked fourth all-time in RBIs (62) and at-bats (498)… Started 58 games, 47 at first base… Had a career-high in doubles (7), triples (1), home runs (2), RBI (24) and runs (18) on 31 hits… Had 343 putouts, the second highest single-season total in UK history… Was a perfect 4-for-4 in stolen bases… Helped turn 11 double plays on the season… Had a multiple RBI game seven times… Hit a home run and drove in three runs in 7-1 win over Ole Miss (3/24/01 – game 2)… Hit her first career triple in 7-3 loss to Mississippi State (4/8/01)… Had 13 two-out RBIs… Inducted into the Frank G. Ham Society of Character.
2000 – Started all 65 games… Tallied 29 hits, 14 runs, two doubles, 18 RBIs and a home run… Second on team in assists with 124… In an individual single season, is in the top three for games played (65), games started (65), and sacrifice flies (3)… Recorded first-ever home run versus Louisiana-Monroe… Had game-winning RBI versus Louisville as well as going 2-for-3 and scoring one run.
1999 – Versatile infielder starting all 60 games in which she played… Recorded 31 hits, 20 RBIs, eight sacrifices, and three doubles… Drew 10 walks and was perfect in five stolen base attempts… Recorded her first career hit in her first game as a Wildcat, East Carolina (2/19/99)… Hit safely in five consecutive games… Went 2-for-2 with two RBIs and scored a run in the Cats' 9-1 victory against Kent (3/30/99 – Gm – 1)… Scored two runs in UK's 5-4 win against Mississippi State (4/17/99 – Gm – 1)… Recorded a team-high 276 putouts.
High School – Lettered five years at Anamosa High School… Earned first team All-State honors in 1996, 1997 and 1998… Named to All-District team in 1995, 1996, 1997 and 1998… Selected to All-Conference team in 1994-1998… Received Bernie Sagau Outstanding Athlete Award in 1998… Holds Anamosa career records for most hits, RBIs, batting average and extra base hits in a season… Lettered for three years in basketball and volleyball.
Personal – Andrea Deb Eilertson was born on October 25, 1979… The daughter of Mark and PJ Yusten, Rocky and Cindy Eilertson.
Eilertson's Career Stats
Year
AVG
GP/GS
AB
R
H
2B
3B
HR
RBI
TB
SLG%
BB
HBP
SO
GDP
OB%
SF
SH
SB-SBA
1999
.197
60/60
157
12
31
3
0
0
20
24
.217
10
0
29
0
.244
1
8
5-5
2000
.161
65/65
180
14
29
2
0
1
18
34
.189
14
1
39
2
.222
3
5
3-3
2001
.193
58/58
161
18
31
7
1
2
24
46
.286
8
1
44
0
.234
1
5
4-4
2002
.301
56/55
166
24
50
10
1
7
40
83
.500
12
2
34
0
.354
1
4
2-5
Totals
.212
239/238
664
68
141
22
2
10
102
187
.282
44
4
146
2
.263
6
22
14-17
Q&A with Eilertson
Favorite movie: "American Beauty"
Favorite band: James Taylor
Favorite type of food: Tacos
I wear #3 because: The third time???s a charm
My favorite sport other than softball is: Basketball, handball
If I could see only one professional sports team play, it would be: Minnesota Vikings
If a movie was to be made about me, I would like this person to portray me: Angelina Jolie
The person I admire most is: my grandfather, Bud Heasley
Read more