UK Athletics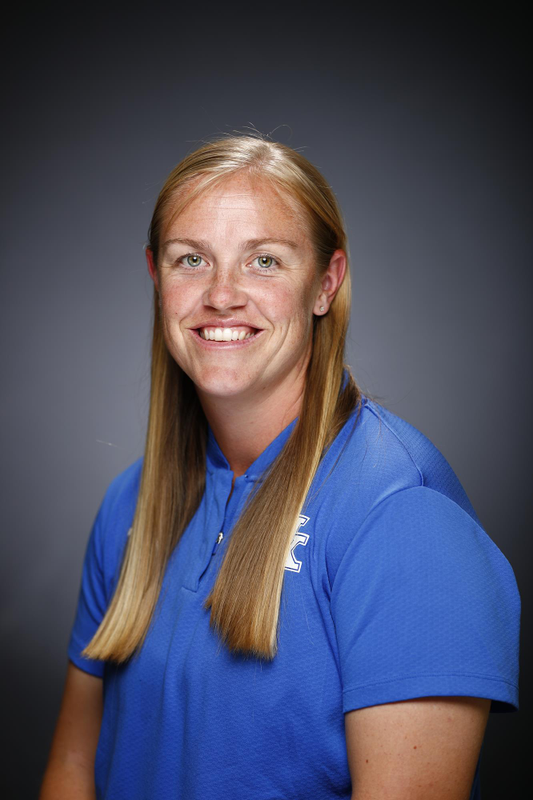 Kentucky's first NFCA All-American
UK all-time hits leader for 14 years
2nd overall pick in NPF Draft
2009 and 2010 USA Softball National Team
PanAm Games (Team USA)
When former Kentucky standout Molly Belcher played her last game in a UK uniform in 2010 some wondered what direction the program would head without its most productive offensive player ever. And although Johnson hasn't picked up a bat or glove in a game since 2010, head coach Rachel Lawson has still not spent a day as UK's head coach without the talented player – and now coach – Belcher is entering her 14th season in 2024 as an assistant coach for the UK softball team.
Belcher, a four-year starter for the Wildcats, began her coaching career as an undergraduate assistant at UK in the fall of 2010 before being promoted to full time assistant coach prior to the 2011 spring season. Her impact on the program as a coach has been similar to her impact as a player, helping Kentucky to some of the best seasons in school history, including a school-record 50 wins and a trip to the Women's College World Series in 2014.
The 2019 offense was one of the best at Kentucky, as she helped guide the Wildcats to setting the school record for runs scored, batting average, on-base percentage, slugging and trying the program best with 71 home runs. Additionally, UK made its third-straight NCAA Super Regional and swept its way through the Lexington Regional for a third-straight season.
In 2017, she guided the Wildcats offense to a run-rule sweep of the 2018 NCAA Lexington Regional, as the Wildcats became just the third team in NCAA history to run rule all three games of a regional. Kentucky beat Illinois-Chicago 10-1 in the opening round, shutout Notre Dame 10-0 in the 1-0 game and then ended the weekend with a 9-1 win over the Fighting Irish to book UK's sixth ticket to the NCAA Super Regionals.
In 2014, Johnson-Belcher helped guide Kentucky to its best season in program history. Her impact on UK's infield defense shined bright as underclassmen infielders Christian Stokes and Nikki Sagermann improved every day defensively for UK, while Krystal Smith showed drastic improvements defensively from years past to provide UK depth at third base and second base. The Wildcats responded to Johnson-Belcher's teachings by posting the best fielding percentage in program history.
In 2013, Johnson-Belcher, who is responsible for scouting, coaching film and on-field coaching of the infield, helped Lawson and associate head coach Kristine Himes mold a young team into a NCAA Tournament national seed that went to a NCAA Super Regional and finished ranked in the top 15 of both collegiate softball final rankings.
In her first year coaching at her alma mater in 2011, Johnson-Belcher helped UK to a then-school-record 40-win season, serving as the first base coach where UK shattered six offensive single-season records in the history-making season. She is also responsible for scouting, film and on-field coaching in the infield.
In her seven years coaching at Kentucky, Johnson-Belcher as helped guide Kentucky to a new program-record win total four times.
Johnson-Belcher had an impressive playing career after her collegiate career ended as she suited up for the United States National Team a few years. She began her career with Team USA prior to her senior season at Kentucky.
Perhaps the most productive player in school history, Johnson-Belcher capped her career as the all-time best in home runs (35) and batting average (.389) in school history. Her efficiency extended to the field where she was a dynamic shortstop as the cornerstone of Lawson's defense in starting in more than 100 career games.
Johnson-Belcher became the Wildcats' first All-America selection after a sensational junior season where she had career-highs in nine offensive categories while breaking three single-season Kentucky records. She set UK seasonal records in runs scored (53), hits (81) and on-base percentage (.498) en route to her garnering All-America status.
After emerging as one of the best collegiate players, Johnson-Belcher continued her career with the United States National team in the summers of 2009 and 2010. Johnson-Belcher suited up with the USA Futures squad in the 2010 summer and compiled an impressive 3-3 record against the world's top softball talent.
Kentucky's former great made her presence felt for the Futures team as she started all six contests at the shortstop position. Johnson-Belcher's defensive prowess was on notice for the world as she racked up 14 putouts and nine assists at the tournament. At the plate, Johnson-Belcher batted .200 for the weekend and accumulated four hits. She delivered on all of those hits, however, as she totaled four RBI.
While at UK, Johnson-Belcher spent countless hours working the Kentucky softball camps and clinics while also serving as an undergraduate volunteer assistant coach in the fall of 2009.
Johnson-Belcher married in the summer of 2013 to Allen Belcher, who also works at UK Athletics as the assistant director of equipment operations. They have three daughters.
Johnson Coaching/Playing History
Coaching History:
2011-Present: Kentucky, assistant coach
2010: Kentucky, undergrduate assistant coach
Playing History:
2009-12: USA Futures
2007-2010: Kentucky
Johnson Year-by-Year At Kentucky
| Year | Team | Position | Record | Conf. Record | Postseason |
| --- | --- | --- | --- | --- | --- |
| 2021 | Kentucky | Assistant Coach | 43-16 | 13-11 | NCAA Super Regional |
| 2020 | Kentucky | Assistant Coach | 20-4 | 2-1 | No tourney – COVID-19 |
| 2019 | Kentucky | Assistant Coach | 36-24 | 14-10 | NCAA Super Regional |
| 2018 | Kentucky | Assistant Coach | 35-21 | 8-15 | NCAA Super Regional |
| 2017 | Kentucky | Assistant Coach | 39-19 | 12-12 | NCAA Super Regional |
| 2016 | Kentucky | Assistant Coach | 46-14 | 17-7 | NCAA Regional |
| 2015 | Kentucky | Assistant Coach | 32-26 | 5-19 | NCAA Super Regional |
| 2014 | Kentucky | Assistant Coach | 50-19 | 13-11 | WCWS |
| 2013 | Kentucky | Assistant Coach | 41-21 | 13-11 | NCAA Super Regional |
| 2012 | Kentucky | Assistant Coach | 30-30 | 11-8 | NCAA Regional |
| 2011 | Kentucky | Assistant Coach | 40-16 | 8-7 | NCAA Super Regional |
| Totals | | 12 Seasons | 449-227 | 127-123 | |
Read more