UK Athletics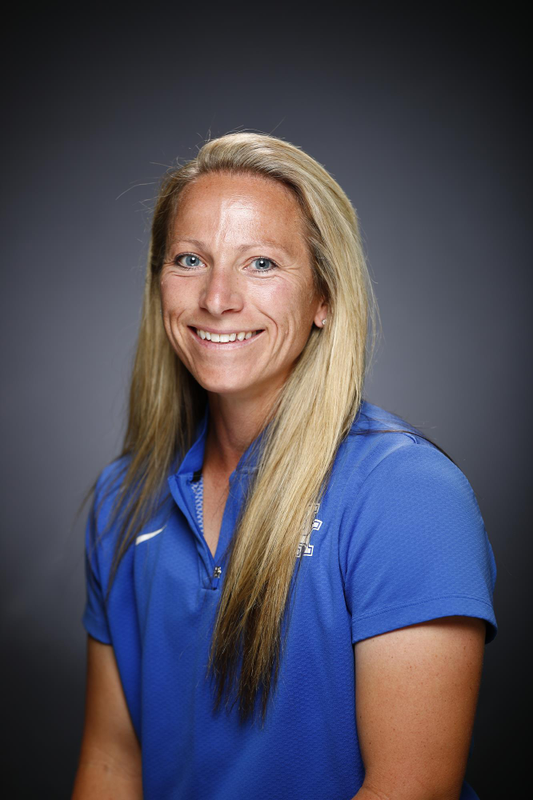 Talk with Kentucky softball head coach Rachel Lawson for two minutes about her program and its recent success and she will inevitably push off credit to associate head coach Kristine Himes, who is entering her 16th season with UK's program in 2023, and has been with Lawson every step of the way in Lexington.
Himes is in her 12th season as the associate head coach of the Kentucky softball team after serving four seasons as assistant coach until a promotion following the 2011 season. Himes handles many day-to-day dealings with the program and is responsible for the development of the Wildcats' infield. She also is UK's hitting coach and has led some of the highest power offensives in school history in her time with the Wildcats.
Himes helped guide Abbey Cheek to the 2019 SEC Player of the Year award, not only serving as her hitting coach, but also working closely with the infielders. Himes pushed Cheek to not only the SEC Player of the Year award, but a finalist for the HONDA Award, an NFCA Unanimous First Team All-American and a CoSIDA Academic All-District member.
On the field, Kentucky's batters have improved dramatically since Himes' arrival. The Wildcats charted an improved team batting average in six of Himes' first seven seasons in Lexington. In fact, in the six years before Himes arrived at Kentucky, UK had only posted a team batting average over .255 two times, while UK has earned that honor in all 11 years under Himes' tutelage.
The 2019 offense was Himes' best at Kentucky, as she guided the Wildcats to setting the school record for runs scored, batting average, on-base percentage, slugging and trying the program best with 71 home runs. Additionally, UK made its third-straight NCAA Super Regional and swept its way through the Lexington Regional for a third-straight season.
In 2017, she guided the Wildcats offense to a run-rule sweep of the 2018 NCAA Lexington Regional, as the Wildcats became just the third team in NCAA history to run rule all three games of a regional. Kentucky beat Illinois-Chicago 10-1 in the opening round, shutout Notre Dame 10-0 in the 1-0 game and then ended the weekend with a 9-1 win over the Fighting Irish to book UK's sixth ticket to the NCAA Super Regionals.
In 2014, Himes helped guide Kentucky's to its first-ever appearance in the Women's College World Series behind some impressive defense and clutch hits. The Wildcats broke several single-season records en route to the program's first 50-win season, tying the school record for most home runs in a game with five against Ole Miss, while it hit 71 home runs overall, breaking the previous program record for homers in a season. UK also set single-season records in runs scored, doubles, RBI, total bases and walks drawn.
Defensively in 2018, Himes' coaching led Kentucky to its best season in the field in her tenure, setting a program record .977 fielding percentage, including a program-best 1,455 putouts.
The 2014 season was a continuation of the progress UK has shown under Himes as UK's offense in 2013 set or tied several school records as well. The Wildcats posted 62 home runs in 2013, which is the third most in program history. Himes preached patience at the plate in 2013 with UK responding by drawing the second-most walks in school history with 211 and moving runners around when they did get on base with 69 stolen bases.
Himes' coaching showed in UK's win over top-25 North Carolina in 2013 as the Wildcats set countless school records in the win. UK had 18 runs against UNC, which tied the most runs in a game with Kentucky's eventual 18-0 win marking the largest margin of victory in school history. UK had four homers in the game, which at the time was the most in a game in school history, while UK's 18 RBI was the most ever in a single game. Entering the game vs. UNC, UK had scored 12 or more runs in a game 27 times in school history with the Wildcats reaching that mark in the first inning alone against the Tar Heels.
The 2013 team hit three or more home runs in eight games, including four or more home runs three times. UK hit a school record five home runs against Middle Tennessee State, while it hit four homers in game one of the 2013 NCAA Tempe Super Regional, the most homers ever hit in an NCAA Tournament game for UK.
In 2011, Himes took over duties as UK's third base coach and the Wildcats delivered by shattering six offensive records including batting average (.295) and home runs (65). Four different players posted 10 or more homers in a season for the first time in school history.
The stage was set in 2010 for an offensive outbreak when UK had a .269 combined batting average with four players batting over .325.
Himes developed former All-American player Molly (Johnson) Belcher, who broke numerous school records, including the school's batting average and home run records when she graduated. She also notched single-season records with 81 hits in 2009 and 20 doubles in 2008.
Brittany Cervantes, who graduated in 2012, excelled under Himes, ending her career ranking first in the UK records for home runs with 48. Cervantes also finished top 10 in the UK career rankings in doubles, walks, RBI, runs scored and slugging percentage. In addition, the tandem of former stars Meagan Aull and Megan Yocke rank among UK's all-time leaders in nearly every offensive category including batting average, doubles, home runs and stolen bases.
Himes showed her ability to develop talent in 2012, when she led Cervantes, Kara Dill and Griffin Joiner to All-SEC honors. Cervantes had a great senior season, leading the team in home runs, RBI and doubles. Dill continued to show offensive improvement leading the team with a .351 average and a career-high 71 hits, which ranked fifth-most all-time in school history. Joiner had a great freshman season, hitting .278 with 20 RBI and four homers.
Prior to joining UK, Himes served under Lawson at Western Kentucky for one season. The Hilltoppers emerged as one of the top teams in the conference.
Himes' coaching career began at George Washington University, where she spent two seasons helping the Colonials continue to establish themselves as a Division I program.
Himes made her professional debut in 2006 with the Philadelphia Force before spending one season at Western Kentucky.
A native of Bolivar, Ohio, Himes was an All-Big Ten standout power-hitting third baseman for the Ohio State University. Himes finished her career as the Buckeyes' all-time career (41) and single-season (16) home run leader. She also was second in career games played and ranks in the top five in walks and RBI. The 2002 year marked a defining season in Buckeye history as Himes also helped lead OSU to a 55-14 record and an NCAA Regional Championship appearance. She was also invited to participate in the Olympic Training Camp that spring.
Himes graduated from OSU with a degree in business administration also earned a master's in sport management from WKU in 2007.
Himes Coaching History
Coaching History:
2012-Present: Kentucky, Associate Head Coach
2008-11: Kentucky, Assistant Coach
2007: Western Kentucky, Assistant Coach
2005-06: George Washington, Assistant Coach
Playing History:
2006: Philadelphia Force
2000-03: Ohio State
Himes Year-By-Year Coaching History
| Year | Team | Position | Record | Conf. Record | Postseason |
| --- | --- | --- | --- | --- | --- |
| 2021 | Kentucky | Associate Head Coach | 43-16 | 13-11 | NCAA Super Regional |
| 2020 | Kentucky | Associate Head Coach | 20-4 | 2-1 | No Tourney – COVID-19 |
| 2019 | Kentucky | Associate Head Coach | 36-24 | 14-10 | NCAA Super Regional |
| 2018 | Kentucky | Associate Head Coach | 35-21 | 8-15 | NCAA Super Regional |
| 2017 | Kentucky | Associate Head Coach | 39-19 | 12-12 | NCAA Super Regional |
| 2016 | Kentucky | Associate Head Coach | 46-14 | 17-7 | NCAA Regional |
| 2015 | Kentucky | Associate Head Coach | 32-26 | 5-19 | NCAA Super Regional |
| 2014 | Kentucky | Associate Head Coach | 50-19 | 13-11 | WCWS |
| 2013 | Kentucky | Associate Head Coach | 41-21 | 13-11 | NCAA Super Regional |
| 2012 | Kentucky | Associate Head Coach | 30-30 | 11-8 | NCAA Regional |
| 2011 | Kentucky | Assistant Coach | 40-16 | 8-7 | NCAA Super Regional |
| 2010 | Kentucky | Assistant Coach | 32-27 | 11-13 | NCAA Regional |
| 2009 | Kentucky | Assistant Coach | 34-23 | 3-25 | NCAA Regional |
| 2008 | Kentucky | Assistant Coach | 17-37 | 13-14 | – |
| Totals | | 15 Seasons | 532-314 | 168-184 | – |
Read more