UK Athletics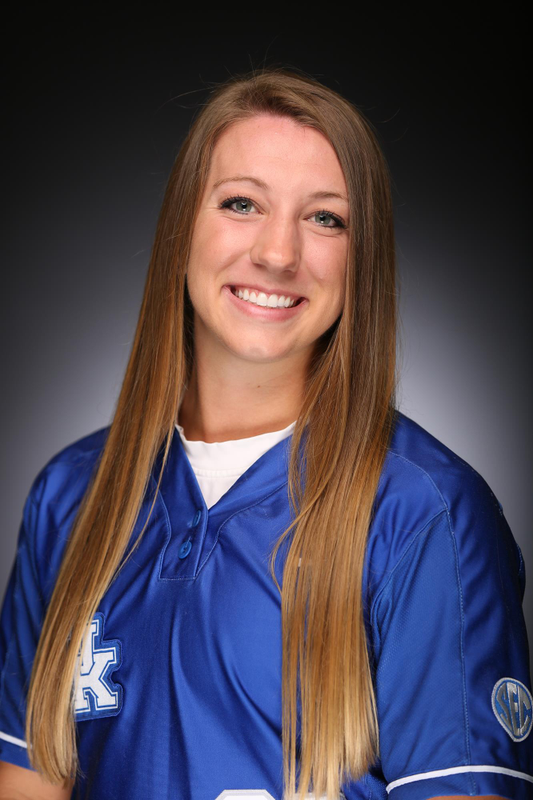 Brooklin Hinz joins the Kentucky staff as a graduate assistant coach in 2019. She just concluded her four-year playing career for Rachel Lawson in 2018, helping lead UK to four-straight NCAA Tournaments and three NCAA Super Regionals.
Senior (2018): Was UK's leading hitter in the NCAA Regionals going .625 on the weekend … Hit her second-career triple and first of the season vs. Notre Dame in the 1-0 vs. 1-0 game … Had a seven-game hit streak expire in NCAA Super Regionals, a new career high … Hit over .400 at the Diamond 9 Citrus Classic in Orlando with six hits, six runs scored, three RBI and a double … Clubbed eight doubles this season … Stolen a base in six games … Of her 25 RBI this season, 12 came with two outs … 17 multi-hit games this season … Hit her first home run of the season, and 14th of her career to CF vs. Indiana in the third inning … Had a career-best day on April 6 vs. MTSU going 3-for-3 with a home run and two doubles with four RBI … Hit a HR on Senior Day against South Carolina en route to an 8-4 win, clinching UK's spot in the SEC Tournament.
Junior (2017): After entering the last two weekends of play in SEC action hitting .139 – she hit three home runs in the last eight games  … Has two hits in three of the last nine games … Has the best workrate of anyone as far as time hitting extra in the cages and working on her offense according to Rachel Lawson … Hit seven HR's a season ago, and has four this season including three HR's in the last three games … Has 25 runs scored on 24 hits so far this season, including three in the John Cropp Classic … Has stolen nine bases already this year after only two in her prior two seasons combined at Kentucky … Hit a home run vs. Evansville in a 0-0 game in the bottom of the fourth inning to give UK the lead … Had her first multi-hit game of the season vs. Evansville as well … Scored as a pinch runner against Florida to put the Wildcats up 4-1 in the game UK won … Had a double against Mizzou for her first hit since March 19 (15 games) … Broke up TAMU's no hitter on Saturday in the fifth with UK's first hit (a double) and came around to score the first of three runs in the inning … Had an RBI triple to the wall in CF against Illinois to score UK's first run in the Regional Final.
Sophomore (2016): Hit her first-career grand slam against Albany in the opening game of the Winthrop Invitational … Hit seven home runs this season, just two off Abbey Cheek's nine for the team lead in that category … Had 18 extra-base hits this season … Scored a career-high two runs against South Dakota … Had eight multi-hit games, including her first three-hit game of her career against South Dakota … Had UK's first home run of the season against Notre Dame … Had two doubles and three RBI in Saturday win at South Carolina … Hit .545 against the Gamecocks in that three-game series … Had the game-winning 2-run HR against Ole Miss in the Sunday rubber match of that series … Had eight multi-RBI games this season … Hit two home runs vs. EKU and Missouri … Had game-winning RBI at Louisville on April 27 to secure UK's fifth win over U of L in last six times played.
Freshman (2015): Started 42 games, playing mostly in leftfield or as a the designated player … Finished the team with a .215 average, adding 10 runs scored, five doubles, one homer and 12 RBI … Had a five-game hitting streak early in the season … First career hit came at highly ranked Florida State, going 2-for-3 with a run scored … Had two RBI in both of UK's games vs. Georgia Southern … Went 1-for-3 against highly ranked Arizona with a double … Went 1-for-2 against Ohio with an RBI double … Went 2-for-3 in the series finale vs. Auburn with a double and the first home run of career – a two-run shot in the seventh inning … Had a hit in the last two games vs. LSU and a single vs. Louisville … Came off the bench to collect Kentucky's first hit vs. WKU in the eighth inning and earned a hit in the series opener vs. Georgia … Went 2-for-4 in game two vs. Tennessee with a two-out, two-RBI single in the seventh inning … Went 3-for-3 against Ball State with a double and two runs scored.
High School: Four-year letterwinner at St. Thomas Aquinas High School under head coach Chris Orel … Holds several single-season school records, including hits (47), triples (11), home runs (7) and shutouts (11) … Ended her career by holding eight of the nine offensive school records, while the one she didn't hold she ranked second … Ended her high school career holding four of five pitching records … Career batting average of .561 with 174 hits, 21 home runs and 108 RBI, while her career pitching marks are just as impressive with a 73-8 record and 1.17 ERA with 602 strikeouts and 34 shutouts … Amazing senior season all-around, hitting .701 with 47 hits and eight home runs, while she went 18-1 in the circle with a 1.18 ERA and 132 strikeouts … Hit .568 at the plate her junior season, including 12 doubles, three triples and seven homers, while she was 17-1 in the circle with 156 strikeouts in 109 innings pitched … Great sophomore season as well, hitting .587 with 11 doubles and 11 triples, going 22-2 in the circle … Had 13 doubles and hit .422 her freshman season … A four-year all-state, all-metro and All-Eastern Kansas League honoree, while also being named her team's Most Valuable Player each of the last four seasons … She was a Hyvee Player of the Week in 2012 and has helped lead her team to the Kansas 5A State Championship game … Outside of softball, she has been very active in her community with over 100 hours of community service and is a four-year member of the school's academic honor roll … The daughter of Bruce and Renee Hinz, she has one brother, Bayler … Bruce played collegiate baseball at Oklahoma.
Read more