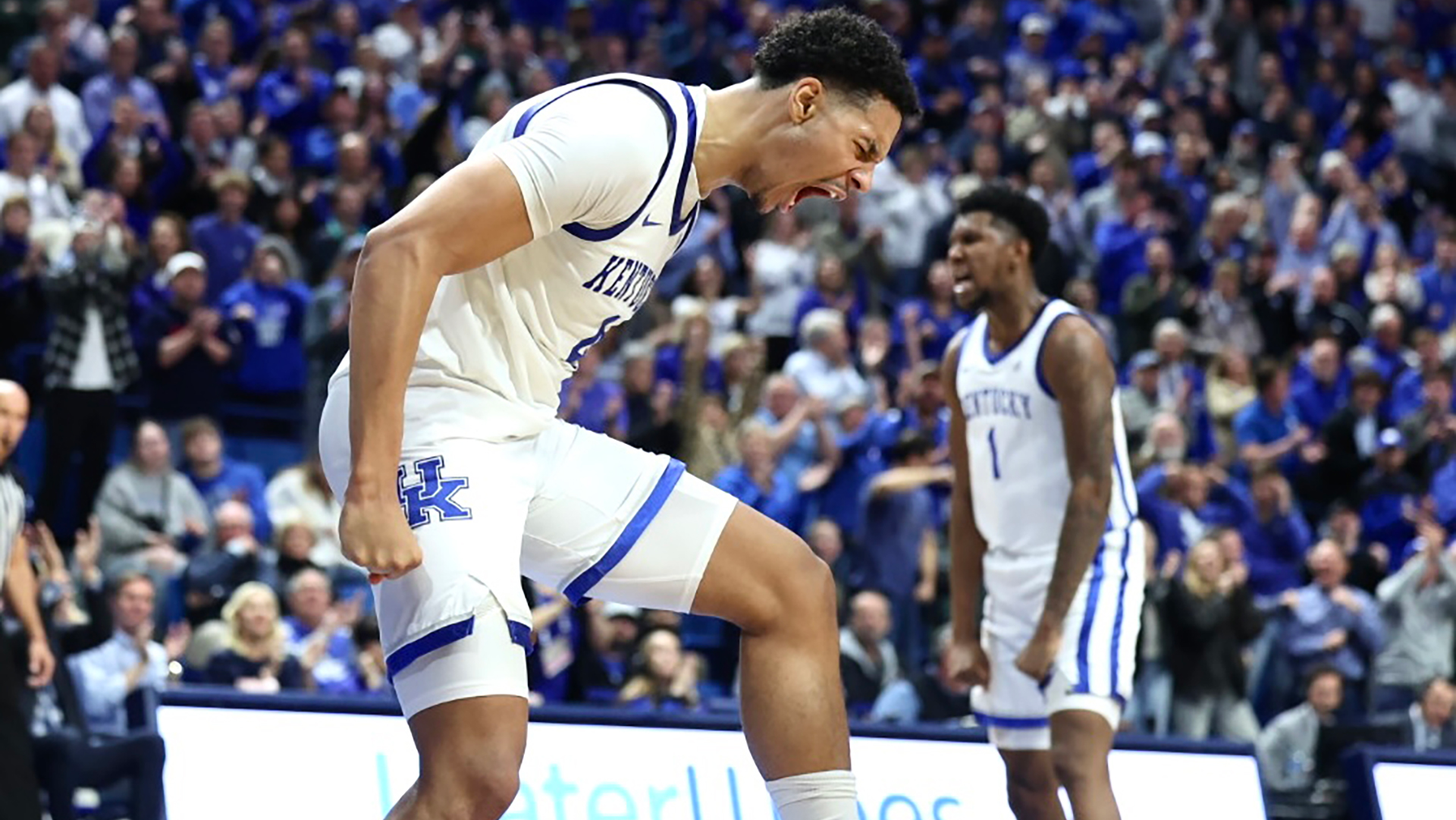 November 20, 2023 - 09:34 PM
Three-Pointers Help Kentucky Hold Off Saint Joseph's in Overtime
While missing all three of its big men early in the season, Kentucky figured to be a perimeter-oriented team. That trend continued on Monday night as the Cats topped Saint Joseph's 96-88 in overtime in the Wildcat Challenge presented by Kentucky Tourism.
The three-point shot was crucial to the Cats again on Monday night. Kentucky took control of the game in the extra stanza on back-to-back threes from Tre Mitchell. The Cats would never trail in overtime on their way to the eight-point victory. UK head coach John Calipari loved that Mitchell embraced the opportunity to make such big plays in overtime.
"Tre made those shots. What I call those are 'the moment'," Calipari said. "There was that play, the moment, when one team is playing with house money and we're playing with – we've got to win. And it never phased him."
Mitchell and D.J. Wagner would lead the Cats with 22 points apiece. Wagner added a season-high six assists. Antonio Reeves scored 20 points and Rob Dillingham had 13 in the win. Justin Edwards gave the Cats a fifth player in double figures with 13 points. Edwards added six assists and five rebounds. Calipari singled out both Wagner and Edwards in the postgame.
"D.J. played better, you're starting to see who he is. Justin played better, more confidence, more relaxed player."
Kentucky (4-1) hit 12 of 25 (48 percent) from behind the arc in the game, continuing a trend of hot outside shooting. The Cats have now hit at least 10 three-point baskets in each of their last three games.
While most of the Cats struggled to find the range in the first half of Monday's game, both Reeves and Dillingham kept Kentucky in a game that was closer than expected. Both guards went four of six from the floor in the first half while the rest of the Kentucky team combined to go six of 17. It all added up to a 41-38 lead for the Cats at the break.
Kentucky returns to action on Friday night, hosting Marshall at Rupp Arena. Tipoff is set for 7 p.m. and the game can be seen on the SEC Network.