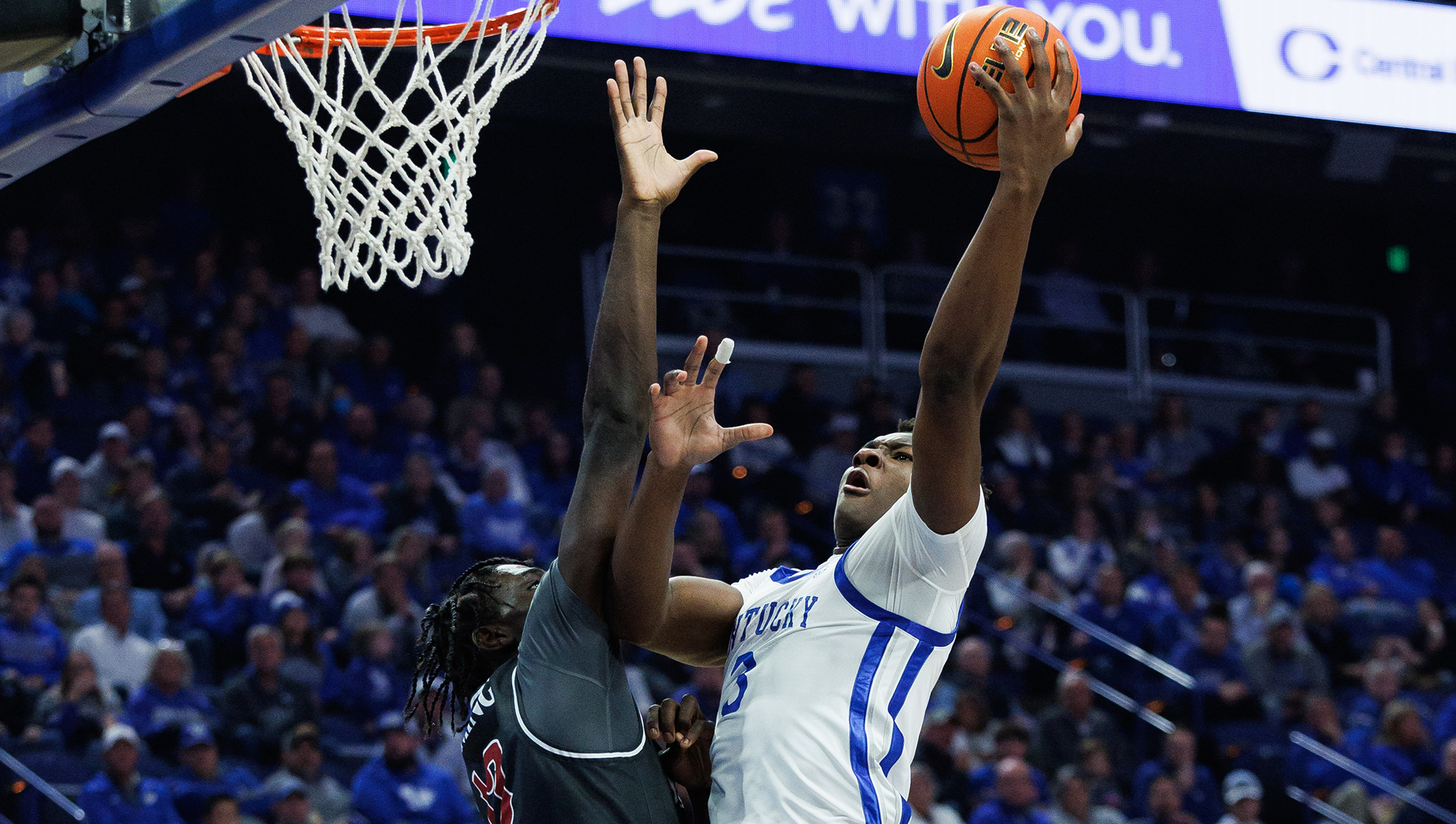 November 20, 2023 - 10:34 PM
Kentucky-Saint Joseph's Postgame Notes
KENTUCKY MEN'S BASKETBALL POSTGAME NOTES
RUPP ARENA AT CENTRAL BANK CENTER | LEXINGTON, KY.
NOV. 20, 2023
ATTENDANCE: 18,680
Final Score: No. 16 Kentucky 96, Saint Joseph's 88 (OT)
Team Records and Series Notes
Kentucky is 4-1 on the season, Saint Joseph's is 3-2.
Kentucky leads the series, 3-0, with this being the first game played in Lexington.
This was UK's final game in the Wildcat Challenge presented by Kentucky Tourism.
UK continues the five-game homestand Friday against Marshall. Game time is 7 p.m. and it will be televised on the SEC Network.
Team Notes
Kentucky is now 64-52 all-time in overtime games.
UK had 12 steals, leading to an 11-6 advantage in points off turnovers and 28-11 in fast-break points.
Despite having to play an overtime period, the Wildcats had only nine turnovers. UK has had single-digit miscues in four of five games this season and now are averaging just eight TOs per contest.
Kentucky also was stingy in fouling, drawing only 10 whistles. UK is averaging only 12.2 fouls per game this season after averaging 16 fouls per game last season.
Kentucky had three players score at least 20 points, the first time that has happened since Demarcus Cousins, John Wall and Patrick Patterson did so against Sam Houston State on Nov. 19, 2009.
Kentucky had five players score in double figures, the third time that has happened this season.
Kentucky shot 51.6% from the field (33 of 64), UK's second consecutive game over 50%.
Kentucky made 12 of 25 from 3-point land, the Wildcats' third straight game of double-figure threes.

The last time UK made at least 10 threes in three straight games was February 2016, when the Wildcats had a five-game streak of 10+ threes.

Kentucky is 651-81 (88.9%) in the 48th season in Rupp Arena at Central Bank Center.
Player Notes
Tre MItchell had a season-high 22 points, including two 3-pointers at the beginning of overtime that gave the Wildcats a lead they did not relinquish.

He also led the team in rebounds with six and blocked shots with four.

D.J. Wagner had a season-high 22 points, seven of which came in overtime. He also tied for game-high honors in assists with six.
Antonio Reeves tossed in 20 points, his third 20+ game of the season.
Rob Dillingham had 13 points, has scored double figures in all five games this season, and tied for game-high assist honors with six.
Justin Edwards had an efficient 12 points, making 4 of 6 field goals, including 2 of 3 on 3-pointers.
Although he did not score, Reed Sheppard had four assists, five steals – most by a Wildcat this season – and led the team with a plus/minus of +16.

He has had at least two steals in every game this season.
Coach John Calipari
Calipari has an 836-254 all-time on-court record and a 391-114 mark at Kentucky.
Calipari is 321-64 at UK against unranked competition.
Calipari is 16-5 vs. Saint Joseph's.
Calipari is 224-21 in Rupp Arena at Central Bank Center.
In the First Half
Kentucky started D.J. Wagner, Antonio Reeves, Justin Edwards, Adou Thiero and Tre Mitchell. UK has a 3-1 record with that lineup.
Rob Dillingham and Reed Sheppard were UK's first substitutions with 16:26 remaining.
Saint Joseph's opened the scoring with a 3-pointer and had its largest lead at 7-2.
Tied at 17, UK took its first lead on a Dillingham 3-pointer.
Tied at 27, an 8-0 spurt gave the Wildcats their largest lead of the half, but the Hawks rallied to tie the count at 38.
Mitchell hit a 3-pointer with 27 seconds left to give UK a 41-38 lead at halftime.

Reeves and Dillingham led UK with 13 and 10 points, respectively.

UK has led at halftime in all five games this season.
In the Second Half
Kentucky began the second half with the starting lineup.
Saint Joseph's got the first basket to pull within 41-40, but another UK 8-0 run opened the gap to 49-40, UK's largest lead of the game.
SJU stayed close, eventually tying the game at 73 with 2:10 to go.
Cameron Brown swished a 3-pointer at the expiration of the shot clock, putting Saint Joseph's ahead 76-75 with 44 seconds to go.
Mitchell's follow dunk with 29 seconds left put UK up 77-76.
With 14 seconds left, Christ Essandoko made the first of two free throws to tie it at 77.
UK missed its final shot and the game went to overtime.
In Overtime
After each team missed, Mitchell hit 3-pointers on consecutive possessions, making it 83-79 and SJU called timeout at 3:05.
Wagner drove through a thicket of Hawks for a layup, making it 87-81 with 1:30 to go.
With 57 seconds left, two Mitchell free throws made it 89-84.
Edwards' follow dunk with 38 seconds left made it 91-86.
Four Wagner free throws in the closing seconds kept the visitors at bay.