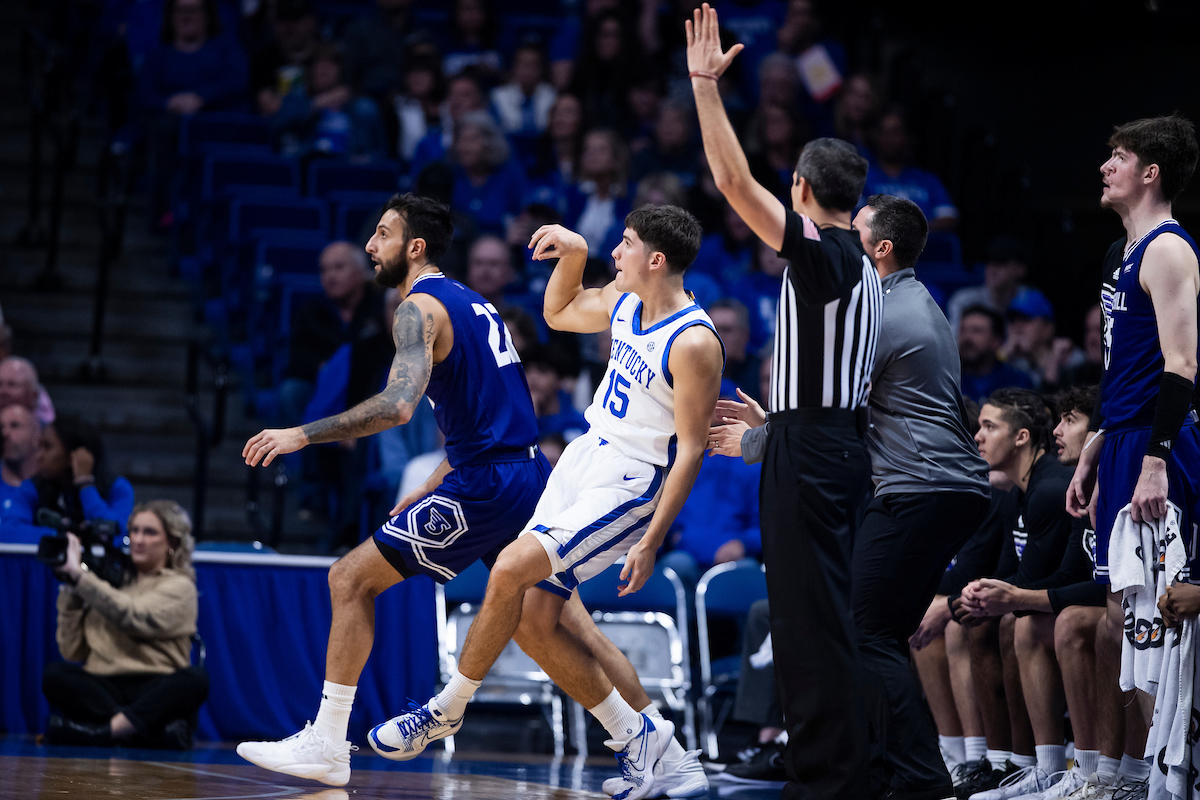 November 19, 2023 - 01:35 PM
Big Blue Preview: Kentucky vs. Saint Joseph's
Kentucky returns to action on Monday, hosting Saint Joseph's at Rupp Arena in the final game of the Wildcat Challenge presented by Kentucky Tourism.
The Cats beat Stonehill 101-67 on Friday night behind a sensational performance from Reed Sheppard. The freshman from London made nine of 10 shots from the floor, including seven of eight from behind the arc, on his way to a game-high 25 points. For good measure, Sheppard dished out seven assists, had three steals, three rebounds and two blocked shots.
For the season, Sheppard has made 18 of 26 from the floor (69.2 percent), including 12 of 17 (70.6 percent) from behind the arc. Sheppard is third on the team, averaging 13.3 points per outing.
As a team, Kentucky has been able to spread the wealth as far as point distribution. Four UK players are averaging double figures in scoring while three more average nine points or better per contest.
Antonio Reeves is Kentucky's leading scorer, averaging 17.8 points per game. Freshman guard Rob Dillingham scores 16.8 points per game, with Sheppard at 13.3. Tre Mitchell averages 12.5 points and is second on the team in rebounding, at 6.8 per game.
Justin Edwards (9.5 ppg), D.J. Wagner (9.3 ppg) and Adou Thiero (9.0 ppg) round out the list. Thiero is UK's leading rebounder, pulling down 8.3 boards per game.
Saint Joseph's comes into Monday's game with a 3-1 record. The Hawks were impressive in their first three games of the season, beating Lafayette, Penn and Stonehill. But Saint Joseph's suffered its first loss of the season on Friday, falling to Texas A&M-Commerce 57-54.
Erik Reynolds leads the Hawks in scoring, averaging 14.3 points per game, while Lynn Greer scores 12 points per game and leads the team with 20 assists.
Tipoff is set for 7 p.m. ET on Monday and the game can be seen on the SEC Network.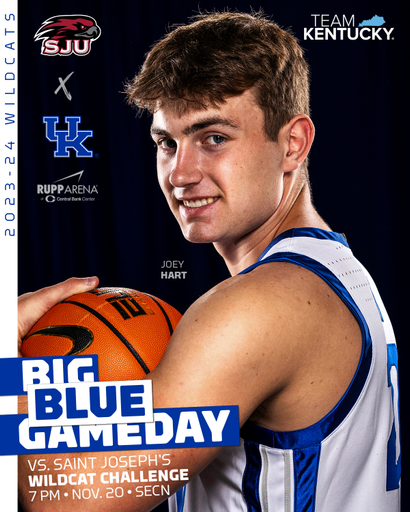 Stonehill Recap
Kentucky has shown the ability to score through three games. The Cats entered Friday night's game against Stonehill averaging 83.7 points per contest.
Friday night, the Cats took it to another level. And they used the 3-point shot early and often in a 101-67 win at Rupp Arena.
The Cats hit 17 of 32 (53.1 percent) from behind the arc in the game, marking the most threes ever for a John Calipari-coached Kentucky teams and the most overall for the Cats in nearly 30 years. UK made 39 of 61 (63.9 percent) from the field for the game.
Freshman guard Reed Sheppard had the hot hand all night. He his nine of 10 from the field, including seven of eight from behind the arc, on his way to a career high 25 points. The London native also had seven assists, four rebounds, three steals and two blocked shots.
Sheppard certainly was not alone. Fellow freshman Rob Dillingham had 20 points, making three 3-pointers. Calipari was pleased with the play of both Sheppard and Dillingham.
"Reed was tremendous," Calipari said. "So was Rob. A lot of good stuff."
Calipari was also pleased with how his team bounced back from Tuesday's loss to Kansas.
"To come off that game in Chicago, the enormity of the game and then bounce back and play this kind of game, I was really proud of the guys," Calipari said.
Antonio Reeves also had three threes on his way to 15 points. Tre Mitchell made his only three and scored 15 points for the Cats.
Kentucky came out of the gate hot, hitting six of its first seven three-pointers and eight of its first 10.
Three Cats were in double figures at the half (Mitchell – 13; Reeves – 12; Sheppard – 12) as Kentucky made 22 of 33 (66.7 percent) in the first half. That included 10 of 16 (62.5 percent) from behind the arc. It all added up to a 58-37 lead for UK at the break.
The second half was a much different story, at least at the beginning. Kentucky missed its first three shots of the second half and turned the ball over three times. Meanwhile, Stonehill found its touch and the Skyhawks opened the half with a 9-0 run to get within 58-46. Kentucky would eventually find its footing, stretching the lead to as many as 37 points.
Freshmen Phenoms
Kentucky's latest No. 1-ranked recruiting class has been another collection of the best talent the country has to offer — and they've delivered thus far in big ways.
• Rob Dillingham has scored in double-figures in all four games and currently ranks second on the squad with 16.8 points per game. He sparked a run against No. 1-ranked Kansas with four straight 3-pointers in a span of 90 seconds to lift UK to a first half lead against the Jayhawks. Dillingham ranks fourth in the league with a 2.83 assist-to-turnover ratio and is in the top 10 with an 84.6% free-throw clip
• Justin Edwards nearly had his first career double-double with 16 points and seven rebounds in a come-from-behind win over A&M-Commerce at home. He's shooting 42.9% from the field and 75.0% from the charity stripe
• Reed Sheppard has provided a steady presence on both ends of the floor. He scored 25 points highlighted by 7 of 8 from 3-point range in the win over Stonehill. He's averaging 13.3 points per game and connecting on 70.6% from 3-point range, while leading UK in steals (12) and blocks (6)
• D.J. Wagner has a 2.2 assist-to-turnover ratio and did not commit one against No. 1 Kansas in 25 minutes of action. Wagner has a pair of double-figure scoring efforts, including shooting 46.2% from the floor in the opener
• Jordan Burks is this team's energy guy off the bench. He is averaging 4.0 rebounds per game in just over 13 minutes of action. Burks had the best plus-minus against Kansas at plus-19