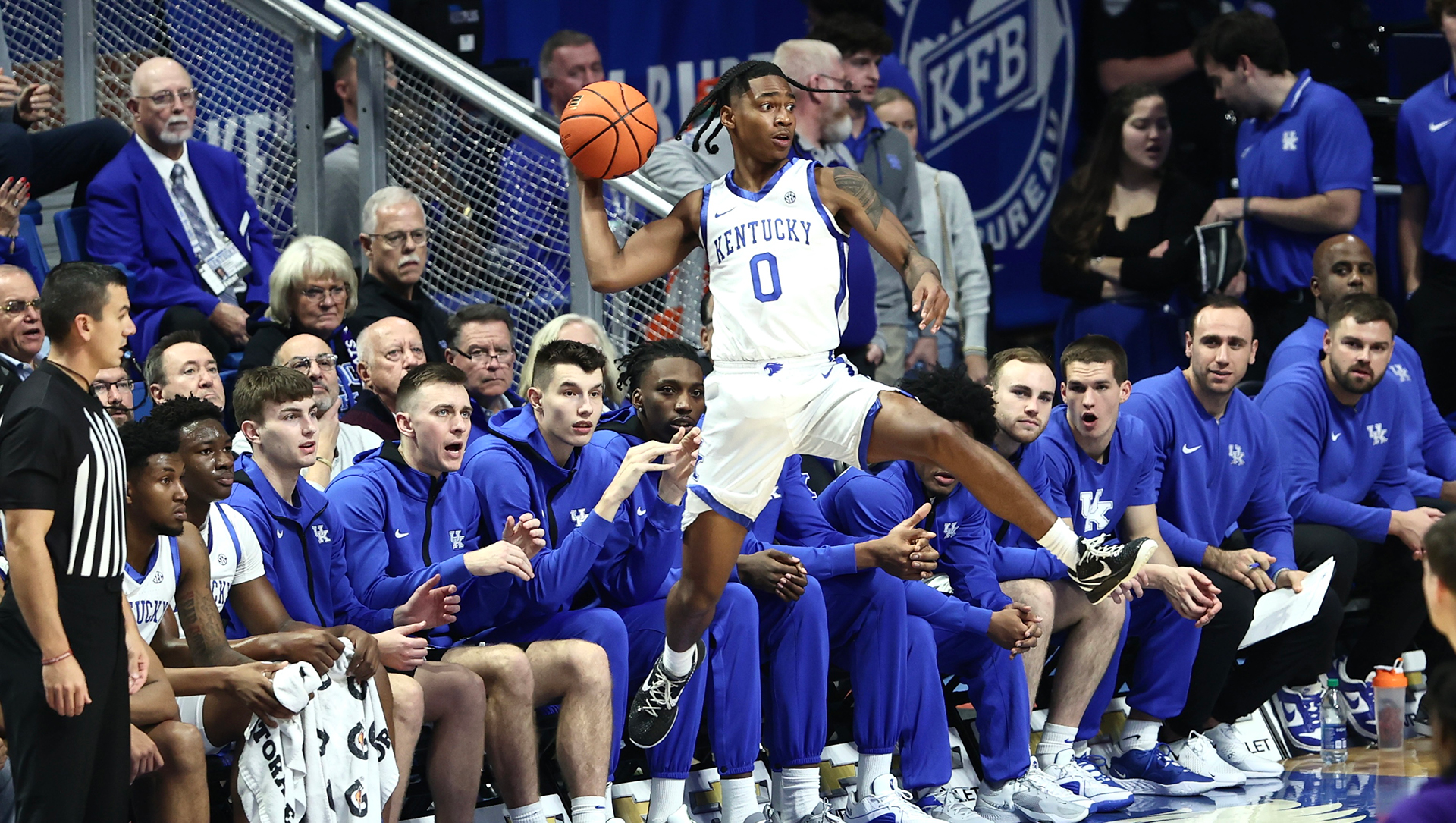 November 17, 2023 - 10:00 PM
Kentucky-Stonehill Postgame Quotes
UNIVERSITY OF KENTUCKY MEN'S BASKETBALL MEDIA CONFERENCE
November 17, 2023 Lexington, Kentucky, USA Coach John Calipari Press Conference
Kentucky 101, Stonehill 67
JOHN CALIPARI: To come off that game in Chicago, the enormity of the game and then not get in until 4 in the morning and then bounce back and have to play this kind of game when they are playing a zone and they are not going to stop playing. I was really proud of the guys. I think part of it, I love playing against zone as a coach because you have to pass the ball. You have no choice. You may not want to, but you have to pass the ball. And they passed it to each other.
26 assists, making 3's, and they stuck with it. They didn't care. Like this is we're hoping you start missing. And slow start in the second half. You know, Reed was tremendous, so was Rob, and there was a lot of good stuff. We had figures, which is how we like to do this. A couple of too many turnovers. Like it's not a crazy number but it's 4 or 5 more than we normally get because we were just making the hardest play instead of just making the easy play.
Questions.
Q Cal, how beneficial is it to have somebody like Tre that if somebody is going 2-3 zone on you, you can just put him right in the middle and know that he is going to be able to start those hockey assists or get an assist of his own?
JOHN CALIPARI: Yeah. We found that out in Toronto. Like when they went zone it was like bang-bang-bang basket. And he feels really comfortable in there. So what will happen is, it will open up behind him. Because if you do play a 2-3 you are not going to back away from him, you are going to push all the way up or you are going to push one of your guards. They way Reed shot it, Rob shot it, D.J. shot it, they all made shots.
Q Coach, you guys took Tuesday night the most 3's you've ever taken since you have been here. Tonight you made the most 3's you have made since you have been here. Just what is —
JOHN CALIPARI: Probably because I have got a good shooting team. And when I haven't had, we don't take as many 3's. Here is the one thing you probably — like winning matters here a lot to a lot of people. To coach, sometimes you have injuries and here is what you are left with and this is how you coach. But we have got guys here that got a green light because they are really skilled. It is not about how you're jumping, running. It is that you are skilled with that ball.
Q Just the skill and the ability to make it or are these guys making that extra pass going at the speed you want them to?
JOHN CALIPARI: Let me — let me — you know, I — every year that I coach, especially here, but years at both the other two programs, there was an expectation that you were supposed to win and there was an expectation that individual players were supposed to be able to do XYZ. So the weight of the world, it's always been here for every player.
And I'm going to be honest, it will never change. There's an expectation. Some guys will play like they have house money and other guys thinking a little bit too much. Every player that could really play that I have coached has been that way. And you know what? What I tell them, it's not changing now. You have got to learn to deal with it. You have to learn to deal with it. It is not going away. The game is someone's Super Bowl. They are going to come in here and play out of their minds.
Now guys go to the NBA. And they say, well, this guy could have been drafted. Yeah, they all, when they re-draft, they re-draft.
Now they will say, well, they didn't shoot it this much or didn't do this or you played a certain way.
How about this one? They all know how to deal with expectations and go in that level and none of that stuff fazes them. They are not — they go in that league. You are going to regret not taking that guy until then.
And, so, this team is going through that now. And you know it.
You can see it. It's fine. It's part of the process. They're feeling the expectation. Another guy that's, I'm just playing, house money, say his name.
Q (Inaudible).
JOHN CALIPARI: Say it.
Q (Inaudible).
JOHN CALIPARI: And who else?
Q And Reed.
JOHN CALIPARI: And Reed. House money. And they are just playing. We have got to get a team. Now, well, I come out when I make a mistake or miss. You played 30 minutes. Not true. The expectations are high and you are struggling to deal with them. That's all of this team. Now, Rob and Reed start playing really well, we're all going to…expect them to play that way and they're going to have to deal with it.
That's what's great about Kentucky. The guys that fight through that end up going. Now, they were talented or they wouldn't be there. But all of this other stuff, well, they were this and they were. That's why I laugh when a guy like Cason, you knew what Cason was, you saw him here.
So we're going through that. That's part of what I believe, I believe in every one of you, you have to believe in you as much as I believe in you. And then letting them play through some mistakes.
It is hard. You know me. It is hard. Like today Robert had three turnovers in a row. I had to take him out. You can't stay in, man. You walked twice. No, I didn't. We'll watch the tape. You walked twice. As a matter of fact, you took two extra steps. And then you drove baseline when all you had to do was swing the ball and dribble it out of bounds. Come over here and sit down. I told him, I am not going to stop coaching you because you could be really ridiculously good.
But we've got a good group, man. I mean, just a good group of guys. Look, I am not — we need one of these big guys. We just have got to have a big guy. We get that and everybody will say, well, it will screw up you up. I would like to have all three of them, to be honest with you. One more question. I answered 15 questions here. (Laughter).
Q You were talking about the expectations and the weight of it all. DJ, do you hear any of Duane's kid, Milt's grandkid?
JOHN CALIPARI: He has had it on him the whole — his whole life. Each of them NBA players. He's coming in, he was a M1 player, number four player, whatever it is. But Justin and every guy, if they learn to deal with it and not push it. Own your performance, own it. I didn't do it. You played 30 minutes. So don't say about me. You played 30 minutes. Own your performance. And then — I keep telling all of these guys, if you talk more, and this again I'm talking mind stuff so you guys won't understand what I am saying, but when you — your mind, you can't do three things at one time. So if you're talking on defense, you can't think about how bad you are shooting the ball. You can't. You can't do it. Come on, what are we doing?
Ah, I'm not — yeah, you could stop and you could think of that.
So I'm trying to get them to be more aggressive, talk more, get out of your way for all of these guys, not just D.J., not just…
But that's part of coaching. And you don't get that every kid comes in here. And I will be honest with you, folks, there is a lot at stake. That's why I don't take this lightly for these kids. A lot at stake. How do I get them right? Can I do it for them? I can put them in situations. I can teach and do and then you put them on the stage, they have got to go. They have got to be that star. They have got to come out and really do their thing. That's what's crazy about where this team is right now. Like today I thought D.J. played better but all of a sudden Rob and Reed played so well you just…
Justin did some good things. He is still not where he is going to be. Get him going. But I'm telling you, I'm loving coaching these guys. I walk in the gym every day, I know they want to be coached. If you ever were able to watch a practice, which none of you will, but if you were able to you would know that just looking at these guys. And it is not me screaming, yelling, throwing balls, kicking. It is you are doing coaching and you can see they are locked in.
So, you know, hey, let me say this, they played well. They never got out of synch. St. Joe's team is coming up. Every player back from last year. Player of the year in their league preseason, Card, they shoot 35 3's a game. If they make 20, you lose. But they are taking 35. And, so, we are going to really have to be locked in on how we are playing. I haven't watched the tape yet. They are 4 and 0. I think they won tonight. 5 and 0. So we have a hard game against an Atlantic 10 team that's going to be one of the — so we will see where we are and how we do.
Thanks, folks.
KENTUCKY MEN'S BASKETBALL POSTGAME QUOTES
KENTUCKY VS. STONEHILL  
RUPP ARENA – LEXINGTON, KY.
NOVEMBER 17, 2023
UK Student-Athletes
#0, Rob Dillingham, G
On when him and Reed get the ball going and they're hitting 3 …
"I mean, I feel like with any group that's how we try to play. We try to move the ball, get the ball to an open man shoot open shots, and just make plays."
On how he feels about this game …
"I feel like it was a tough game. We had to be disciplined because they set back screens, a lot of screens, so it just test our discipline and if we were going to be together this game and I feel like we came out good and we were together throughout the whole game."
On his thoughts on going from a large stage game on Tuesday to turning around tonight …
"It was a lot of fun, for real. We definitely should have pulled it out. I feel like it is a learning experience for us and especially for me because I made a couple plays down the stretch where it kind of hurt us. Early fouls definitely hurt us. Really just a learning experience for the whole team and I feel like if we stick together, it will be easy."
#15, Reed Sheppard, G
On how it feels to make an impact on the scoreboard…
"Yeah, felt good. I gotta give a lot of the credit to my teammates. They were able to break down the zone and get me open shots and I was able to knock them down. So, it's a super fun game. Shots were falling."
On getting shots from all over the floor …
"No, just because you work for it, and that's what you do. You go to the gym and that's one of Cal's things right now, shots are gonna fall. You guys spend countless hours in the gym, countless amounts of shots in the gym that you shoot. So shots are gonna fall. So when they fall it just feels really good. And like I said earlier, my teammates, I got the best teammates in the world. They're always gonna find you if you're rolling."
On teams being focused on other offensive weapons on the floor …
"Yeah, for sure, especially Tre Mitchell. I mean, you have to guard them too, they're really good players. They'll knock down the shots. And it's super fun too because if they guard you, you make one more, then they make the shot. So it's really cool we've been able to do that."
#4, Tre Mitchell, F
On playing Kansas and then playing Stonehill …
"Coming off a loss is motivating enough, even if it was the No. 1 team and all of that. We have dudes that are hungry and that want to compete every night, regardless of who is lined up across of us. I think that it speaks volumes on their character and who they are as competitors. Yeah, I am grateful to be here we are blessed and I want to compete every day, it's not like it's just on game-time we are going at it every day in practice too."
On if he likes playing against the zone…
"I love the zone, I love getting in the middle of there and being able to operate it because I think I see the floor well, make pretty good decisions except for my turnovers today. I think I had two, my second one was off a rebound so I'm not sure if that actually counts. The first one was against the zone, but I mean I love it. I've seen the zone so many times."
On the key of playing well…
"Making the easy plays, we have dudes that don't always try to make that hero pass, we turn it over a little more than we have, but I mean everywhere I've been in college basketball, our goal is 10 or less turnovers. We are looking at around six maybe a game and that is impressive. Especially with a young group, credit to them again and their ability to play the game and making the right plays."
Stonehill Head Coach Chris Kraus
Opening Statement
"This feels like home. Just like our 2000 seat gymnasium. Our group is really excited to be here and to get this opportunity to play at Rupp against Kentucky and against Coach Cal. I was really proud of our group today. We've had a tough two weeks of learning curves and our group trying to figure out who we are, and figure out how we, at Stonehill play. And I saw a lot of that today. If we can learn as a group with what we are doing and building, we have a chance to be a pretty good team in the NEC. I was really proud of the effort, the fight, and the toughness that we showed. I think we cut it to 12 right off the bat early in the second half. And we made them adjust a little bit. I do think they had a bit of a hard time guarding us. We changed up kind of how we play in different parts of the game and I think it worked out for us. I'm just really proud of the group and this guy to my right. He is learning how we play here at Stonehill. He showed he belongs and that he's pretty darn good player against these guys. He had a phenomenal game. Really proud of the effort we put up today."
On if they prepared for Reed Sheppard…
"We heard about him and saw him on film, and even saw him in his AAU days, and just how good he is, how skilled and efficient he is at shooting the ball. We basically played 40 minutes of zone today, and he was one of the guys we made sure to key in on. It's hard when you have weapons everywhere and size, athleticism, at the rim. We tried to take away the high post from Tre Mitchell. Him catching the ball and getting high post scoring a lot sucked us in a little and opened up the 3 for Reed. It's hard to guard those guys and it's hard to stop him. I think he was 7-8 and he is who he is for a reason. I thought for us, if we can find that effort when we get to our league, we'll be okay."
On the takeaways from the game…
"I don't think anyone gave us a fighting shot to win. We haven't done what we did tonight against any other team. Against UConn, we didn't play with the same level of toughness, competitiveness, or even offensively, just with how we at Stonehill play. But I saw a lot of that tonight, so I think that's a big step forward for our group. We have a young team who are still learning how to play in our system, and I really think if we can figure that out, then we'll be heading in the right direction for our season."
On comparing Kentucky to UCONN …
"Was it the exact same score? I mean they are both incredible. I think you deal with the speed, the athleticism that these guys have compared to a little bit more size that UCONN presented a week ago. This guy [Tony Felder] you know he grew up with Donovan Clingan and I know obviously there's a couple of guys injured here that allow some more size that will be, hopefully, back for Kentucky along the way, but you know it would be a fun game to watch. I will tell you that much. It was an incredible opportunity for us to play against them, and you know if and when, if they do get to play, I'm sure our guys will be able to sit back and say, you know enjoy watching that after we got a chance to be on the floor with them."
On how this game got scheduled …
"There was an email that went out and I quickly followed up with, 'Hey, are you interested in us?' When I saw the email it was something that, I think you go ask our guys in the locker room, the opportunity to play here and I'm sure you guys hear this all the time, especially in a non-conference schedule, and to have an opportunity to come here to play against this program we jumped at it. Just was scheduling, you know it was a tournament, the Wildcat Classic, that Kentucky had to agree to play, or agree to sign off on us and some other schools that are through, so just happened through some scheduling that happened last Spring into the Summer that all came together. So, I jumped at the opportunity in the email and fortunate they gave us a chance to come here."
On what the gameplan was in this game …
"Yeah, we play like an open free-flowing motion and it's predicated on a lot of ball movement and a lot of ball reversals and togetherness. We've got, what I think, is typically about four or five guys on the floor at all times that can shoot the 3, so we present a little bit of a different challenge to certain teams where fours or fives can step out and shoot threes which lifts some forwards and lift some size away from the rim. It opens up a little bit more penetrate and kick, especially for Tony and Jackson, some of our guards. So our thing was let's just be who we are. We've been kind of trying to find us a little bit, find our motion, find our ball movement, and the other day against St. Joe's it just wasn't us and it hasn't fully been us this season. So we added a couple of things offensively in practice that we are still trying to learn who we are and I think, you know, when we play like we did today we'll be okay as we get going into our league, but the ball got moving side-to-side, I thought some split cuts and some screen action, some curls and some flares, I think that held them accountable defensively. And we kind of try to force teams to have to communicate through a lot of actions, and if and when a screw up happens, then we can take advantage with an attack or a three."
Stonehill Student-Athletes
#10, Tony Felder, G 
On the game tonight …
"I think we took a step in the right direction. Obviously, the outcome we definitely want to be better. But there's a process to everything, like I always say, and I think we took a step in the right direction, but we still have a lot of work to do."
On what specifically they need to work on …
"Learning (about) each other, building chemistry, being able to be defending at all times on the court and stick it to the box, sticking to Stonehill Basketball and that's what we do at practice and that's what we want to continue by the time league play starts, hopefully, we will be better."
On what he learned from the game tonight …
"The things I've learned, really just focusing on getting better. We could be a really good team when we stick together and play Stonehill Basketball and when we go away from that it can be really tough. So trying to be a good leader and keep on my team and that's basically it. The growth, it was solid, especially in the first half. I feel like we were playing like us, even though defensively we need to lock in more. We are allowing too many points at the moment, but we definitely will be better and continue to."