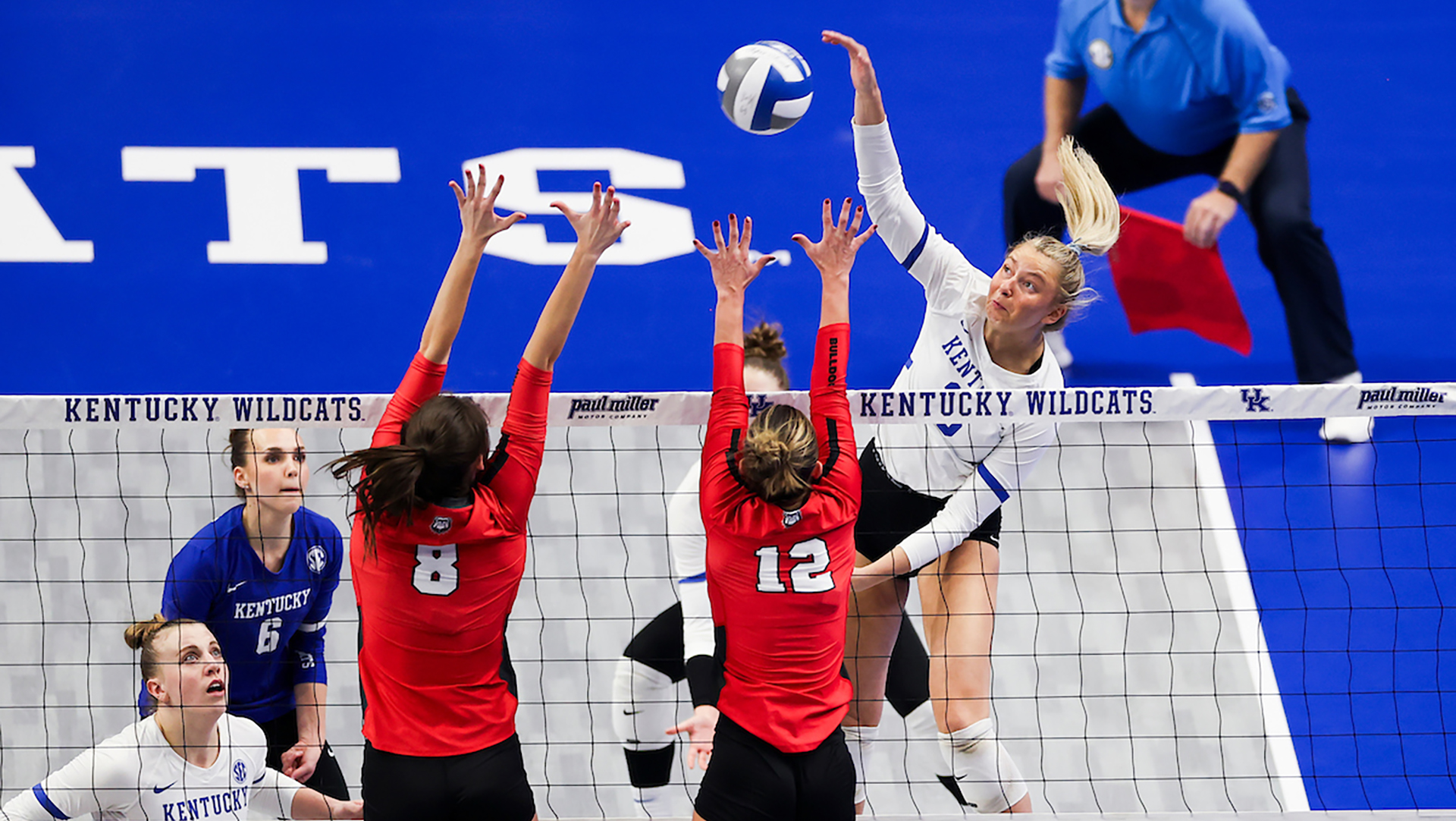 November 12, 2023 - 05:33 PM
Healthy Lamb Adding Another Weapon for UK Volleyball Offense
Erin Lamb will be the first to admit that the 2023 volleyball season has been a bit of a roller coaster. The Kentucky junior has had more than her share of both good and bad times.
Sunday was one of the better moments of the year for Lamb. The Stewartville, Minnesota, native had a season-high 14 kills and hit .480 as the 13th-ranked Cats swept Georgia at Rupp Arena. For Lamb, it was a satisfying match.
"I think always just being ready," Lamb said. "I take pride in coming to practice every day and working super hard and when that time comes, being ready so I can make a difference. It's really huge when we have so many options on the court at all times. Being able to do that is really special."
Lamb has battled both injuries and inconsistency this season, but she seems to be finding her footing at the right time. She has noticed a difference in her play over the last few matches.
"That's obviously been a struggle for me in past seasons," Lamb said. "I think we have it down now, we have a good routine now with our trainers and lifting. It's been a roller coaster but we've gotten a good routine down."
UK head coach Craig Skinner knows that Lamb can be a very important piece for the Cats as they continue their chase toward a seventh consecutive Southeastern Conference championship.
"You want to have as many options as possible to make it difficult for a team to serve you or block you into trouble," Skinner said. "Having three options at the net all the time is super important this time of year. As Erin has all year long, she's practiced really well and earned her chance to go out and show what she's capable of doing, which is what you saw today."
Lamb was part of a three-headed attack for the Cats in Sunday's win. Freshman Brooklyn DeLeye had 16 kills and hit .464, while senior Reagan Rutherford had 11 kills and had a .400 hitting percentage. UK hit a sizzling .410 as a team for the match.
Lamb came out hot in Sunday's match, registering five kills on nine swings in the first set, leading UK to an amazing .593 hitting percentage in the stanza. In set two, Lamb had six kills and one error on 10 swings as UK built a big lead in the match. Skinner was impressed with his team's effort against a quality opponent.
"For us to have 52 kills and hit .400 against an NCAA Tournament team is impressive by our crew," Skinner said.
With Lamb providing another offensive option, the Cats ran their winning streak to 12 matches. That bodes well for Kentucky as the postseason grows ever closer.