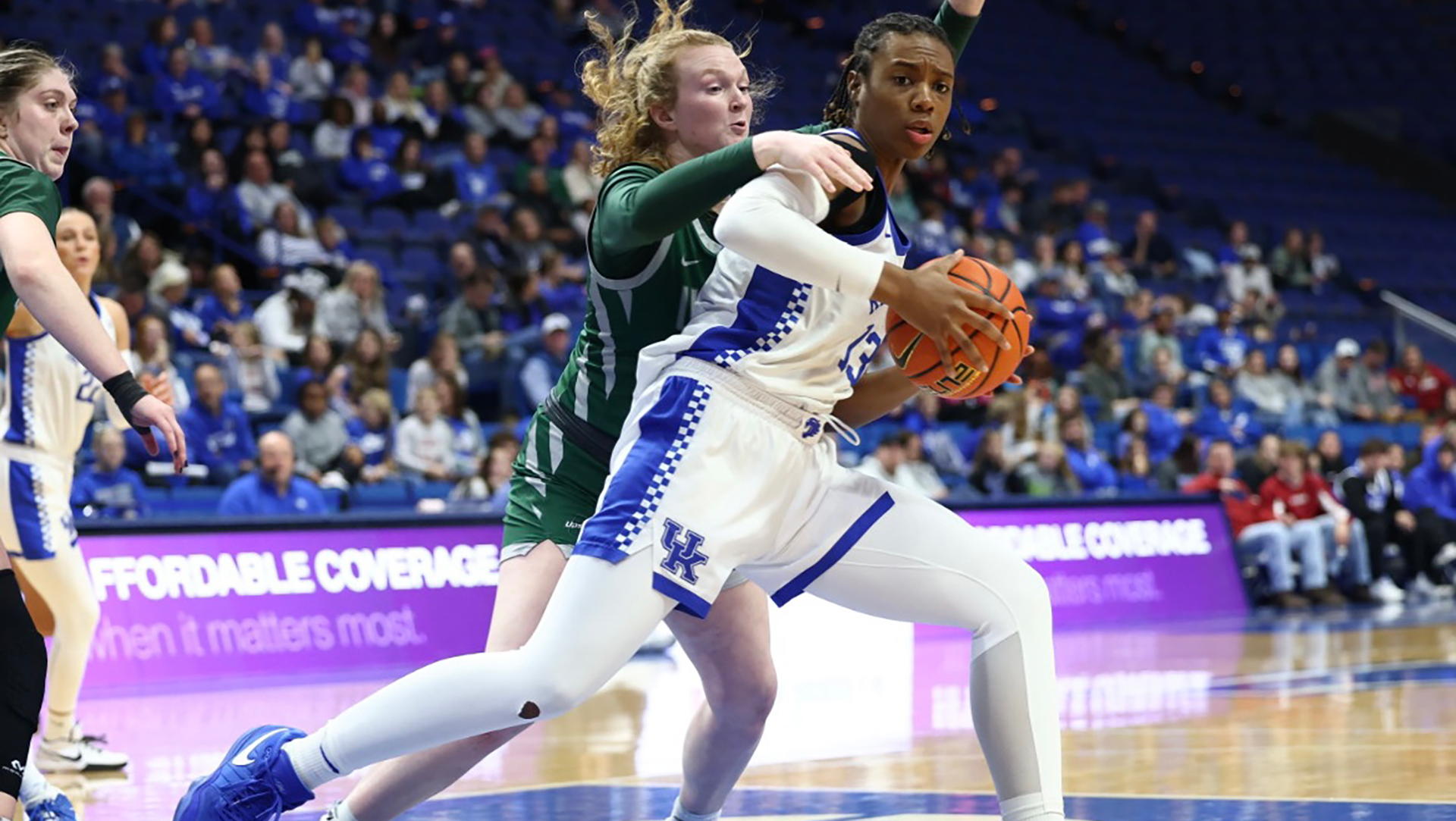 November 11, 2023 - 08:57 PM
Balanced Scoring Attack Leads Cats Past USC-Upstate on Saturday.
In Tuesday's season opener, the Kentucky women's basketball team had a balanced scoring attack in a 74-66 win over East Tennessee State. All five of Kentucky's starters scored in double figures in that game.
Perhaps that will be a trend this year because in UK's second game of the season, a 82-54 win over USC-Upstate on Saturday night in Rupp Arena, the Cats again had five players in double figures on their way to a second win.
Ajae Petty led all scorers with 19 points, while also grabbing nine rebounds. Eniya Russell came off the bench to score 14 points and also grab nine rebounds. Maddie Scherr had 12 points, six rebounds and six assists for the Cats.
Brooklyn Miles had 10 points and four assists, while Zennia Thomas came off the bench to score a career high 10 points in the contest.
UK head coach Kyra Elzy liked how her team executed a number of goals in Saturday's win.
"(We took) five charges," Elzy said. "We had five people in double figures, which was huge. We won the boards, plus-11."
Russell had one of her better games since arriving in Lexington, something that Elzy liked to see.
"Eniya had a great game. I thought she came in and gave us big minutes," Elzy said. "She's locked in and focused. She got nine rebounds and she was very excited about it, and so was I. Proud of her for rebounding the basketball."
As for Thomas, Elzy sees the sophomore continuing to improve.
"I was really proud of 'Z', she steadied us early," Elzy said. "Finishing and/or getting fouled. Really proud of her improvement."
While there are several areas that the Cats continue to work on, one of the main focuses will be three-point shooting. UK hit just two of 18 (11.1 percent) from behind the arc in the game. Elzy knows that the Cats are better than that number, but she also knows that her team needs to work on that aspect of the game.
"We're better shooters than we're showing from the three-point line," Elzy said. "We need to get more game speed reps. We'll go back and focus on that."
Kentucky blew the game open with a 17-0 run at the end of the first half to turn a nine-point lead into a comfortable advantage. In the second half, UK was able to maintain that lead and cruise to a 2-0 start on the season.
Next up for the Cats is a matchup against Austin Peay on Tuesday night at Georgetown College. Tipoff is set for 6 p.m. and the game can be seen on SEC Network Plus.