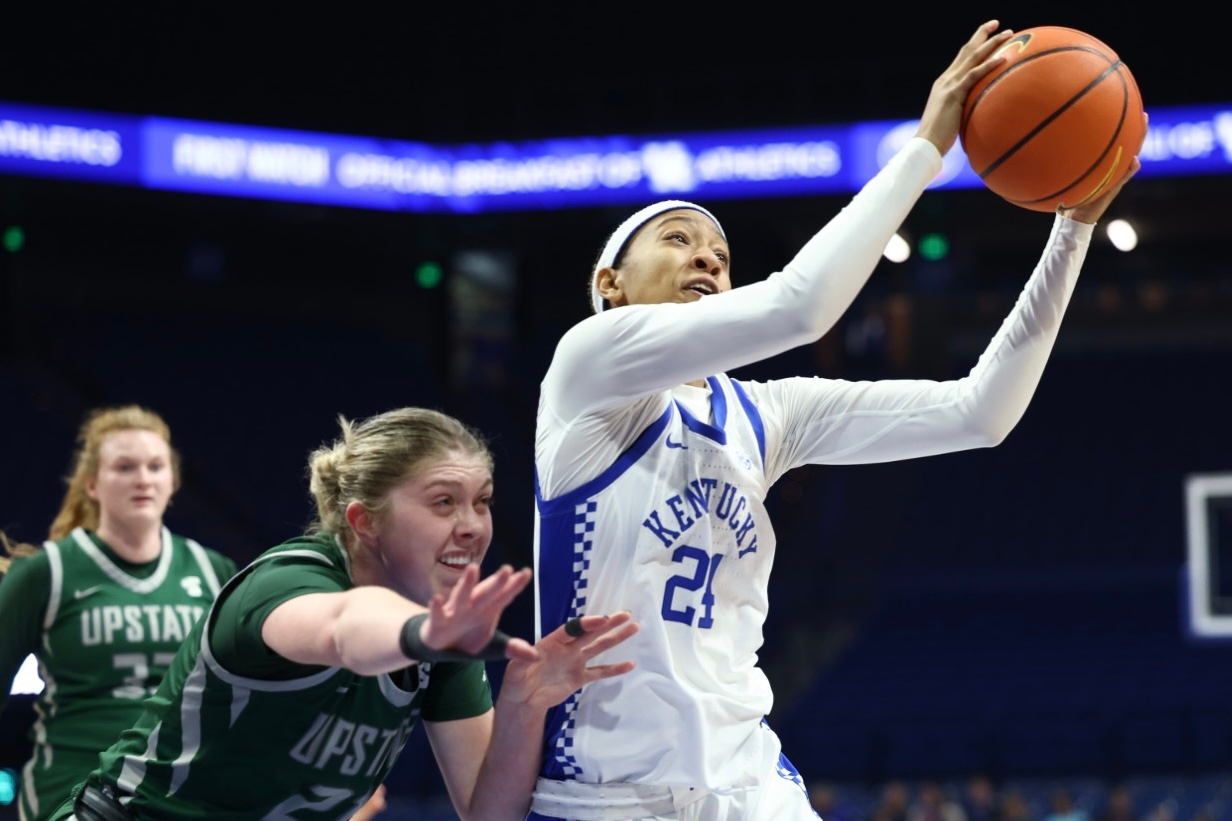 November 11, 2023 - 10:43 PM
Kentucky-USC-Upstate Postgame Quotes
Kentucky-USC Upstate Postgame Press Conference
Rupp Arena
Nov. 11, 2023
Head Coach Kyra Elzy
On what makes Eniya Russell helpful in the offense…
"Eniya had a great game. I thought she came in and gave us big minutes. She's locked in and focused. What I love about her is that she's playing defense. She got nine rebounds, and she was very excited about it and so was I. She was lobbying to go in for the tenth rebound but I told her she had 20 minutes, so she should've gotten it before then. But proud of her for rebounding the basketball and playing really hard. She played her role. I asked her to give us eight to ten (rebounds) every game and so far she's stepped in and has starred in her role. We need her. She's one of the best guards we have on this team, but she also brings versatility. I can play her at the three or the four. She has great size, and her ability to pass and score makes her a big threat for us."
On what went right and what are areas of improvement…
"Well, let's talk about the things that went right first. The big thing is five charges. I challenged the team to get two to three, and we got five. We also had five people in double figures, which was huge. We also won the boards plus-11. Some things we have to continue to work on: I thought in the third, we let our defense rest; Defensively, we sat behind in the post, we weren't switching, and we gave up some open threes. Being able to sustain our defense no matter the score. I thought we were playing on the side some. We let them go straight downhill instead of leveling the ball off. We just didn't finish our defense all the way through. And then offensively, I thought we got stagnant at times. It took us too long to get into our offense. We can run our offense from side to side, but we get stuck on one side of the floor sometimes. But that just comes with reps and playing with each other."
On working on three-point shooting…
"We are better shooters from the three point line than we have been showing these last two games. In practice, we shoot a lot of threes, but I think we need to put more pressure on it. Also, with the defense running out at us, I think that would help us. We need more game-speed reps. There were open looks, and we need to be able to knock those down. So, we'll go back and focus on that."
On how Zennia Thomas has grown…
"I was really proud of Z. I thought she steadied us early in the offense with her ability to finish around the rim, go get offensive rebounds, finish, and get fouled. She was 4/6 from the free-throw line. Really proud of her improvement. She's put on some weight in the off-season, so for her to really hammer down and finish through the contact is big for us."
On if there will be times throughout the year she'll ask Brooklynn (Miles) to slow down…
"Yes, you are correct. She has fast and faster but just trying to find a good balance of you know what I taught. We watch film before the game today, there is a time to push and if you get down there and we don't have the numbers, then we got to pull it out and flow into an offense and so still trying to find the balance there. And yes, we will have to slow it down and get into offense but I would rather pull her back and slow her down. But she did exactly what I asked her to do today–push the basketball. Now our next step is when we don't have numbers, let's flow into offense and we need to get into our offense more quickly."
On how important it was to get the freshmen in-game experience… 
"It's big we're getting ready to play a brutal stretch and it's going to it's going to take all of us– so getting our freshmen in the game. You know Janae Walker brings us some physicality in the post she has good size and good hands– the game is still moving fast for her for her, but she's going to hustle. Defensively Jordy (Griggs) gives us good size. She can play the four spot but she can shoot it, so just trying to continue to get them game experience. You don't have any experience until you get some–but we're going to need both of them down the stretch."
On the difference of the atmosphere playing in three different arenas and if the team is affected by it… 
"Well, it's been great atmospheres because big blue nation has showed up– we've had great fans. They are all different experiences obviously, we're more comfortable in Rupp because we played more games here but our approach is business as usual. Transy, it's still 94 feet the goals are still 10 feet high, the fans are still going to be there so that's the approach that we take. It is a different experience but that's what we have to do this year. Georgetown is going to be another home court so any home court here we're just going to treat it as our own and so business as usual–so that's our approach."
On Ajae Petty being in foul trouble again… 
"I like how you said that 'again'– you're right again that is correct. Well, you know, she has to be smart defensively. You're getting some tic tac fouls that you don't need to get so that's part of her just growing, being disciplined. Don't go for the reach or if you know you can't get the ball and they're already in front of you there's no need to go try to go over the back –we need you on the floor. And so that's with us just working through that that you have to be more disciplined."
On updates on Maddie Scherr… 
"Well, this is what I love about Maddie I went down to the bench to check on her she goes 'Oh coach I'm okay now it hurt for a second, but I could go back in if you need me.' I was like 'no, you're not going back in.' But she'll always say that she's okay but our medical staff will treat her and we hope to have her back on Tuesday."
Player Quotes
#4, Eniya Russell, G, Sr.
On what works defensively to result in runs …
"I think Coach harped on being in the right defensive position, we worked on that a lot in practice, when we are in the right defensive position, and we get one stop it's a spark to the game. Our defense motivates our offense, we get a stop it keeps us going, just being in the right defensive position is one of our main focus and I think we are doing real good on that."
On if this is the game that you and Ajae Petty imagined when transferring…
"It's a good game but I know we can do better; I think this is a start to something new. I think we both are getting into the flow of things, last year we were transitioning and getting used to the Kentucky system we both came from different schools, so I think this year is a good year for both of us and the rest of our team to know how our coach wants us to play and us playing with."
On how Brooklynn Miles' pace and play affects your mindset…
"The way Brooklynn plays is the way I love playing, I like to play fast. The way Brooklynn pushes the pace is outstanding, she's probably one of the fastest people I know. When she gets the ball and goes, half the time I don't even know where she's going but I don't think it's very difficult. Especially because in practice she does the same thing, so she builds a habit and when she builds a habit, she makes us build a habit, that's how we got used to her playing like that. So, I think it's all coming together and y'all just seeing how fast she actually is but it's actually great playing with her."
#24, Zennia Thomas, F, So.
On your growth and confidence today…
"I wanted to come into the mindset of personal growth as well as giving my team what they needed to succeed. Coming in doing what I need to do, crashing the boards, putbacks, and-ones, and free-throws, making sure I hit those. Then, making sure I was in a defensive position as well because we worked on that a lot, so just trying to do the right thing."
On what contributed to the 20-2 run to end the first half…
"Again, with defensive positioning, just being in the right spot. We force a lot of turnovers and slow the ball a lot so being able to push in transition off that and create a lot of opportunities for each other. Also, we like to run the floor, so everybody is sprinting hard in transition and it opens up for everyone because you don't know if we are going to get the shot on the 3 or the layup so it makes it hard for the defense to read it."
On how Brooklynn Miles' pace and play affect your mindset…
"I would say the only challenge is trying to get the ball out fast enough so she can push the ball, but I love it because by the time she's at halfcourt, she's already scored so I can get my breath."