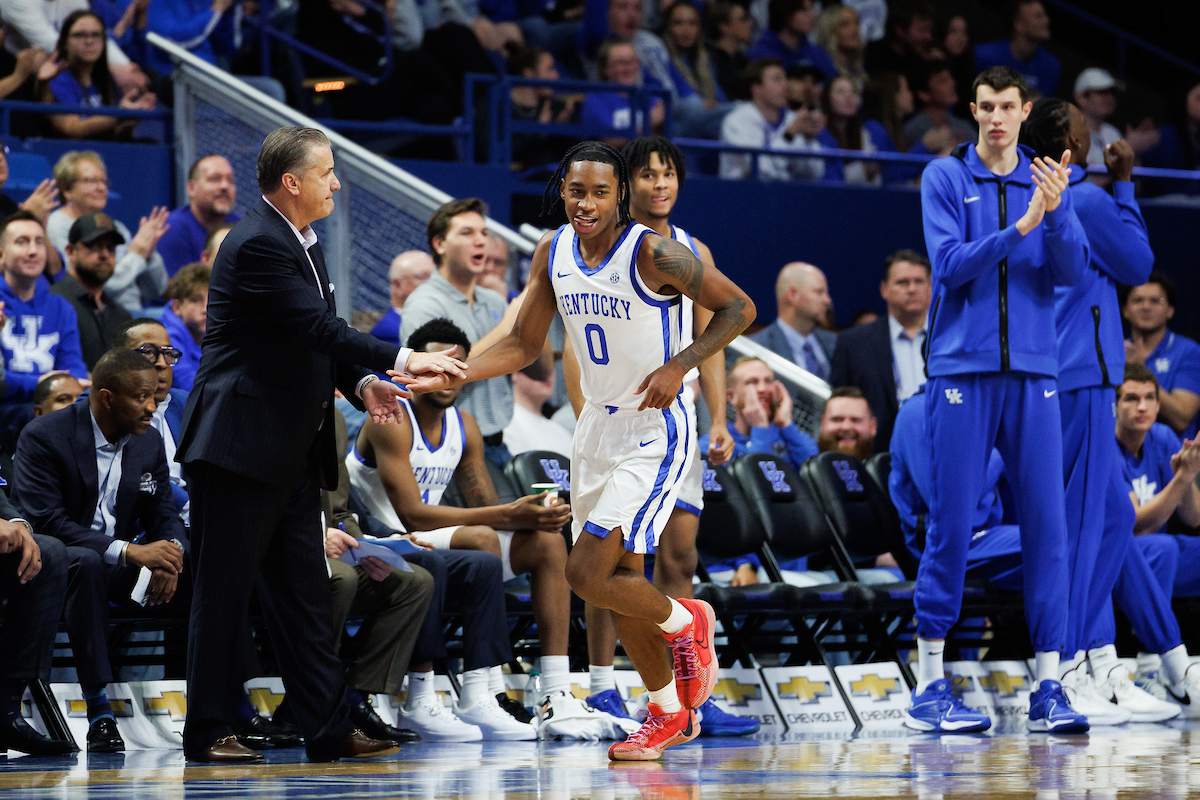 November 9, 2023 - 03:55 PM
Big Blue Preview: Kentucky vs. Texas A&M-Commerce
After beating New Mexico State 86-46 in its season opener, No. 16 Kentucky hosts Texas A&M-Commerce on Friday night at Rupp Arena.
The Cats outscored the Aggies 49-17 in the second half to turn a close game into a blowout in front of 18,438 blue-clad fans. Freshman Rob Dillingham led all scorers with 17 points, while fellow freshman guard D.J. Wagner had 13. Two other freshmen, Justin Edwards and Reed Sheppard, each had 12 points, while senior Antonio Reeves had 11.
Reeves, the team's leading returning scorer, liked how the freshmen played in their first collegiate regular season contest.
"The younger guys are finally getting it, playing at the collegiate level," Reeves said. "They played really well for the first game. There were no nerves. They are adjusting to the pace of the game really well. In transition, those guys were flying down the court."
Reeves has an idea of what makes this group of freshmen so good.
"Hungry mentality, they're tough, they play with a lot of grit," Reeves said. "They just focus from the start of the game until the end of the game. That's what I really like about this team."
"Definitely. We've got a lot of good players. We all look for each other out there."
Reeves likes the direction that this team is headed early in the season. Asked what he thinks about the team so far, he didn't hesitate.
"That we're really good," Reeves said. "I don't have a lot of pressure on me. Just be ready to create or be ready to shoot. It makes me feel good, having great players around me. Those guys can create shots and do their own thing."
Texas A&M-Commerce will be playing its third game of the season on Friday night. The Lions lost at Texas A&M 78-46 on Monday, then fell at Texas Tech 73-46 on Wednesday.
Jerome Brewer leads the Lions in scoring, averaging 12 points per outing, and rebounding, pulling down seven boards per contest. Kalen Williams averages 11.5 points per game for TAMU-CC.
Tipoff for Friday's game is set for 7 p.m. ET and the game can be seen on SEC Network Plus.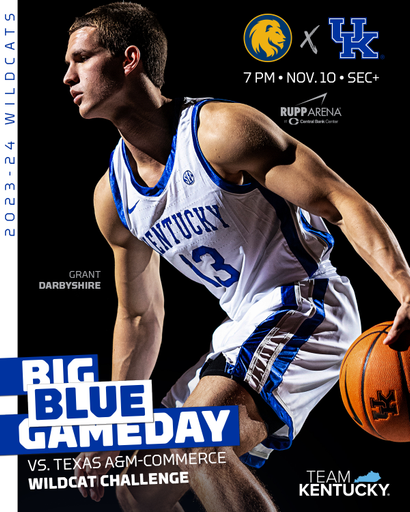 Takeaways from the New Mexico State Win
Kentucky had five players in double figures, led by Rob Dillingham, who had 17 points. The freshman added five rebounds, three assists and two steals.
D.J. Wagner had 13 points and four assists, while freshman Justin Edwards had 12 points, five rebounds and two steals. Fellow freshman and Kentucky native Reed Sheppard had 12 points, five rebounds, two assists, two blocks and two steals in his first official game in Rupp Arena. Tre Mitchell came up just short of a double-double with nine points and nine rebounds.
Kentucky blew the game open at the end, scoring the last 17 points and ending the game on a 21-2 run.
• Kentucky limited New Mexico State to 46 points and improved to 90-0 under Calipari when limiting opponents to 55 points or fewer
• NMSU shot 32.1% from the field. UK is 234-24 (90.7%) under Calipari when keeping the opponent to 40% or less
• Kentucky forced 18 turnovers, 13 of which were steals, and UK won points off turnovers, 24-6. The 13 steals were tied for the second-most ever in a game under Calipari
• Kentucky led by as many as 40 points. The Wildcats are 330-14 (95.9%) in the Calipari era when leading by as many as 10 points at any time during the contest
Forever Young
Similar to early teams under John Calipari's direction, the 2023-24 Kentucky Wildcats are one of the nation's youngest teams. With an average age of 20.0 years, the Cats rank as the seventh youngest team in the country. Only Arizona, at 19.77 years is younger from a Power Five standpoint.
This UK team is powered by the nation's No. 1 recruiting class. Calipari has had success before with teams led by the nation's best first-year players. Results of other No. 1 ranked classes under Calipari and corresponding seasons:
• 2010 – 35-3 (SEC Champion, SECT Champion, Elite Eight)
• 2011 – 29-9 (SECT Champion, Final Four)
• 2012 – 38-2 (SEC Champion, National Champion)
• 2013 – 21-12
• 2014 – 29-11 (Final Four)
• 2016 – 27-9 (SEC Champion, SECT Champion, Sweet 16)
• 2017 – 32-6 (SEC Champion, SECT Champion, Elite Eight)