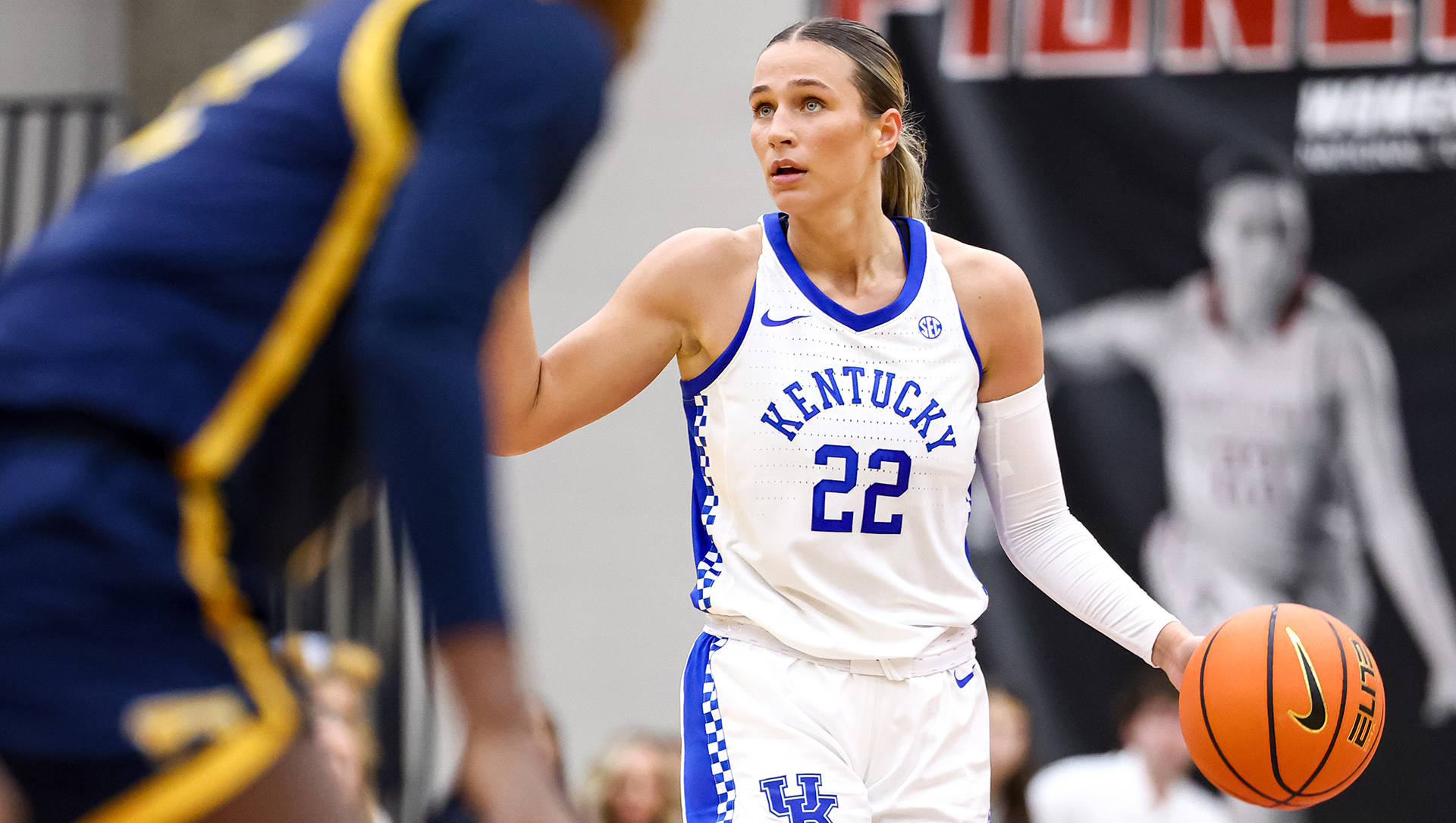 November 7, 2023 - 10:32 PM
Resilient Kentucky Holds Off ETSU in Season Opener
The Kentucky women's basketball team faced a lot of adversity in its season opener on Tuesday night. The Cats hosted the game at a new venue, Transylvania University's Beck Center. Kentucky was hosting Southern Conference favorite East Tennessee State, a team that won 25 games last season. And UK found itself in early foul trouble, with three starters having to go to the bench in the first half with at least two fouls.
Kentucky was able to overcome all of that with a second half rally, winning 74-66 in the first contest of the 2023-24 season.
The Wildcats got a balanced scoring effort in the game, with five players scoring in double figures. Former Anderson County standout Amiya Jenkins led UK with 16 points, while Maddie Scherr and Saniah Tyler each had 14. Ajae Petty had a double double with 12 points and 13 rebounds for the Cats. Brooklynn Miles added 10 points and four assists.
Kentucky head coach Kyra Elzy liked how Jenkins took the ball to the basket in Tuesday's win.
"I thought Mimi Jenkins came up big for us," Elzy said. "Her ability to drive to the rim and finish with contact was huge for us."
In the first half, Tyler was saddled with three fouls, while Scherr and Petty each had two. Those three players were forced to the bench and the Cats went to the bench. It all added up to an advantage for ETSU, which scored 14 consecutive points during one stretch to turn a seven-point deficit into a seven-point lead. The Buccaneers would lead 30-28 at the break. Elzy had a clear message for her team during the halftime break.
"We started with our offense," Elzy said. "Those shots were going to go in. We had some looks. Getting into our offense quicker. But the biggest thing was we needed to quit fouling so we could get out and run."
Elzy knew that her team came over quite a few obstacles to get Tuesday's win.
"I was proud of this team with their resiliency," Elzy said. "We got down but we kept talking in the huddle, kept fighting defensively."
The game was tied going into the fourth quarter and was tight early in the final stanza. But a 7-0 UK run put the game away.
Kentucky returns to action on Saturday, hosting USC-Upstate at Rupp Arena. Tipoff is set for 6 p.m. ET and the game can be seen on SEC Network Plus.