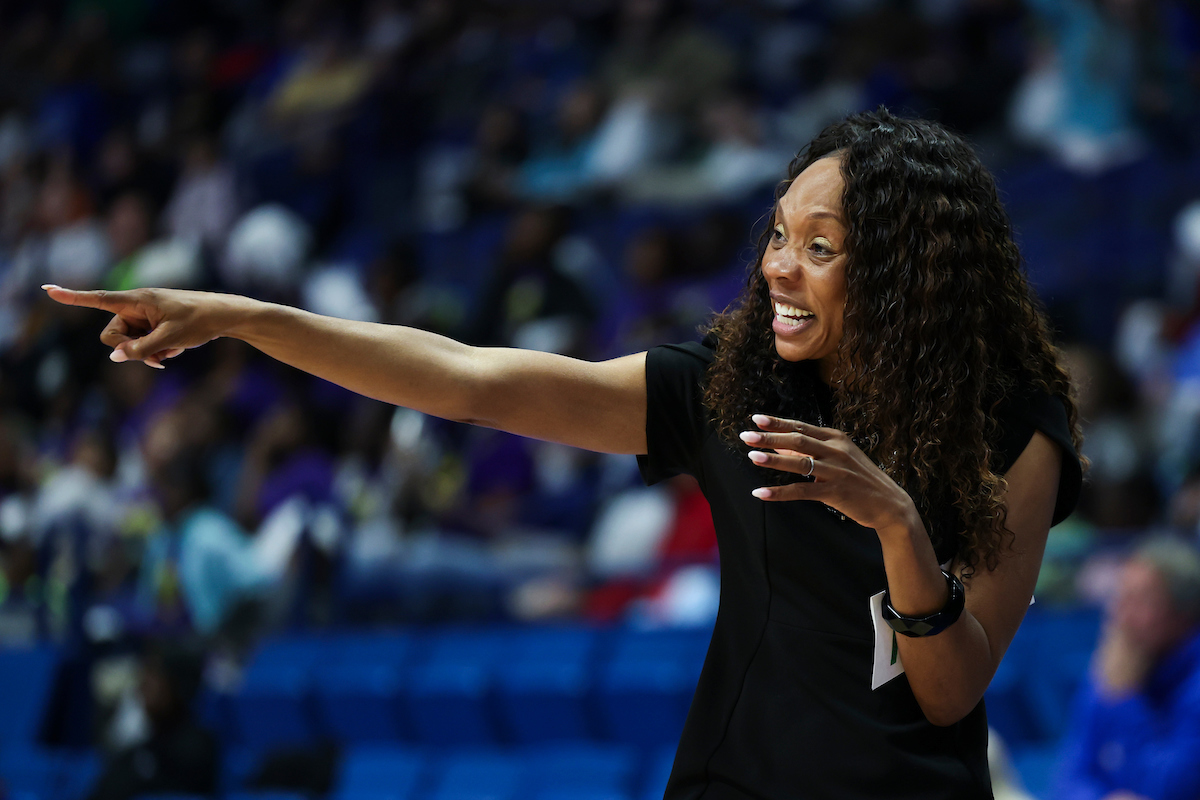 November 7, 2023 - 11:03 PM
Kentucky-East Tennessee State Postgame Quotes
Kentucky-East Tennessee State Postgame Press Conference
Clive M. Beck Center
Nov. 7, 2023
Head Coach Kyra Elzy
On the difference between finishing games this season vs. last season…
"You know, I was just proud of this team with their resiliency. We got down, but we kept talking in the huddle, [we] kept fighting defensively — even when we were making mistakes but the proudest thing for me, when our shots weren't going in … we hung in defensively until we could get it back going. So, I was proud of their resiliency and their fight."
On your message to the team at halftime to rally them…
"We started with our offense. You know, those shots were gonna go in. We had some good looks. We had to move the ball — we had to get more movement. We were settling for 'one pass' [and] quick shots, so we needed to get some movement. They were changing up [defenses] man and zone, so getting into our offense quicker, and making sure we were penetrating the gaps by playing downhill [off screens]. But the biggest thing is… I said guys we have to quick fouling, so we can get out and run. You have to either get a defensive stop or quick fouling so we can get the tempo that we wanted to get. I thought it was slower than we wanted it in the first half."
On getting beat backdoor on defense…
"Well, I thought we were playing overly aggressive, which, you want that. But with this team, obviously, they have some three-point shooters so you're spreading us out on the backside. [We] didn't get the help as quick as we needed to. We're worried about shooters on the backside. I thought we got some early fouls — playing aggressive on the ball — I want to pressure the ball which we need to do. We gotta adjust to how they're calling the game. [We] got too many fouls which put them [ETSU] on the free throw line, so we were aggressive, which we need — but now we've got to play aggressive and smart.
On what you liked from Amiya Jenkins tonight…
"Well, five players in double figures, which I'm very proud of. That means we're sharing the ball and have a balanced attack. But I thought Mimi [Amiya] Jenkins came up big for us today. Her ability to drive to the rim and finish with contact. I thought when we didn't have anything going, her finishing around the rim was huge for us but also her defense. She's able to guard the 1 through the 4 — which helps us. So, when we went small, I thought she made some big plays for us defensively."
On the advantages of a hard-fought game …
"I would love to enjoy some breathing room but, they tested us early. ETSU is a very good basketball team. They won 25 games last year and were picked to win their conference this year. Putting us in pressure situations as we're starting Brooklyn Miles, Eniya [Russell], and even [Ajae] Petty playing minutes and not just playing them we are asking them to produce which they didn't have to do a year ago besides Maddie [Scherr]. So a lot of people playing new roles. So getting tested early definitely helped us."
On why ETSU's guard made the game so difficult…
"Her ability to score and read out of the ball screen. I thought she played downhill out of the ball screen, but if we didn't play it right she could step back and hit it. Our ball screen defense was not the best today, and we have to work on that. But what we did do was adjust. One-on-one, I just said build a wall and make someone score over you more than around you. So we got enough stops to win today."
On how they have improved on committing fewer turnovers since the exhibition game …
"That is a victory for us. Out of all the things I said in the locker room, when I said seven turnovers they started screaming because we have been harping on that. We have talked about not making the home run plays and just making the easy pass. Make the pass, short the pass, no home run plays, and we did that today so taking care of the ball is huge for us in order to play how we want to play."
On if Emma King is ok …
"Yes, Emma King is good. She got hit in the eye but she is good."
On the atmosphere of this home away from home …
"I thought the atmosphere was amazing. Big Blue Nation fans thank you for coming out. Great atmosphere today, loved playing here. We told the players any gym is home so right now we have three homes, Transy, Georgetown, and Rupp Arena. So we will enjoy all of them and it's been a different experience trying to get into routines today but our players are business as usual."
Player Quotes
#22, Maddie Scherr, G, Sr.
On what was holding the team back in the first half and how it improved in the second half…
"Sometimes shots don't fall and sometimes you're not locked in enough on defense, plays can go wrong, but I think at halftime it was important for us to come together and just know we're not going to get down about this and we're going to come back out. We were down by nine at some point in the second half and being able to stay composed, come back and win is super encouraging for this team."
On only committing seven turnovers…
"That's huge. Taking care of the ball every possession matters, especially in a game like that. One more turnover could've cost us the game so I think that's huge. Especially younger players not committing turnovers in high pressure situations is great."
On comparison to last season's team leading games but then struggling to win…
"It's a whole new team so sometimes it just ends up different, like I said earlier in the radio it's super encouraging to be on this side of the dogfight and that's not the last one we're going to be in. I think it's a good lesson to know that we are going to be in situations like that and also against bigger, tougher opponents and we've got to be able to pull them out."
#20, Amiya Jenkins, G, So.
On your experience during the end of a successful third-quarter sequence…
"I don't know. I just was so focused on the game. I was like, 'we need to score'. So, I just went in and tried to do what was best for my team to get us where we need to be."
On how big seven turnovers was and how it was a victory in itself…
"Also, not having any in the second half really kept our flow going."