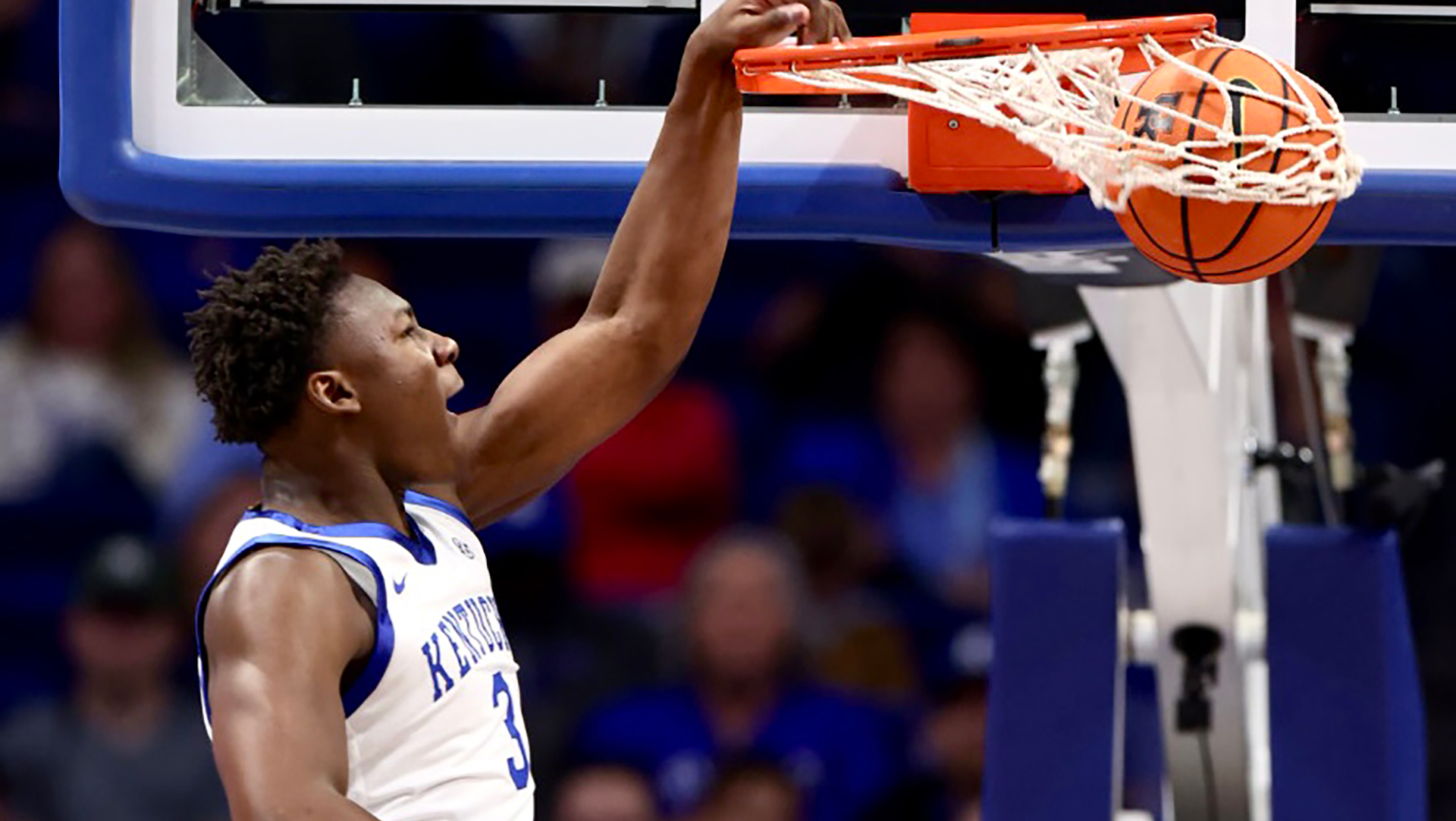 November 2, 2023 - 10:05 PM
Kentucky-Kentucky State Postgame Notes
KENTUCKY MEN'S BASKETBALL POSTGAME NOTES
RUPP ARENA AT CENTRAL BANK CENTER | LEXINGTON, KY.
NOVEMBER 2, 2023
ATTENDANCE: 18,739
Final Score: No. 16 Kentucky 99, Kentucky State 53
Team Records and Series Notes
UK improved to 152-12 all-time in exhibition games, including 4-0 vs. Kentucky State.
The Wildcats are 6-0 in exhibitions this season, including the GLOBL JAM championship in July.
UK has won its last 31 exhibition games dating back to a win vs. Pikeville on Nov. 2, 2014.
The Wildcats open the regular season Monday, Nov. 6, at home vs. New Mexico State. Game time is 8 p.m. and it will be televised on the SEC Network.
Team Notes
Kentucky limited KSU to 29.7 percent from the field, 29 of 64.
UK won the rebounding, 46-33.
Kentucky did not commit its first turnover until 11 minutes remained in the game, finishing with six miscues.
The Wildcats had 25 assists on 37 made baskets.
UK shot 56.1% from the field, 37 of 66, and connected on 40% from long range, 10 of 25.
All five starters scored in double figures.
Player Notes
Tre Mitchell notched a double-double with 15 points and a game-high 10 rebounds. He added four assists, three steals and two blocked shots.
Antonio Reeves led all scorers with 20 points, including four 3-pointers, and had four assists.
Justin Edwards had 17 points and nine rebounds.
Adou Thiero had 13 points with eight boards. The 13 points would be a career high if this had been an official game.
D.J. Wagner had 12 points and a game-high seven assists.
Coach John Calipari
UK is 49-1 in exhibition play under John Calipari.
Calipari will enter the season with an 832-253 all-time on-court record and a 365-101 mark at Kentucky.
In the First Half
Kentucky started D.J. Wagner, Antonio Reeves, Justin Edwards, Adou Thiero and Tre Mitchell.  
Rob Dillingham was UK's first substitution at the 15:50 mark.
Tied at 6, UK took the lead on a Mitchell dunk with 17:24 remaining and never trailed again.
Kentucky had a pair of 13-0 runs in the half and led 50-20 at halftime.
Wagner and Edwards led UK with 12 and 10 points, respectively.
In the Second Half
Kentucky opened with the starting lineup.
Kentucky had a 15-0 spurt early in the second half.
UK led by as many as 54 points at 97-43.