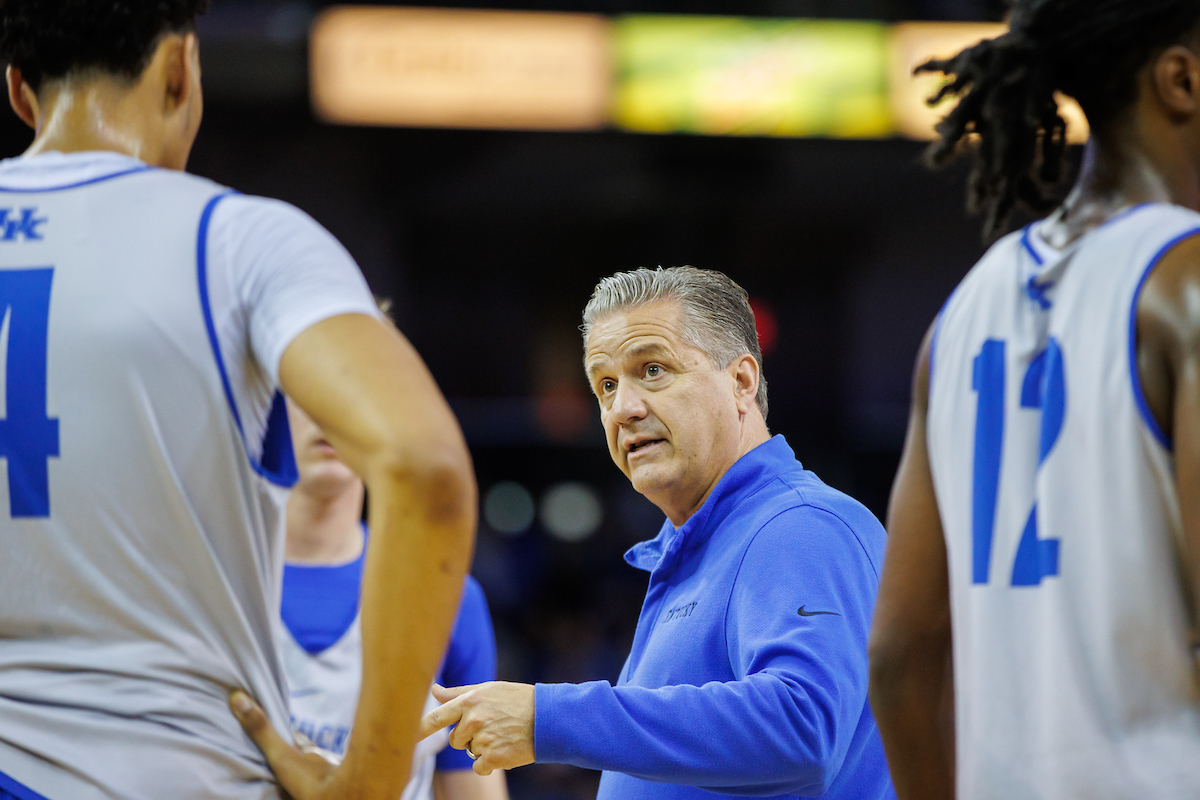 October 25, 2023 - 12:50 PM
John Calipari Media Day Press Conference
UNIVERSITY OF KENTUCKY BASKETBALL MEDIA DAY NEWS CONFERENCE
OCTOBER 25, 2023
LEXINGTON, KENTUCKY
COACH JOHN CALIPARI 
JOHN CALIPARI:  Hello, folks.  Why don't we just open it up and we'll go from there.
With Tre Mitchell coming in the program in the middle of the summer what have you seen from him from a leadership perspective both how he interacts with the young guys, but also I figure he's kind of a liaison to the coaching staff too. 
JOHN CALIPARI: He's a vet he's like that.  So he calms them down, but the biggest thing is he is one of those things that makes everybody better because of how he plays in who he is.  Some of them have to do some of the things he didn't due but all the stuff that he does is playing winning basketball.  And he spent a great leader.  Sometimes like he says they are so young — you try to some of their stuff I can't remember when I was 18 having to go through this stuff.  But he's been great they love playing with them because he makes the game easy for them — he's 6'9".  He is a 5 and wants to be a 5 but he's also a 4 — you are a 4 can be one of those big eyes and he can stay at a 5.  He's been great though.
Along those lines obvious Antonio and Tre veteran guys but is he your third?
JOHN CALIPARI:  He's a vet.  He's been good — part of it is being so comfortable in your own — if you are still trying to establish, it's hard to be that guy.  That's why it's hard for a freshman to come in and in the summer say I will take over this team.  It takes time but eventually if the freshman is supposed to lead, he will lead.  We've had that here before.
Hey, Coach.  We're talking about veterans and obviously you have veterans on this team, but you also have eight first year players.  So what's it like to coach a more youthful group after the last two seasons?
JOHN CALIPARI:  I don't know.  I've never done that before.  I'm teasing you.  The biggest thing is do you have good people with good hearts that are willing to share?  And we do.  They are all competitive as heck when we practice — it gets chippy.  But after it's over, like the other day we had one of our best practices and it was chippy.  Then as I walked off to go through the locker room to my office, I could hear them in the locker room absolutely — I don't know what they were doing but they were screaming and yelling and laughing and throwing in that's what you want from your team.  That yeah, we are on the court competing, but let's have fun together. And having all the young guys I've said it before you know if you ask me talent experience I'm taking talent and the talent usually figures it out. And we've had, you know, a couple transfers since I been here most of them graduate transfers — older players who have added to our team but we've been kind of selective — we've not just saying we're trying to take six transfers and we will talk to a lot of kids and have them on campus.  But you will find out usually the decision is made whether it be by us or them whether they should be coming or not — it's a made decision.  Knowing this isn't for everybody — you are recruiting a transfer, what's one of the first things he wants to know? You guys are basketball people.  Beyond playing time.  How about starting?  Am I going to be the main guy — I'm leaving. You know me. I'm not going down that road I don't do it with anybody.  When I have the freshman if you are better than them beat them out because they understand that. So, you know, this is I like the team because we have the experienced physical guys.  I know Antonio did not shoot the ball well up in northern Kentucky.  But he is so much a better player than he was a year ago it's not even close.  He is so much more comfortable — even comfortable when things don't go right.  Much more physical and able to get and create stuff so I'm really happy for him.
Preparing for a season —
JOHN CALIPARI:  The one was there for three days but yeah.
Are you playing a certain style now that may change?
JOHN CALIPARI:  Still want to be fast. Still want to be random.  I want to be out there with basketball players that can play you don't have to run plays every time — they understand how to space, and cut, and play.  But I've said it before, you all that have followed us, in my own career, we always had post presence rim protector all of the teams I coached at. Final Fours, Elite Eights, national championship games, they all had rim reduction and when you don't, we were bad.  I mean, you need that and we have it but we just gotta get them on the court.
You said you guys have been good the last couple of years you just haven't been Kentucky good. Are you confident —
JOHN CALIPARI:  We have to play the games.  I feel comfortable with who we are but you know when you know at the end of the year.  When we're Kentucky good like these kids want to be and they have a winning will to win in a toughness and all of that, but would you like my projection of our record?  Come on.  I'm not going to do that.  But I know this:  I can tell you our schedule is one of the toughest in the country.  I can tell you right now our league is projected to be one of the toughest in the country.  And you know my first couple years there were two or three teams you worried about.  Now there's nine or ten. It's totally a different set up which there's two things it takes off having to win back in the day at South Carolina.  Frank said if he beat you I felt so bad for you because your RPI and everything — but then they got good and went to a Final Four.  So this thing it's changed and, but Kentucky is Kentucky.  We still like recruiting in the '24 class really good. 2025 class may be better.  I feel good about where the kids want to be here and be here well let's go.  Let's get this group — part of the reason is this group came.  And this was these were popular players within the basketball world.  And so now they've all gotten better — they've improved.  The whole group of them. Now, Aaron, fighting to come back.  Adou, fighting to come back.  Z, back into a ramp up to get him more ready.  Let me just say this:  I've loved what this kid has done.  It has been – for him to go through what he did when he could have just said, I'm going to another school.  He didn't.  He said I want to be there.  Then all the traveling and all the visa get over here and then want to get going — we do the ramp-up.  I wasn't comfortable and I'm just telling you when I saw him the first time I think it was his excitement to be playing — all right this is what I'm seeing, but he's going to be fine.  I am just a little leery like today we go body to body — he'll work out but he's not going to go body to body which you have to go tomorrow body to body tomorrow or you won't play Friday.  But my guess would be he'll be in the next exhibition game because he is in pretty good shape but he's not — there is a thing of he's and running shape and all of that and shooting then all of a sudden it becomes like football.  That's a different type of mentality, but I'm proud of him.  We love him he's going to be so good for this team.  He's a basketball player.  Everybody that's come in contact with him loves him.
You talk through the years — I'm wondering with all the new players coming in freshman transfers how much time do you have to spend breaking bad habits before you get them playing (inaudible)?
JOHN CALIPARI:  I don't think you can break habits.  I think you create new ones, and then you don't worry about the other ones.  Just create a new habit which is two-handed rebounds. One of the guys that rebounds with one hand, Z, but if he goes up there and gets them I'm probably not going to say a whole lot but we are really all on the two-handed stuff.  Just and right now and then what I'm saying to them — this is really hard and it's hard because you have to play different than they played and what I've said this before — what successful in high school may not be successful in college.  Or what's successful in college may not be successful in the NBA.  So my thing is you have to create habits that make the uncomfortable stuff become comfortable.  Because it's habits. It's all it is so some of the stuff we do every day does consume time, but it's for them and I'll tell them this is for you not our team.  What we are doing right now is for you.  So if you go half speed or act like it doesn't matter you are cheating yourself.  Because this is not for our team this is for you.  So guess when you are coaching you asked me the question about eight or nine you guys, that's the biggest challenge — how do you get them to create habits that will lead to their success, yet bring a team together. That means you better have good guys that are willing to share and have good hearts.
Obviously you talk so much about the evolution of college basketball (inaudible) but what about on the court how do you feel like you need to continue to grow as a coach on the court to help you do well?
JOHN CALIPARI:  Well, the game is changing and I think he would admit the dribble drive in the stock position lest we've been ahead of the game and most of those in now the game has become random like really — the questions the NBA people are asking is does he love the game because they have to get better.  Do they process?  In other words, if they have to catch it and put it under their chin and then see what's there, that's not where the game is.  It's more about spacing in creating closeouts. So we study the game but here's what you have to accept and know.  The coach knows his team better than anybody so you can say so-and-so plays like this why don't you play like that?  If I had his team I would play like that.  I have this team we have to play like this to give ourselves the best chance.  But the game is becoming random.  You are going to have some teams that will play slower and run place you know why?  Because they have to.  They have no choice.  But the game is becoming random.  And it's becoming positionless.  When you see the kid in San Antonio bringing it up and in the pick and roll any 7'2″, you understand the game's positionless now.
Going back to Z, did you mean Friday or did you mean next week?
JOHN CALIPARI:  Probably next week.  He's not going today so he's going to do individual work but he's not going to go body to body with his teammates so if you all know I'm normally the guy that says if you're not gonna practice before you're not going to play in the game.  But again, for him we will tune you to ramp up if he's able to go tomorrow I will see more today.  And then we will go from there. My guess is he's a little frustrated with me.  But it seems to be a lot of people frustrated with me so that's okay.  I, you know, like I always do I'm going to look after the kids and do what I think is best for them and us.
What does ramp-up involve?
JOHN CALIPARI:  Well, it starts with what you are what his issues are.  You deal with those and then you deal with the conditioning and then you deal with 2 on 2 or 3 on 3 and then you deal and then you're ready to go and we threw him in a little bit too fast on what we did.  And he was good anybody that came in and watched was like he's good.  He's good basketball player.  He's not like King Kong he's another piece for us.
Re: Chuck Martin on staff
JOHN CALIPARI:  Chuck, his family was with us at Memphis. He became a head coach so proud of him. He's been in our profession in different places. He's really upbeat really positive.  He has a worker a grinder — has great relationships with the players and has great ties in recruiting.  So he is — his son was going to school here which is why this played out way it played out.  So he's able to be here and be with his family.
Re: Rob Dillingham finding his role
JOHN CALIPARI:  He's playing in a different way and I'm playing proud of him.  If you remember when I had John Wall we were saying you don't have to make the ESPN top ten play 15 times and again.  You just do it once and it will be on ESPN.  So his game has been that and I'm just saying be efficient.  You can't mess with the ball.  No one wants to see a ball stopper you get it and it stops and you messed around.  You have open shots, you have plays to make them.  Play for your team.  And they'll play for you.  And now all of a sudden, he goes up there – there were three or four plays in the whole game that I would say come on man.  You don't need to do that.  One was the back when he had a big guy on the corner and he just couldn't help himself.  It was turnover, but that he is — he is so much better. Let me just say what happened.  This is the greatest piece of this.  He goes to Toronto. Anybody up there or you watched it, he struggled. And he struggled because it was physically — they were men.  They were 23, and every time he got bumped, he was off balance, he missed layups.  Then he missed open shots, then he went back to — and throw it away. It's like what in the world.  So here's the choice.  You think he got phone calls when we came back?  Do you think he got phone calls?  Why don't you come with us — you don't think that happened?  So now he goes in the weight room and gains 24 pounds because he knew.  And now all of a sudden, you are watching him create the contact and playing through bumps.  And that's what this is about — it isn't easy.  The stuff is hard and you have other guys that can play and you have to play with them.  And you have to create for them as they create for you. No, I'm proud of him.  He's done good stuff and he's now, as we go forward, it's just I've got to probably have a couple times where I look away.  It's just okay, it's just one of those because he's trying so hard, and he's a gym rat. He's in the gym too much.  There'll be times when I peek my head out — go, get out.  You've been in there enough.
Re: Rob similar to Malik Monk leadership wise
JOHN CALIPARI:  I can remember yelling at him we are playing North Carolina in Las Vegas, and he drives down beside me, and I say, drive the ball, drive the ball, don't you shoot it.  And he pulls up and shoots it and it went in, and I said good shot.  Way to go kid.  You just keep playing. Yeah, I think D.J. is doing it, but they're all in that boat together still trying to figure out exactly who I am.  Yesterday I grabbed D.J. because he had two shots, they were deep, but he didn't shoot them.  And I said shoot the ball.  If they go under, do a pick and roll. You have it — you let it go.  And so then he starts making shots. They're all in the same boat, all of them. Justin the same.  Trying to get him to really be that slasher and doing the things, so.
Re: Rankings
JOHN CALIPARI:  I never paid attention to it anyway.  It doesn't matter.  Right now, with the transfer stuff and kids leaving programs, and their whole team leaving, or they get a transfer that they're saying is the greatest of all time and the guy is a dud, you don't know who's who. So last year, none of those teams were picked in the top 25 and then the final game in Connecticut wins it.  Teams that were in the top five didn't even go to the NCAA Tournament, so it doesn't matter where — look, you are rated higher – you know where I look?  Where do I look?  I already told you — you guys, anybody listening to me? Where would I check if I really wanted to see where we were?  There's no hope, opinion.  Vegas. Not my wife.  She has no idea.  Still have to ask her, did you borrow a weedeater? You all know me.  Come on.  Never cut grass in my life.  Well, I did when I was 15.  Almost cut my toes off, so no.  I'm not that guy, but anyway, Vegas.  Where's Vegas happy?  That stuff — there's no emotion in that one.  No emotion we are going to put this team I'm going to make this guy mad or make my guy happy.  I may look there and I haven't, but that's where I would look, and the whole thing with this – what I'm trying to get him to do is how good could we be if we do this together?  How good could we be? And yes, we need a couple of these guys to get healthy but even without — look we did some good stuff.  We are still doing some good stuff.  I have an interesting team.  They can shoot it.  It doesn't mean they shoot it all the time.  We went up there, we've had practices where this guy that guy are 0 for 12.  So they're normal.  They're not machines, but they can shoot it and you will have to play them.  Yes, right there.
We talked about the youth of this team and how they all sort of blend together.  We talked about Reed Sheppard, what are you seeing from him coming into the season and what do you think his role?
JOHN CALIPARI:  He's been really good.  He's been really good.  He's one of those guys and Jordan is one of those guys that don't have that expectation stuff where I have to live up to this or that.  They are just playing.  The pro day — every pro scout loved Jordan.  Part of it is because they've never seen them before.  They look at 6'8″ guy there saying oh, my gosh this kid here — the other one was read up in Toronto they love read.  One of the things he did was block five shots.  Three-point shots, five of them. What's the shot they are all trying to guard?  That three and here's a kid blocking five of them so he's done stuff he makes everybody better.  He doesn't have any ego about it.  He went up to Northern Kentucky I think he was 2 for 11 or three for 11.  Two or 3 for 11 — what's the difference?  But he had the biggest +/-  he had seven rebounds, five or six assists, four steals, and didn't make shots, and you walk away saying he had the biggest impact on the game.  So if I'm this team I want him on the floor with me when I play.  So greatest kid.  What's that?  We are?
Re: Having the UK job for 10 years
JOHN CALIPARI:  Did I say, ten?  Did I not say seven?  Did I say ten?  Ten.  No, look.  Here's what I would say:  This is one of those jobs you have to love the grind of it.  You cannot listen to the clutter.  You can't.  You can't buy into anything.  You just gotta make sure your coaching your team.  At the other side of it is you have to get the best players you can get here because the expectation is it doesn't matter who was in that uniform.  What's the expectation?  National championship.  So if you're not continuing to get the best — and in a certain year, that great class, it may be down year and now all of a sudden you're going. So it's not just the coaching.  It's you gotta continue to recruit.  Not being what I would say the anxiety of what could?  You can't be that guy because this thing is not that kind of job.  This is one lock into the kids, and I think I've done that.  And continue to say I don't care what other people are doing and how they are doing it with their programs.  We have this transfer portal, name, image, and likeness. If the kid's goal is all about NIL, this isn't the place you go.  Not with what you are asking me.  This is bigger than that — you will do better here than any other place you will go because it's you is a big time player and Kentucky together.  Now, this basketball program tied to that is you are going to do well, butit's the last thing you talk about here.  It's the last thing so, you know, like I said, I'm having fun doing what I'm doing. Last year, the early part was a struggle but the kids, we never left them and they never left us.  Just kept fighting.  How about four of them are in NBA rosters?  That's like the Kentucky effects.  Four of last year's team are on NBA rosters.  So we are doing the stuff let's break through, you know, when we — unfortunate when we had Max quickly and that group — it makes you want to — that's why they cried on the bus on the way back from Nashville.  They knew they could've won it all.  They still talk about it now.  That was ten years ago.  No, because it wasn't.  So we are close this group what is happening in '24, '25 — I'm liking where this program is right now.
I'm curious about your general thoughts on NIL, and how much you think it has changed players pressure to live up to some of the deals that they get, and how that changes I guess the way they interact with you and ask for playing time and things like that?
JOHN CALIPARI:  Good question, but let's go to the issue — the transfer portal first and then I'll hit it.  Five years to play four.  You can transfer once without penalty.  How about this one and I've said this before you probably didn't list me, but if you stay in the school 4 years, we will give you a fifth year at that school. You want to play five, stay at the say same school five years. If you don't, all this stuff that's happening becomes a kid walking in saying if you don't do this for me, I'm going to leave.  What? And then it's the tampering of the other guys saying if you do this here we're going to do this.  It's all based in that transfer portal. So let's fix it.  We can't.  You have four five years to play for a few transfer once without penalty and then get hurt you play your fifth
year if you have issues your family has six you need a year off.  And then you play your fifth year.  We just roll with it and that's it if you want to play that's the rules are let's go. Name, image, and likeness, is a little bit different animal.  You know I've been for it for years, but it's not turned into the market value and it's not.  We used to do autographs and all the stuff we did and I said why wait until after the year.  It's their name but now there is no guard rails.  There's absolutely no leadership. None.  Who's it falling on to deal with?  No one else involved in this the coaches they all stay clear in case something happens. Leadership.  What are we doing?  I say real simple:  Transparency.  Transparency.  We have a clearinghouse for academics let's have one for NIL.  Everything has to go through that clearinghouse.  So now we don't have the hippa laws will not let you name a name, but you will know player A, player B, player C, collectively what they are doing how they're doing it and now because right now you guys think everybody is making $5 million.  Because you don't know.  Or you can say whatever you want to say, so I've called the kids and many times I did it last year I've done it this year.  How you doing with the coach?  Thank you we are doing great … any issues in the locker room no because they know so-and-so may make more than them but they're happy they're making more than their dad made. So I'm good.  And yeah I know he's this and this that so we are not having those issues and I'll just tell you most of our guys before they come here have deals that we are not even involved in, whether it be trading cards, shoe deals, other things that they have.  If you are a top player and you come to the University of Kentucky basketball program, you know, you are going to do fine. If you ask about living up to the stuff, for us that's pretty much it.  Living up to all the expectations we have playing on the court being in Kentucky.  So I'm not thinking that any of us or me and them playing time?  No, I don't think — why are you going to play him because he's doing this.  I don't think anybody has a contract if you play so many minutes you are going to get so-and-so money.  I don't believe that so, but it's a good question.  Did I answer what you were saying?
You mentioned some recruiting classes are down some recruiting analysts saying this is a class that's down year?
JOHN CALIPARI:  We have all the best of the down year.
What are you seeing there and what does it give you the confidence to do?
JOHN CALIPARI:  You know, when do you know whether it was a down year?  When the year ends. So you will know when I will know.  I'm telling you the guys that I have in this class and that's before Aaron even starts to play.  They're a good group. They are a good group and when you say it's a down year, they're still projected to be this, that, that. I mean, so we'll find out but look, I'm not changing.  I'm going to recruit the best freshman player that I can get.  We are going to help them do what we are supposed to do to prepare them to create habits — prepare them for the rest of their lives.  We are going to bring them together care about them if we have to bring in some veteran guys, we've done it before.  Reed came and we needed Reed.  Reed came in that team and could've won the national title and name it was a big piece of it.  Are we've done that before. I'm just not bringing in five.  I'm not going to do that. I'm — we'll see.  Let's play it out and we will see.  Because there's some people you ready? Not recruiting any freshman.  My problem with that is in the United States I bet you 350 to maybe 700 young people who could have gotten Division I basketball scholarships did not because coaches are holding back scholarships for transfers.  That's what's happening.  That's why I come back to five years to play 4.  You don't need to be playing against the 27-year-old with two kids.  In high school, they give you so many semesters and you are done.  Why?  They don't want to 25-year-old playing against the 16 year old.  It's what it is. So hopefully, if I had to play for does anybody listen to me no.  I yelled to my dog today he ran the other way.  Second thing I'm going to tell you is to be transparent with the NIL.  So we will now truly know what everybody is doing and then we are waiting for what do we do what are the guardrails how do we do this?  And I said we have to take the first steps before we ask the government to do something or go here's what we are willing to do.  And then U.S. government to get involved.  Which I'm not sure you want to do but if that's the only thing they think we can do I'm just happy I'm in the in East see all the stuff that's happening around I'm in the SEC and I'm coaching at Kentucky basketball ball at Kentucky in the SEC think about it that's why said I'm the luckiest guy out there forget about — it's a hard job gather all the hard. They're all hard there's not an easy job out there.  Every coach is a hard job. Yeah, they're hard, but I'm lucky and fortunate that I've had this opportunity.  So let's have some fun, folks.