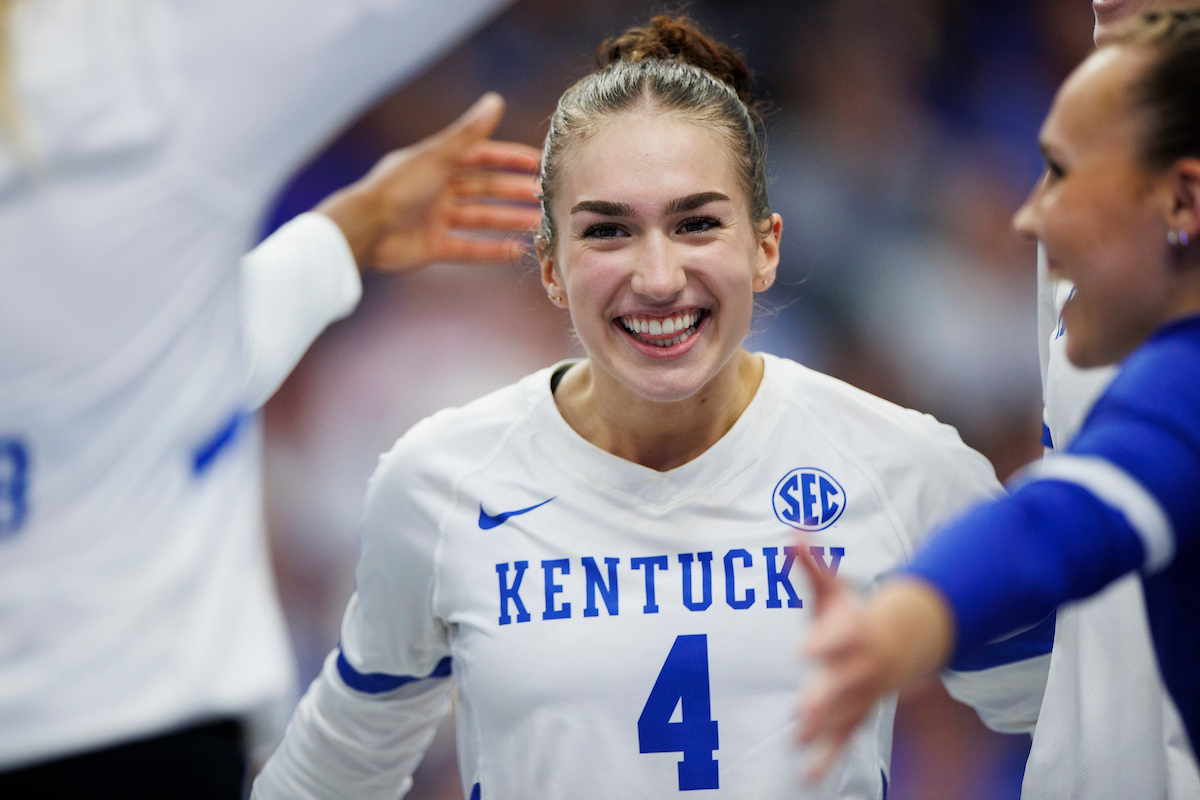 October 8, 2023 - 05:19 PM
Emma Grome Leading Efficient Kentucky Offense
Prior to Sunday's Kentucky volleyball match against Ole Miss, UK setter Emma Grome was presented a game ball from Friday's win over Missouri, when Grome eclipsed 3,000 service aces for her career. Once the match started, Grome got busy adding to her already impressive total.
Grome had 53 assists in four sets on Sunday as the Cats beat the Rebels, earning a fourth consecutive Southeastern Conference victory. Grome appreciated the pregame love she received but was more focused on handling her business in the actual match.
"It was really cool," she said of the presentation before pivoting to Sunday's match. "I think it's awesome to be able to do matches like we did today where we have players that we can spread the ball to all over the court. It makes my job really fun and a little bit easier at times."
UK head coach Craig Skinner liked how Grome was able to get the ball to a number of different hitters on Sunday.
"I thought Emma did a really nice job with distribution," Skinner said. "We had four players with double digit kills, which is always good and tough to prepare for."
Grome entered Sunday's match ranked second in the SEC and fourth in the country in assists per set (11.28). She had 57 assists in UK's four-set win at Missouri on Friday night. Grome is already fourth in assists in UK history during the rally scoring era, with the rest of this season and next still remaining.
In set three, Grome had an impressive service run. With UK leading 13-8, Grome served the Cats to 10 straight points, including a service ace.
Freshman outside hitter Brooklyn DeLeye attributes much of the Cats' recent success to Grome.
"Emma is doing an amazing job distributing the ball," DeLeye said. "It's really cool how we're all clicking."
Clicking is a word that Grome also used when describing the UK offense's play recently.
"Honestly, right now, it just feels like everything in our offense is clicking," Grome said. "We struggled with certain areas in the beginning of the year but we've ironed those out and I think we're just flowing right now."
Skinner knows that there are pieces to making the offense click.
"Our ball control has been pretty good which leads Emma to have several options to choose from, not just one or two," Skinner said. "We're definitely improving, our kills per set are going up."
Kentucky is off this week and will return to action against Tennessee next Sunday. The same Tennessee that swept the Cats in Rupp Arena last month. If Grome and the UK offense can continue to be efficient, the Cats should be in a better position against the Vols next weekend.