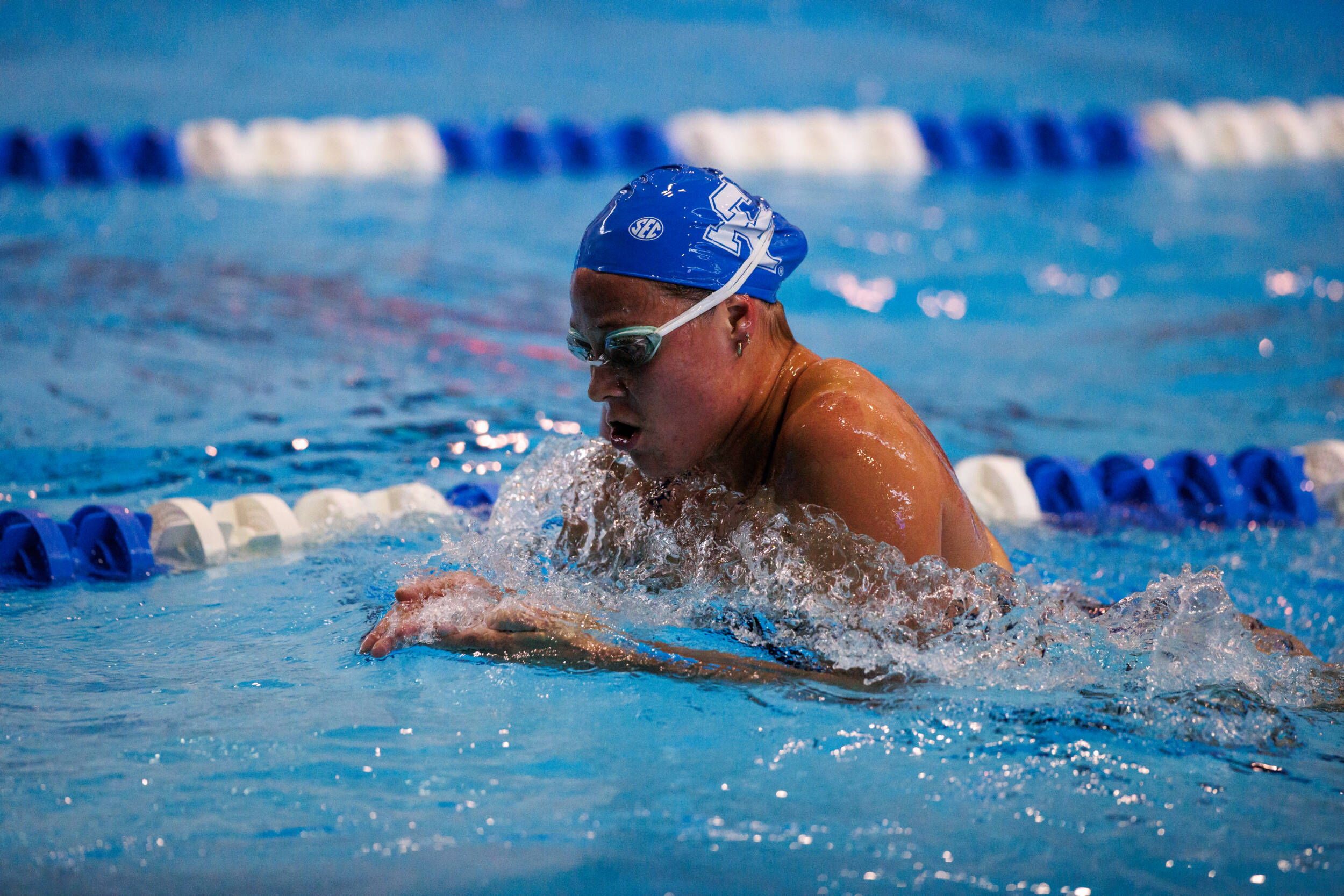 October 3, 2023 - 02:23 PM
Men and Women in Action for Swimming & Diving Dual at Indiana
LEXINGTON, Ky. – Kentucky swimming & diving makes the drive to Bloomington on Wednesday where both the Wildcat men and women will take to the pool for a dual meet with Indiana at the Counsilman-Billingsley Aquatic Center.
The day will begin with diving competition at 10 a.m. and will be followed by long course swimming at 1:30 p.m. Admission is free of charge for fans wishing to attend with live results available on Meet Mobile (swimming) and DiveMeets (diving).
Wednesday will be the first meet of the season for the Kentucky men, who finished the 2022-23 season in 8th place at SECs and 28th at the NCAA Championships. Levi Sandidge had a historic freshman campaign, becoming the first Kentucky male swimmer to win gold at the SEC Championships since 2006 when he took first in the 1650 freestyle. Sandidge followed that up by taking sixth in the event at NCAAs, the highest finish by a Kentucky men's swimmer since 2012.
The 2023-24 men's roster is comprised of 14 returners and 13 newcomers. Returning NCAA individual qualifiers include: Sandidge, Ryan Merani, Nick Caruso, Max Berg and Sam Duncan. Those five Wildcats combined for 13 entries at the 2023 NCAA Championships. The Wildcats NCAA eligible 800 freestyle relay also brings back three of its four members in Berg, Victor Martin Roig and Zane Rosely.
For the Kentucky women, Indiana marks the second dual meet of the season. The Wildcats were defeated by Arkansas in their season opener. Caroline Benda, Torie Buerger and Abby Devereaux won two events apiece against the Razorbacks.
Indiana posted top-10 finishes on both the men's and women's side at last year's NCAA Championships. The Hoosier men followed up their Big Ten title with a fourth place showing at NCAAs, while the women placed second at the Big Ten Championships and seventh at NCAAs.  IU returns 17 All-Americans overall, nine on the women's side and eight on the men's team.
The Hoosiers defeated the Wildcats when the teams met in Lexington last season. The 2023-24 campaign marks the third-straight year in which Kentucky and Indiana have squared off in a dual meet.
For the latest on UK Swim & Dive, follow the Wildcats on X and Instagram at @UKSwimDive, and on Facebook at Kentucky Swimming and Diving.