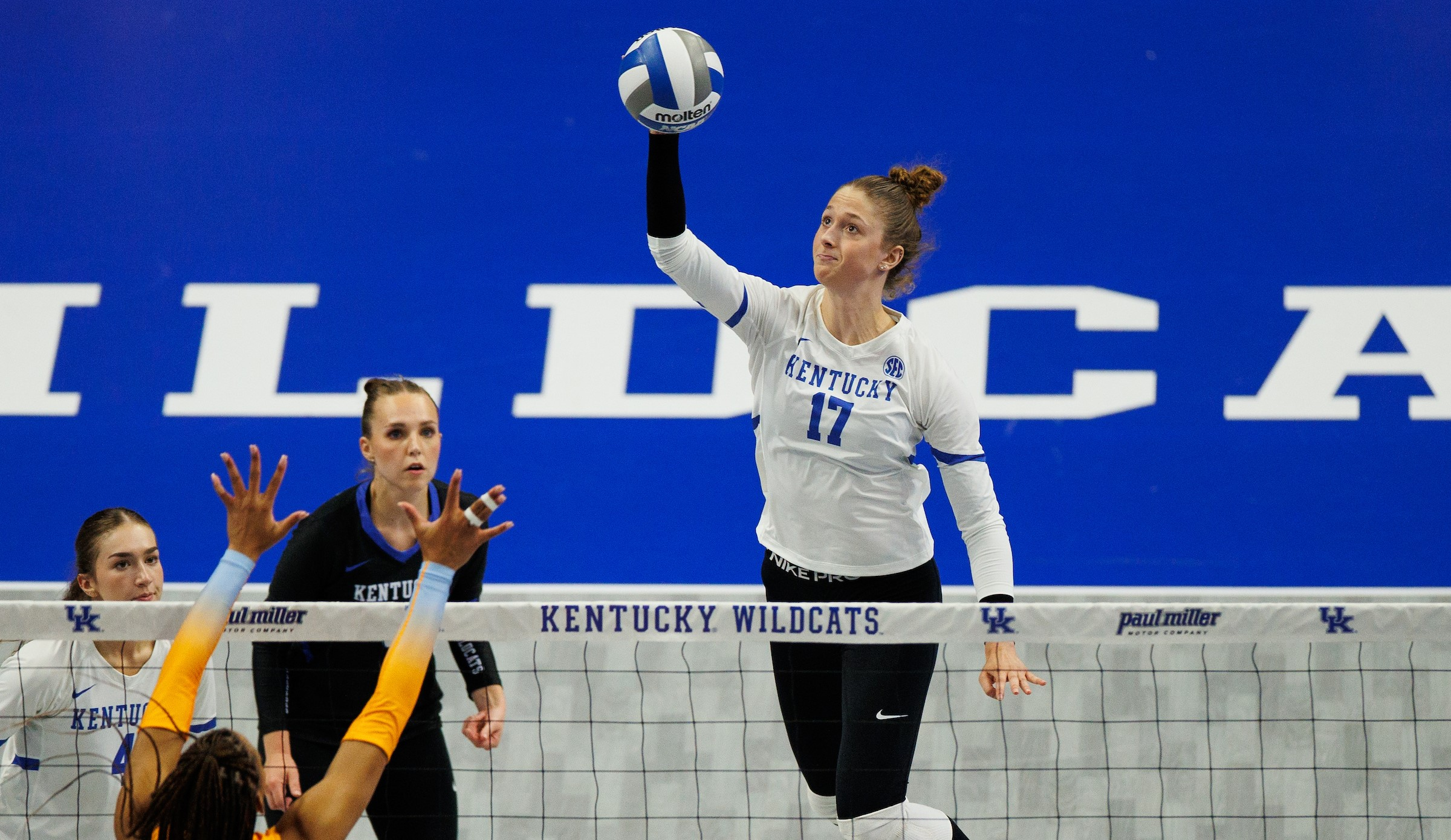 October 2, 2023 - 04:00 PM
Brooklyn DeLeye Named SEC Player of the Week; Grome, Setter
LEXINGTON, Ky. – Kentucky Volleyball players Brooklyn DeLeye and Emma Grome both took home weekly honors from the Southeastern Conference on Monday with DeLeye winning SEC Player of the Week and Offensive Player of the Week honors and Grome winning SEC Sette of the Week.
The honors are the first for Kentucky this season and the two honors for DeLeye are the first two player of the week honors in her young career.
Freshman outside hitter Brooklyn DeLeye was sensational for Kentucky, netting a career-high in kills in back-to-back matches, as she had 25 terminations vs. Georgia in a five setter Friday night, before backing that up with a 25-kill performance at Alabama in four Sunday. She becomes the first Kentucky freshman to have 20+ kills in back-to-back matches since All-American Leah Edmond did it in 2016.
DeLeye averaged a mammoth 5.56 kills per set on the weekend with 50 total kills and over 110 swings. The Topeka, Kansas native also had her first two career double-doubles with 12 digs Friday night and 10 digs Sunday to go alongside her monster offensive efforts. DeLeye hit over .335 for the weekend and made just 12 errors on her team-high 113 swings for the week.
Junior setter Emma Grome set a new season high Sunday afternoon with 58 assists as No. 23 Kentucky beat Alabama. On the weekend, Grome averaged 12.33 assists per set, with 53 assists recorded Friday in a five-set win over Georgia and backing that up with the 58 assists vs. Bama. Grome now has recorded 50+ assists in three of the four SEC matches that Kentucky has played. As the setter, Grome guided the Wildcats to a .272 hitting efficiency on the week, and Sunday afternoon, both Brooklyn DeLeye and Megan Wilson had over 20+ kills for the first time this season as Grome ran the offense beautifully.
Week 8 – SEC Volleyball Player of the Week honors
| | |
| --- | --- |
| Offensive | Brooklyn DeLeye, Kentucky |
| Defensive | Yelianiz Torres, Tennessee |
| Setter | Emma Grome, Kentucky |
| Freshman | Caroline Kerr, Tennessee |
Overall Player of the Week: Brooklyn DeLeye, Kentucky
For the latest on UK Volleyball, follow the Wildcats on Twitter and Instagram at @KentuckyVB.