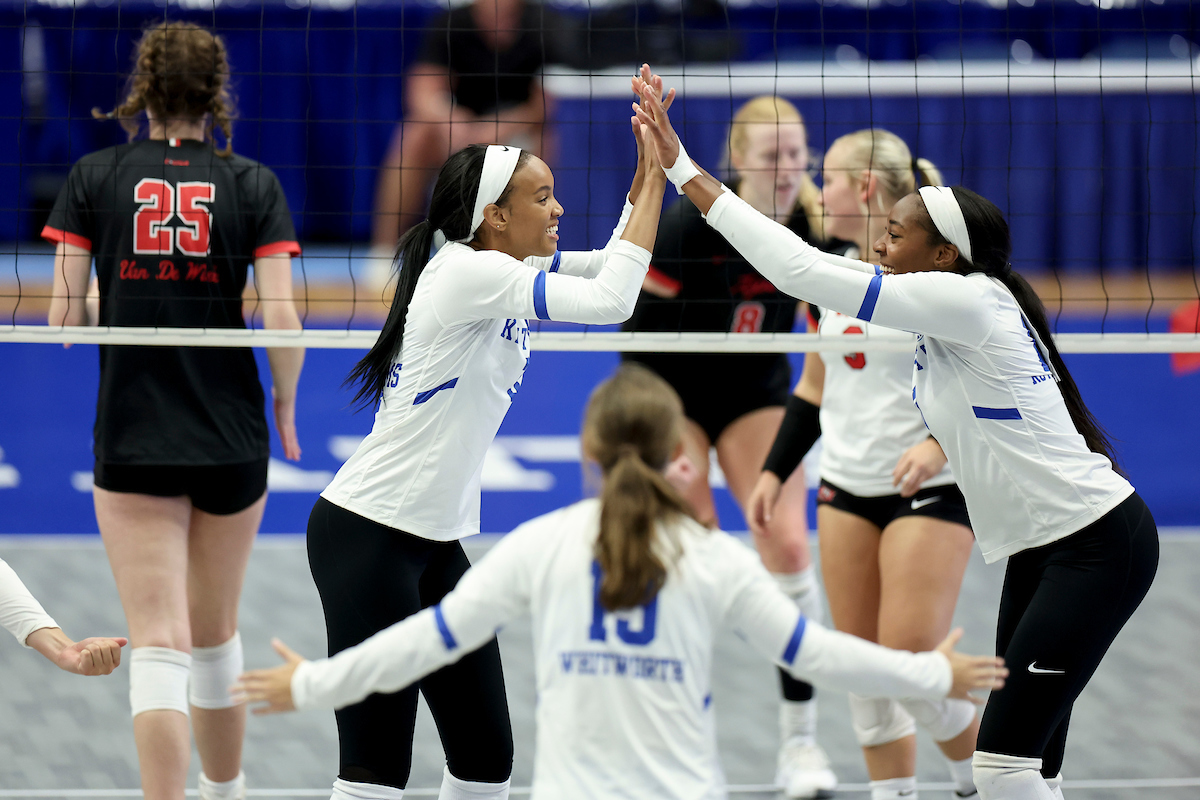 August 31, 2023 - 11:50 PM
No. 15 Kentucky Hosts 84 Lumber Volleyball Classic in Rupp Arena
LEXINGTON, Ky. – The No. 15 Kentucky Volleyball team will play host to No. 10 Pittsburgh on Friday night in the opening leg of the 2023 84 Lumber Volleyball Classic inside Rupp Arena, with a large crowd expected inside the historic sports venue.
The match starts at 7 p.m. ET and will be televised live on SEC Network with Kevin Barnett and Missy Whittemore on the call from Rupp. Tickets are available through the UK Athletics Ticket Office, UKathletics.com and will be available for purchase at the Rupp Arena box office on gameday. Gates into Rupp Arena will open at 6 p.m. ET.
Friday night's match will also be the first of at least four volleyball matches to be broadcasted on the UK Sports Radio Network, 630 WLAP and other affiliates. Andrew Kappes will be on the call Friday night from Rupp Arena with the pregame show happening prior to first serve.
As part of the 84 Lumber attendance initiative, a large crowd is expected, so fans are encouraged to arrive early into Rupp Arena. Parking lots will open on High Street three hours prior to first serve, with free parking provided to all fans attending the volleyball match in those parking lots.
Tickets for Kentucky Volleyball as in years past are mobile tickets. Fans are asked to have their tickets out on their phones for a faster arrival into Rupp Arena on gameday. You can download tickets through the UK Athletics app or Ticketmaster and move them into your phone's wallet for the most efficient entry on gameday into the arena. Rupp Arena, as other UK Athletics events does, has a clear bag policy that is enforced.
Kentucky is 1-1 on the year with a win Saturday afternoon in Greeley, Colorado over Northern Colorado University, 3-1, to conclude its road trip out to the Rockies. The Panthers started the season 2-1 last weekend in the Midwest with a season-opening loss to No. 17 BYU before turning around and beating Montana and Texas Rio Grande Valley in sweeps to close the weekend. The Panthers have been in each of the last two NCAA Final Fours, and are currently ranked No. 10 in the AVCA Coaches' Poll, five spots ahead of Kentucky at No. 15.
Kentucky Volleyball in Rupp Arena
UK Athletics announced earlier this spring that Rupp Arena at Central Bank Center will serve as the primary home venue for the Kentucky gymnastics, volleyball and women's basketball teams for the 2023-24 season while Memorial Coliseum undergoes an $82 million renovation.
For the latest on UK Volleyball, follow the Wildcats on Twitter and Instagram at @KentuckyVB.