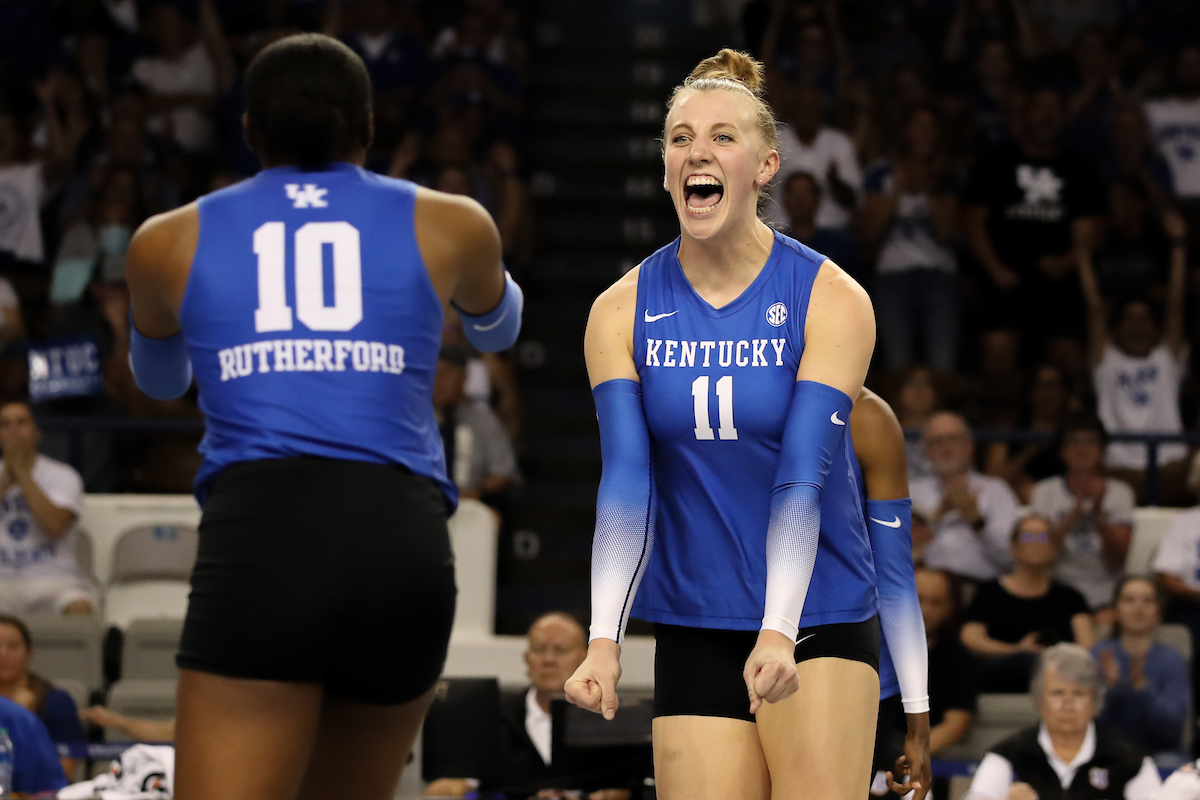 August 21, 2023 - 11:19 AM
Goetzinger Hoping to Build on Success During Senior Season
During her time with the Kentucky volleyball team, Elise Goetzinger has been a part of the greatest run of success in school history. She was on UK's NCAA championship squad her freshman season and has been a part of three straight Southeastern Conference championship teams.
It may seem like the norm now, with Kentucky claiming six straight SEC titles. But that hasn't always been the case. Goetzinger recently reflected on just what it means to be a part of such a huge run of success.
"It's interesting. As a player, for me, it feels very common place and it is very funny to think about the fact that it's not normal at all," Goetzinger said. "It's quite special. Continuing to remind myself of that, especially as I go into my senior year, that this is not a normal occurrence."
If Kentucky is to win a seventh straight SEC crown, and make a run in the NCAA Tournament, Goetzinger knows that the team must focus on the things that got them there in the first place.
"I think it's important to remind ourselves that it's not a normal occurrence to win and that it takes a lot of effort, hard work and good play," Goetzinger said. "So, thinking about that every single practice and reminding ourselves that it doesn't just happen. Good players don't just make things happen, they practice in the offseason and do really good work so they're ready when the moment comes."
Goetzinger played a key role in UK's national championship season. As she approaches her senior year, Goetzinger sees parallels between the 2023 season and her freshman year.
"I think it's very similar to how it was my freshman year," Goetzinger said. "We had senior and junior leaders who had begun that streak of winning the SEC. Not to toot our own horn, but we were a pretty talented freshman class. I think this is just a repeat. Our senior class knows what it takes to win a national championship and our freshman class is also incredibly talented. Instilling the lessons we learned along the way but also still giving them the grace to make the mistakes we made as freshmen. Just so that, by the end of the season, we're all on the same page and working toward the same goal, that's the most important thing."
Like her freshman year, when crowds were limited due to COVID-19 restrictions, the Cats will face unfamiliar surroundings this season, playing home matches at Rupp Arena. Goetzinger hopes that the volleyball Cats can make Rupp a home away from home.
"I think it can be an advantage," Goetzinger said. "It's in a very central, downtown location. I think it has the potential to get a lot of people here, which could be an advantage for us."
Goetzinger hopes that the success she and the team have experienced the last three seasons will continue during her senior year.