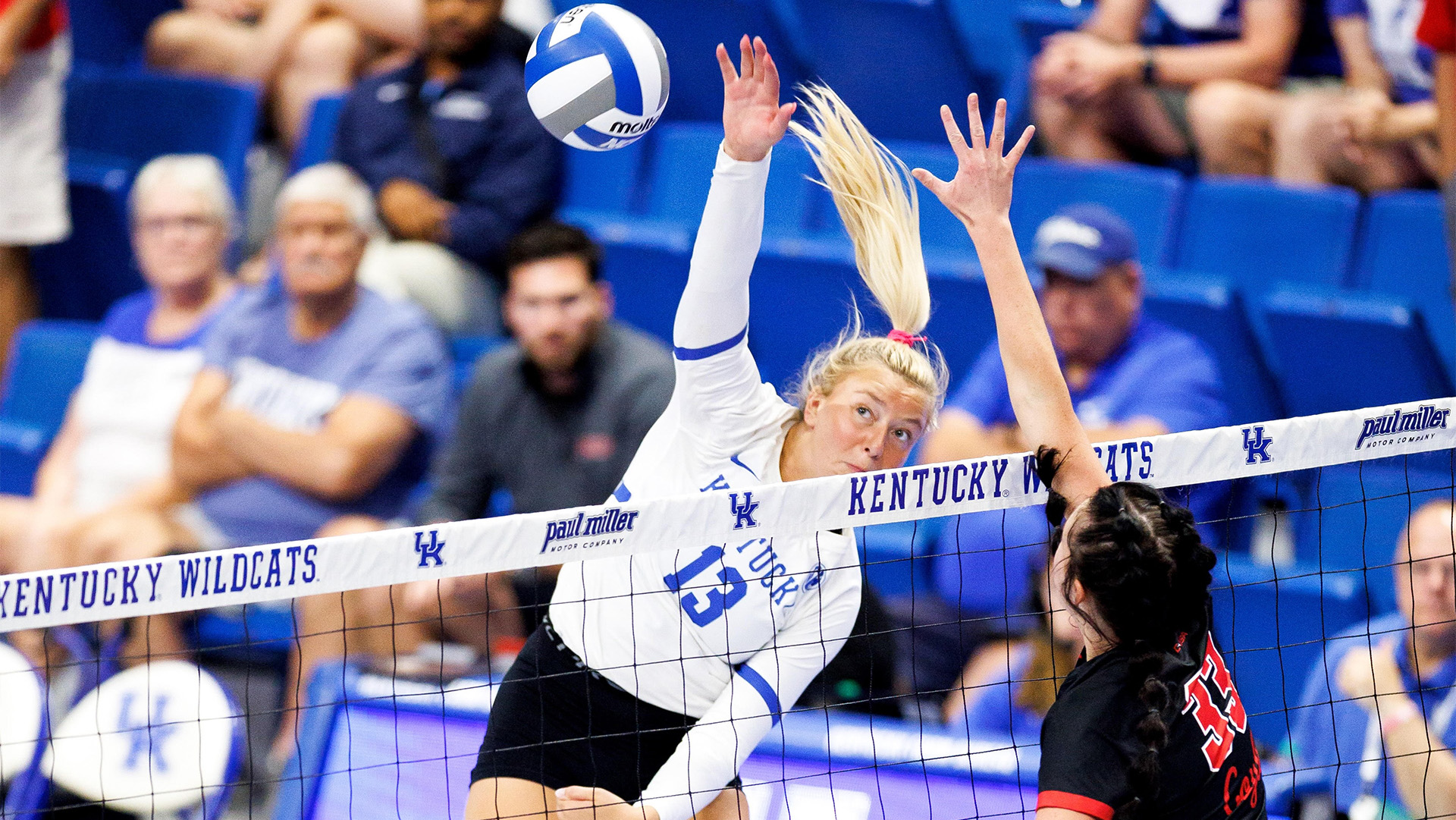 August 17, 2023 - 10:11 PM
Volleyball Cats Have Solid Effort in First Rupp Outing
With Memorial Coliseum currently undergoing renovations, the Kentucky volleyball team will play its 2023 home matches inside Rupp Arena. On Thursday night, Kentucky hosted Western Kentucky in a volleyball exhibition inside the venerable downtown arena.
Kentucky would win the match 3-1, but the big story on this night was UK playing in Rupp for the first time since 2012, this time in front of 1,389 fans. What did the Cats think about their new (at least for this season) home facility? Head coach Craig Skinner gave Rupp a good review.
"I'm excited about it," Skinner said. "The sight lines are really good. I think it's a good volleyball venue. Yes, it's big but it doesn't feel big when you're playing. It's got good lighting and the feel for the fans close to the court, it feels like a great environment. I think it's a great place for us to play high level matches this year."
Junior Erin Lamb liked what she saw during her first playing experience in Rupp Arena.
"It's obviously a historic building and it's really cool to be a part of," Lamb said. "It's really awesome. It's definitely huge, so it's different than Memorial for sure. So, being able to do an exhibition match like this helps going forward."
Of course, there was good and there was bad, as would be expected with playing in a new facility. What did the Cats like about their new home surroundings?
"I'd say the only difference was our serving," said junior Eleanor Beavin. "We haven't been able to play in this building. So, we've just got to be able to feel what the air looks like. It just feels a little different than our practice gym."
The Cats wasted little time in establishing home court superiority. UK would lead by as many as seven points in the first set on its way to a 25-19 set victory. After dropping the second set, UK won the third and fourth sets to claim the win. Skinner liked how his team responded to the adversity that came about in Thursday's match.
"I thought we, for the most part, kept our composure," Skinner said. "I was happy that we kept our composure and when we did make some mistakes, we didn't let that rattle us. We just kept going."
Kentucky will play 10 regular season matches inside Rupp Arena this season, beginning with a September 1 matchup against fifth-ranked Pittsburgh. And the initial reviews of the venue were positive after Thursday night's exhibition win over Western Kentucky.