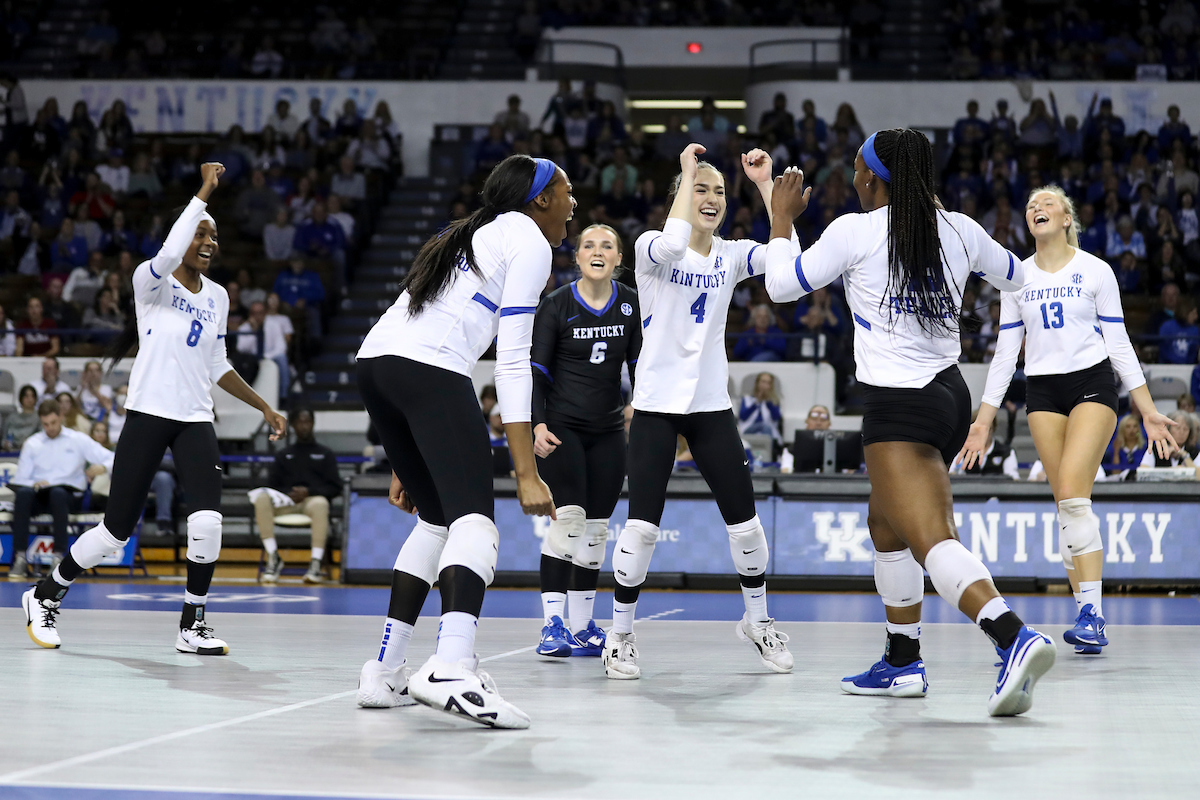 August 16, 2023 - 11:15 AM
Emma Grome Ready to Build on Outstanding 2022 Season
As a sophomore last season, Kentucky setter Emma Grome had a superb season. She led the Southeastern Conference in assists, averaging 12.09 per game. She led her team to an SEC-best .285 hitting percentage. And for her efforts, Grome was named SEC Player of the Year.
While she had an outstanding season in 2022, Grome is not satisfied. She continues to work on her game in hopes of being even better this season.
"Just working on anything I can to grow my game," Grome said when asked what she has been trying to improve. "There's certain areas I want to get better in. We started running a faster offense in the spring. So that's kind of a new area for us to improve on. Working on keeping that tempo."
Grome was a leader for the Cats last season but she wants to continue to refine her skills in that area this season, especially with a talented group of rookies on the 2023 roster.
"Working on my leadership on and off the court," she said. "It's definitely important. We have five new freshmen, Megan is new. There's a lot of new personalities. New people in every position this year. Trying to be the best leader I can on the court."
Grome will have additional help this season in the form of former UK All-American and National Player of the Year Madison Lilley, who joined the Kentucky staff over the summer. Being able to work with Lilley is something that Grome knows will be beneficial.
"I think she'll be a big part of this year," Grome said of Lilley. "I've always looked up to her as a player and a leader, so I think it will be a cool opportunity to learn from her. I think it will be really good for our team. I think our whole staff this year is going to be amazing. They're going to bring stuff to the table this year that we've never seen before."
Grome will have plenty of hitters to set this season. The return of Azhani Tealer, Reagan Rutherford and Erin Lamb, in addition to Elise Goetzinger and a talented group of new players, give Grome a number of options within the UK offense.
Grome and the Cats were not satisfied with their NCAA Sweet 16 finish last season. The UK setter hopes that the team can stay focused on winning a seventh consecutive SEC championship and making a deeper run in the postseason.
"I think just by staying focused throughout the entire year," Grome said. "We're working toward that goal. It's hard to win six in a row, let alone seven."
With Grome directing the offense again this season, and with her determined to improve on her stellar 2022 season, the Cats should be in good hands.