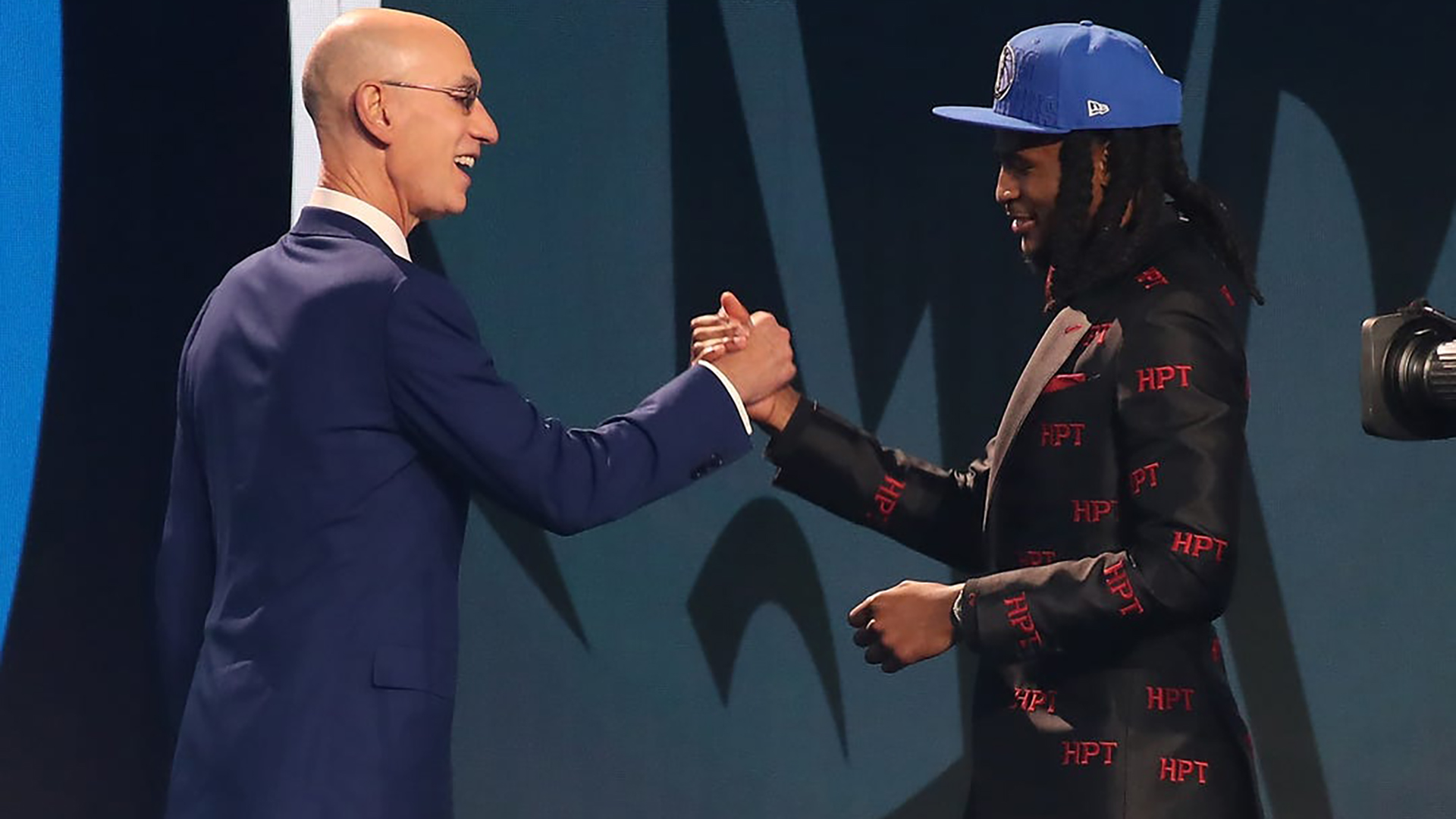 Cason Wallace, Chris Livingston Selected in 2023 NBA Draft
BROOKLYN, N.Y. – Two members of the 2022-23 Kentucky men's basketball team were selected on head coach John Calipari's annual "graduation night" when Cason Wallace and Chris Livingston heard their names called in the NBA Draft on Thursday at Barclays Center in Brooklyn, New York
Wallace was selected 10th by the Dallas Mavericks before his draft rights were traded to the Oklahoma City Thunder, while Livingston was taken in the second round with the 58th pick by the Milwaukee Bucks.
"I couldn't be happier for Cason and Chris," Calipari said. "I'm looking forward to seeing Cason make an impact alongside Shai (Gilgeous-Alexander) in Oklahoma City and Chris to continue to showcase his growth in Milwaukee. I was disappointed Oscar (Tshiebwe) and Jacob (Toppin) didn't get drafted but they will have a chance to prove themselves in this league because they're both guys who will impact winning."
In 14 seasons with Calipari at the helm, Kentucky has churned out three No. 1 selections, 35 first-rounders, 23 lottery picks and 47 total players in the NBA Draft. The 47 draft picks are 12 more than the next closest school (Duke).
With Wallace's selection in the opening round, UK has now had at least one player taken in the first round in each of the last 14 drafts under Calipari. That's the longest streak in the modern draft era (since 1966).
Wallace was the third Wildcat selected by the Mavericks, following Dirk Minniefield (1983, 2nd round, 33rd overall pick) and Jamal Mashburn (1993, 1st round, fourth overall pick).
"There were a lot of emotions with my family, my parents," Wallace said. "They were excited. My dad, my mom, my brother, my cousin. We all went through it from day one. Just finishing it off with them was great. I'm looking forward to bringing a lot of energy, a great spirit and a great work ethic to OKC."
Wallace was an All-Southeastern Conference Freshman Team selection after ranking among the league leaders in assists per game (2nd), assist-to-turnover ratio (4th) and steals per game (4th). He found a variety of ways to impact the game, including finishing third in program history for a freshman with 63 steals. His eight steals against Michigan State in the Champions Classic tied for the most in a single game in UK history.
Wallace averaged 11.7 points, 3.7 rebounds, 4.3 assists and 2.0 steals per game in 32 appearances. He had 17 double-figure scoring games and led the team in steals in 19 contests. Wallace had 21 points, four assists, two steals and a career-high nine rebounds against Kansas State in the NCAA Tournament in his final game for the Wildcats.
Livingston was picked in the second round with the 58th selection by the Milwaukee Bucks. He is the sixth Kentucky player to be taken by Milwaukee and the first since Doron Lamb was taken 42nd overall in 2012.
Livingston played in all 34 contests, including 26 starts, for the Wildcats in his freshman season, averaging 6.3 points and 4.2 rebounds per contest. The Akron, Ohio, native played 22.4 minutes per game, earning Southeastern Conference All-Freshman Team honors after coming on during the stretch run for Kentucky. Livingston notched seven double-figure scoring games, including four in a five-game stretch in February. He was named SEC Freshman of the Week on Feb. 20 after averaging 12.5 points, 7.5 rebounds and two assists per game in wins at Mississippi State and against No. 10 Tennessee.
The Wildcats have had more top-10 picks, more lottery selections and more first-round picks in the Calipari era than any other team in the country.
Kentucky has had 138 players drafted 140 times in its illustrious history with 60 players selected in the opening round. Calipari is the only coach to have multiple players selected in 16 consecutive NBA Drafts, dating back to his time at Memphis.
Of the 34 players at UK in the Calipari era who have declared for the NBA Draft after their freshman seasons, 30 have been first-round draft picks.
Seniors Jacob Toppin and Oscar Tshiebwe went undrafted. They are both expected to have an opportunity to sign a free-agent deal.
Draft Notes
Kentucky has had 138 players drafted 140 times (Johnny Cox '58 and Roger Newman '60 both drafted in Jr. eligible draft, but returned for senior year and were drafted again)
UK has had 60 players selected in the opening round (35 have come in the last 14 years) of the draft
Kentucky has had 47 players selected in the draft over the last 14 years, 12 more than the next closest school (Duke)
UK has had 15 players selected in the top 10, 23 in the top 15 and 35 in the first round of the draft in the last 14 years
Calipari has had two or more players selected in 16 consecutive NBA drafts dating back to 2008 with Memphis
UK has had at least one player taken in the opening round in each of the last 14 drafts under Calipari. That's the longest such streak in the modern draft era (since 1966)
In 31 seasons as a head coach, Calipari has coached 58 NBA Draft picks, including 41 first-round selections with 19 of those going in the top 10. He has had 47 selected in the last 14 years as UK's head coach, including 35 coming in the opening round
Since the draft moved to two rounds in 1989, the Wildcats lead all schools with 46 first-round picks. Thirty-five of those selections have come in the last 14 years under Calipari
A total of 47 of 78 players under Calipari at Kentucky have been drafted
Of the 34 players at Kentucky who have declared for the NBA Draft after their freshman seasons, 30 have been first-round picks. All first-year players have played a game in the NBA