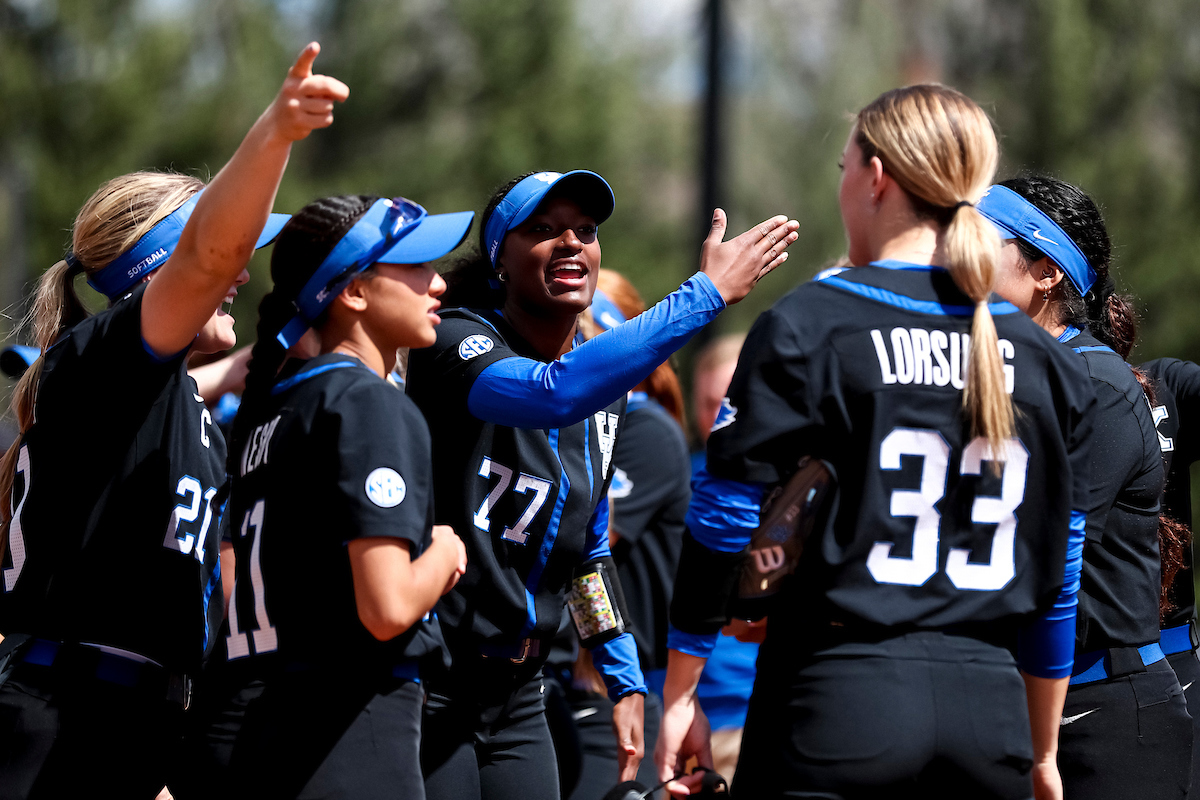 FAYETTEVILLE, Ark. – Kentucky got a go-ahead two-run home run from Meeko Harrison in the top of the fourth inning to give UK a 2-1 lead, but No. 8 seeded Florida scored five unanswered runs in the final three innings to beat Kentucky 6-2 on Thursday afternoon at Bogle Park in the opening round of the 2023 Southeastern Conference Softball Tournament.
Harrison's home run in the top of the fourth was her first long ball of the season, and drove in Jenna Blanton, as well, who reached earlier in the inning on a fielder's choice. Kentucky registered eight hits in Thursday afternoon's game, with the Gators recording nine base hits.
The 2023 NCAA Softball Selection Show will be Sunday night at 7 p.m. ET on ESPN2 with Beth Mowins. Michele Smith and Amanda Scarbrough unveiling the field of 64 for the NCAA Softball Championship. Kentucky currently sits at No. 25 in the NCAA RPI and will be expecting an at-large bid from the NCAA committee, as the committee will award bids to the 32 conference champion automatic qualifiers, and 32 at-large selections.
Florida advances to play (1) Tennessee on Friday morning at 10 a.m. ET in the SEC Tournament quarterfinals and improves to 36-19 on the year. Kentucky is now 30-20-1.
Key Play
The key play in the game was Skylar Wallace's go-ahead home run in the bottom of the fifth inning to give Florida the lead after it was 2-1 Kentucky.
Key Player
Meeko Harrison was Kentucky's key player in the game, with the two-run bomb, her first of the season.Key Stat
0. Kentucky batters did not strikeout in the game.
Run Recap
Florida scored first on a sac fly in the bottom of the first, snapping UK's seven-game streak of scoring first in a game. UF 1, UK 0
Meeko Harrison clubbed a two-run homer to right center in the top of the fourth inning. UK 2, UF 1
Florida tied the game on a home run in the bottom of the fourth with nobody on and one out. UK 2, UF 2
The Gators put up a three spot in the fifth as Skylar Wallace hit her 17th homer of the season, a run scored on a sacrifice fly, and an RBI single. UF 5, UK 2
In the seventh, Florida scored its sixth run via an extended play that involved two infield throws that allowed Wallace to score. FINAL – Florida 5, Kentucky 2
For the latest on UK Softball, follow the Wildcats on Twitter and Instagram at @UKSoftball.