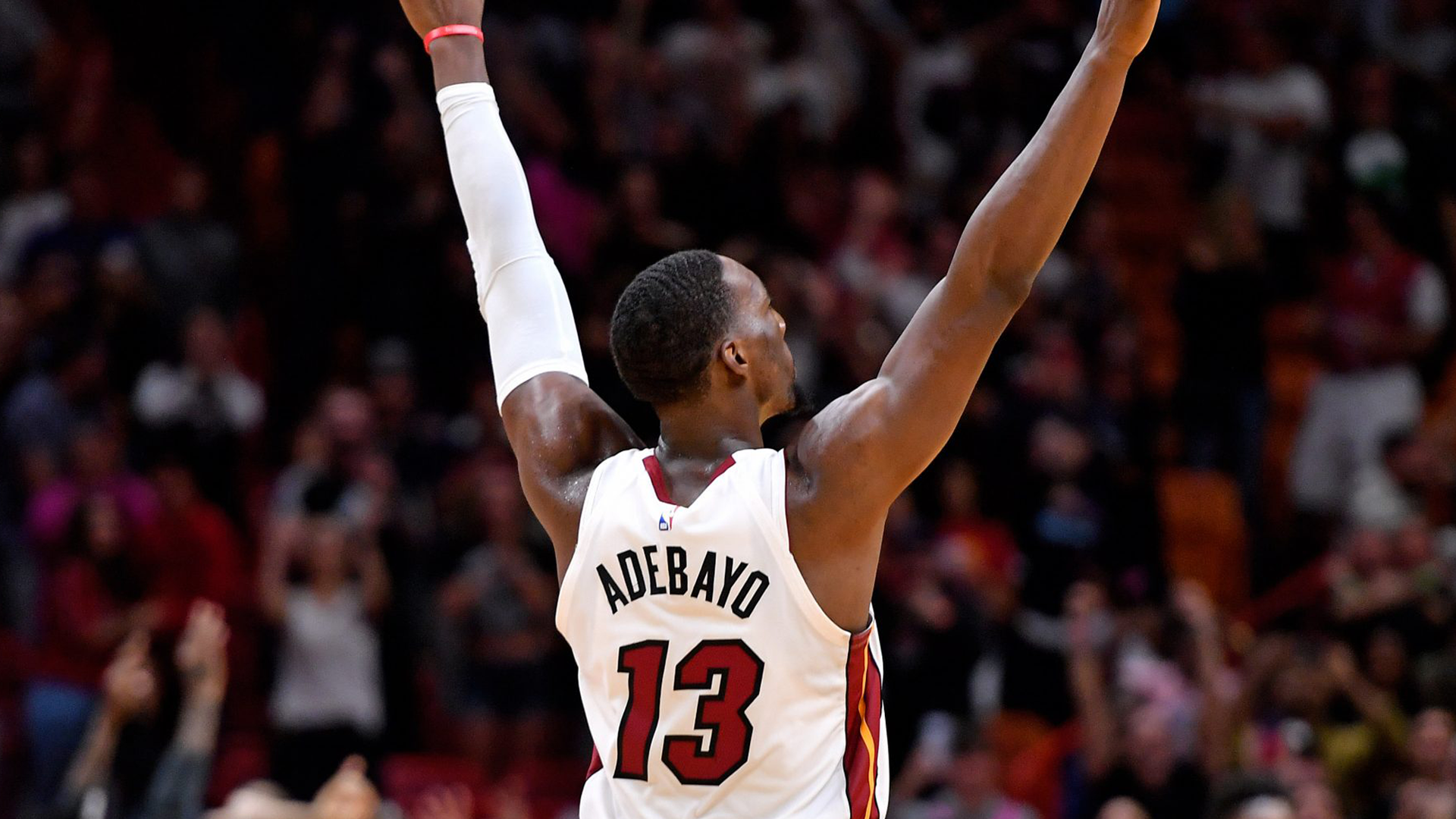 Bam Adebayo Tabbed to NBA All-Defensive Second Team
NEW YORK – For the fourth-consecutive season, Bam Adebayo was named to the NBA's All-Defensive Second Team the league announced on Tuesday.
Voting for the NBA awards was conducted by a global panel of 100 sportswriters and broadcasters. Adebayo earned 13 first team votes and 27 second team selections. His inclusion marks the eighth time in the last nine seasons that a former UK player has earned an All-Defensive Team accolade.
In one season with the Wildcats, Adebayo was the only player to start all 38 games for a squad that won the Southeastern Conference Tournament and advanced to the Elite Eight. He was an All-SEC Second Team and All-SEC Freshman Team honoree. Adebayo averaged 13.0 points, 8.0 rebounds and 1.5 blocks per game before being selected 14th overall by the Heat in 2017.
In his sixth season in the league, Adebayo finished fifth in the NBA Defensive Player of the Year voting and was tabbed to the NBA All-Star Team for the second time in his career. He averaged 20.4 points, 9.2 boards and 3.2 assists per game. The Heat's defense ranked first in opponent offensive rebounds allowed per game, second in points per game yielded, second in charges taken, third in opponent field-goals made and sixth in opponents rebounds per game.
Adebayo led the Heat in blocks, offensive rebounds, defensive rebounds and total rebounds. He ranked second in total steals. Furthermore, he led the squad in rebounding a team-best 46 times and in blocks in 34 games.
Adebayo is averaging 17.6 points, 9.3 rebounds, 3.9 assists and 1.0 steals per game for the Heat during the playoffs. Miami leads the Knicks by a 3-1 margin as the Heat look to advance to a third appearance in the Eastern Conference Finals over the last four seasons. The series resumes action on Wednesday at 7:30 p.m. in New York.
A total of 27 players were on NBA opening-day rosters (including two-way and inactive players) that played and finished their college basketball careers at Kentucky was more than any other college program in the country. Duke, with 24, was the only other school with more than 20 players in the NBA. Kentucky also led the league with 17 players on NBA playoff rosters.
UK has enjoyed unprecedented success at putting players in the NBA under Calipari. In the Calipari era, 45 players have been selected in the NBA Draft, more than any other school. Included in the recent run are 34 first-round picks, three No. 1 overall selections (Anthony Davis, Karl-Anthony Towns and John Wall) and 22 lottery selections.
Calipari's players are not only reaching the next level, but they are also succeeding when they do. Since 2010, 10 Calipari-coached players have garnered 32 All-Star selections. Seven of his players have been tabbed All-NBA (Devin Booker, DeMarcus Cousins, Julius Randle, Derrick Rose, Wall, Davis, and Towns), and 15 players from Calipari's first 13 teams at Kentucky have made the NBA All-Rookie teams.
Among all active collegiate coaches, Calipari has more total players (10) and more total All-Star selections (32) than any other coach. Only Dean Smith (12) had more former players earn an All-Star nod. Kentucky had four selections in 2023 which was more than any other program.
For the latest on the Kentucky men's basketball team, follow @KentuckyMBB on Twitter, Facebook, Instagram and TikTok, and on the web at UKathletics.com.