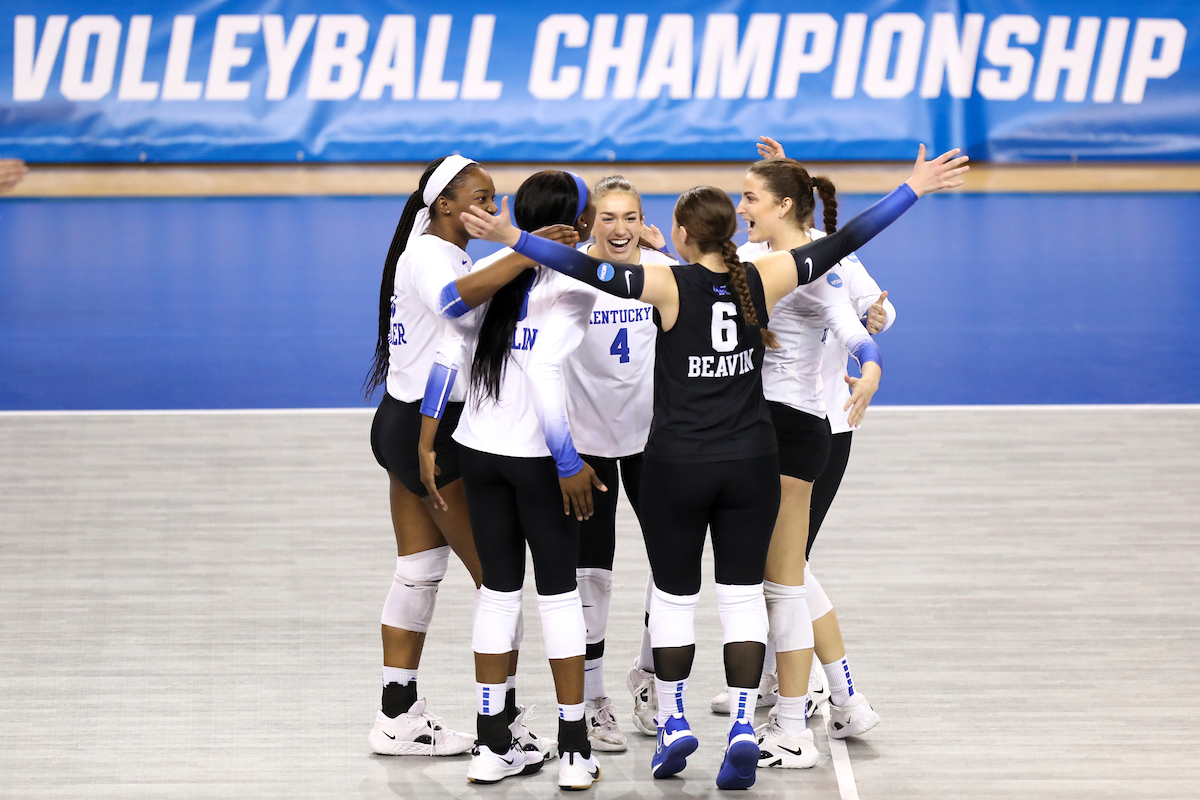 Kentucky Volleyball Announces 2023 Schedule
LEXINGTON, Ky. – The Kentucky Volleyball team announced its 2023 fall schedule on Monday, highlighted by 10 home games inside historic Rupp Arena, a home-and-home with defending national semifinalist Pittsburgh, and the annual renewal of the in-state rivalry match-up with Louisville in the Derby City.
Kentucky will open its season in the Rocky Mountains beginning August 25 against Colorado State in Ft. Collins, followed by a matchup against Northern Colorado in Greely on Aug. 26 to close out opening weekend.
UK's only non-conference home match will be Sept. 1 against the Pitt Panthers in the front end of an in-season home-and-home with Kentucky returning the trip Sunday, Sept. 3 in the Steel City. Week three of non-conference play sees the Wildcats take on Houston and either SMU or Purdue in a two-day event hosted by Purdue in West Lafayette, Ind., before the non-conference slate closes at Louisville (Sept. 13) and Nebraska (Sept. 17).
The Southeastern Conference will be returning to its pre-COVID scheduling rotation for the 2023 season for the first time since 2019. There will be no more back-to-back series with teams playing the same opponent within a two-day timeframe, as the coaches voted to go back to the original random scheduling of playing a single round robin with select repeated opponents.
UK's first two SEC games will be against LSU and Tennessee, two teams that qualified for the 2022 NCAA Tournament the weekend of Sept. 22 and 24 inside Rupp Arena in Lexington. The Wildcats will play Ole Miss, Miss. St., Arkansas, Georgia, Texas A&M, Missouri and Florida at home. On the road, UK will face Georgia, Alabama, Mizzou, Tennessee, LSU, South Carolina, Florida, Auburn and Arkansas. The repeat teams for UK in 2023 are LSU, Tennessee, Georgia, Missouri, Arkansas and Florida.
More information will be released shortly about matchday operations for Rupp Arena including seating assignments, parking information and more. Follow @KentuckyVolleyball on Twitter and monitor UKathletics.com for the most up-to-date information.
Season ticket information for volleyball will be released later this spring. All current season ticket holders will receive an email with further details once renewal invoices have been posted to their online accounts.
Fans interested in becoming new season ticket holders can fill out this form to receive additional information from UK Athletics as soon as season ticket sales begin for the 2023 season.
Times and television assignments for all games will be announced in early-to-mid August by ESPN and its television partners. The 2023 NCAA Volleyball Selection Show will be Sunday, November 26.
2023 Kentucky Volleyball Schedule
Aug. 25 (F) – vs. Colorado State
Aug. 26 (Sa) – @ Northern Colorado
Sept. 1 (F) – PITTSBURGH
Sept. 3 (Su) – @ Pittsburgh
Sept. 8 (F) – vs. Houston
Sept. 9 (Sa) – SMU/Purdue
Sept. 13 (W) – @ Louisville [KFC Yum! Center]
Sept. 17 (Su) – @ Nebraska
Sept. 22 (F) – LSU
Sept. 24 (Su) – TENNESSEE
Sept. 29 (F) – @ Georgia
Oct. 1 (Su) – @ Alabama
Oct. 6 (F) – @ Missouri
Oct. 8 (Su) – OLE MISS
Oct. 15 (Su) – @ Tennessee
Oct. 20 (F) – MISSISSIPPI STATE
Oct. 22 (Su) – ARKANSAS
Oct. 27 (F) – @ LSU
Nov. 3 (F) – @ South Carolina
Nov. 5 (Su) – @ Florida
Nov. 8 (W) – @ Auburn
Nov. 12 (Su) – GEORGIA
Nov. 16 (Th) – TEXAS A&M
Nov. 19 (Su) – MISSOURI
Nov. 22 (W) – @ Arkansas
Nov. 25 (Sa) – FLORIDA
For the latest on UK Softball, follow the Wildcats on Twitter and Instagram at @UKSoftball.