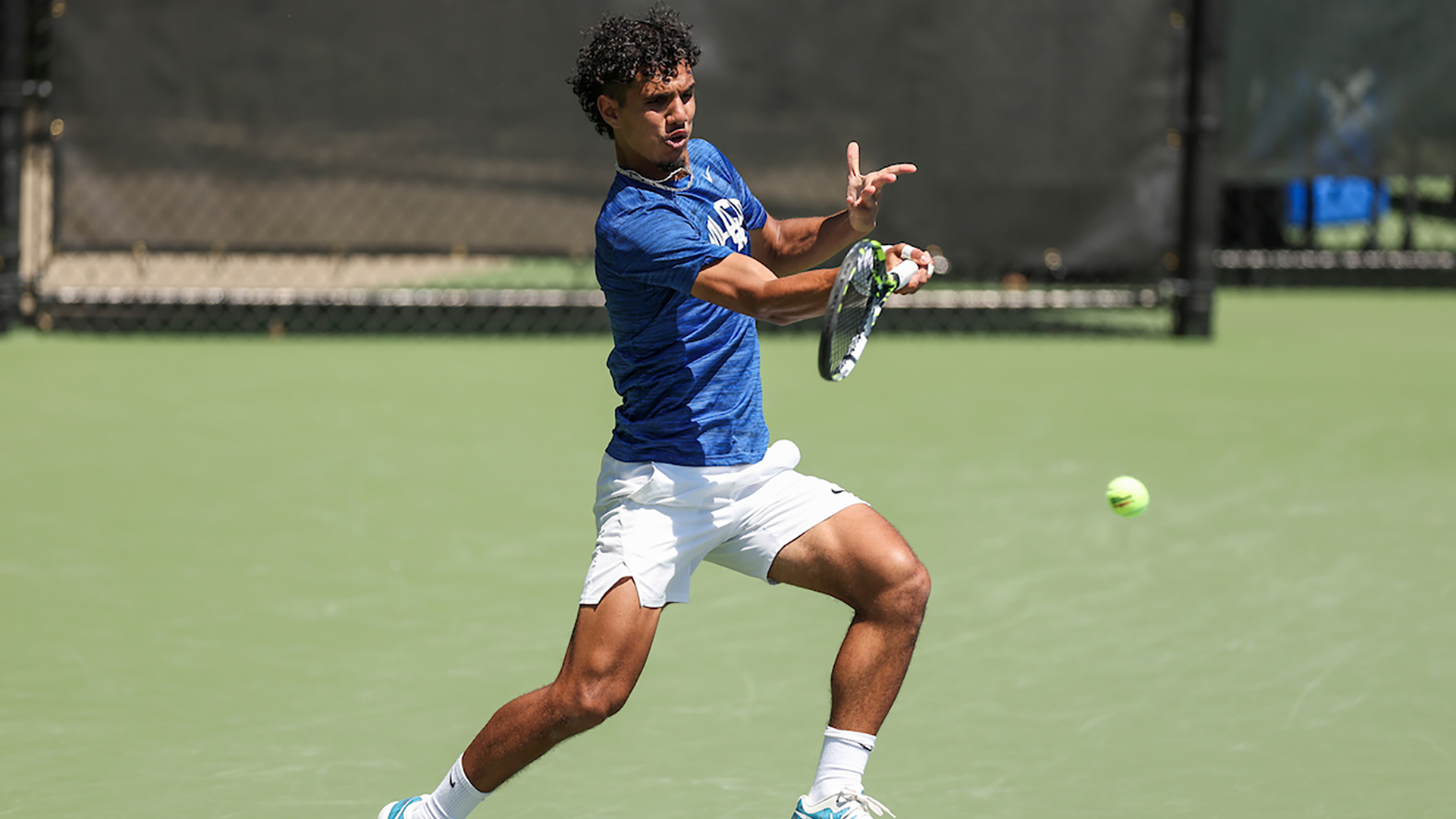 Tennis Cats Handle Business in NCAA First Round
The Kentucky men's tennis team earned the number four seed in the NCAA Tournament after a stellar regular season and an SEC Tournament title.
The Cats were expected to handle first-round opponent Presbyterian College on Friday at the Boone Tennis Center on the UK campus. And Kentucky did just that, winning 4-0 to advance to the second round of this year's NCAA Tournament. There, UK will face Northwestern, who beat UCLA in Friday's first match.
UK wasted no time in jumping ahead on Friday. The Cats took the doubles point when Josh Lapadat and JJ Mercer topped PC's Sebastian Dominguez and Denim Yadav 6-4 to clinch the point.
From there, it was smooth sailing. Kentucky won three singles matches in straight sets to get the four points necessary to secure the victory. Lapadat, Jaden Weekes and Taha Baadi each won their matches, allowing the Cats to move forward.
It was the kind of convincing win that one would expect from one of the nation's top seeds. UK Head coach Cedric Kauffmann was pleased with how his team took care of its business on Friday.
"You can't take those wins for granted," Kauffmann said. "Thirty-two teams are going home and 32 are going forward."
The Cats did not come out overconfident on Friday, making sure to handle the business in front of them. Kauffmann has a simple method for dealing with potential overconfidence on his team.
"I tell them they're not as good as they think they are," Kauffmann said. "At the end of the day, that's what you tell them. They're good, but they're not the best. We haven't proven that. You have to win the NCAAs."
The UK head coach thought his team started slowly but finished strong.
"I thought, naturally, we were a little rusty through the doubles," Kauffmann said. "We've had two weeks off and exam week, so I didn't think it was our best. But the last hour was Kentucky tennis. I think if we can bring that tomorrow, we'll have a good chance."
Baadi won the match-clinching point, beating Yadav 6-1, 6-2. Baadi and his teammates knew better than to look ahead.
"We knew from the start that you can't underestimate anyone," Baadi said. "If you make it to the NCAA Tournament, you're doing some good things and they were on a winning streak, we knew about that. So, we just took it seriously from the start and I think the guys did a good job of taking care of business."
The senior from Montreal knew that the team understood Kauffmann's message loud and clear.
"Ced made sure that he told us how important it is to forget about what happened two weeks ago," Baadi said. "It's about the present. I think the guys got the message pretty clearly."
Kentucky now faces Northwestern on Saturday, with a bid in next week's Sweet 16 on the line. UK will hope to follow a similar formula to what it did on Friday – handling its business like one of the best teams in the tournament.