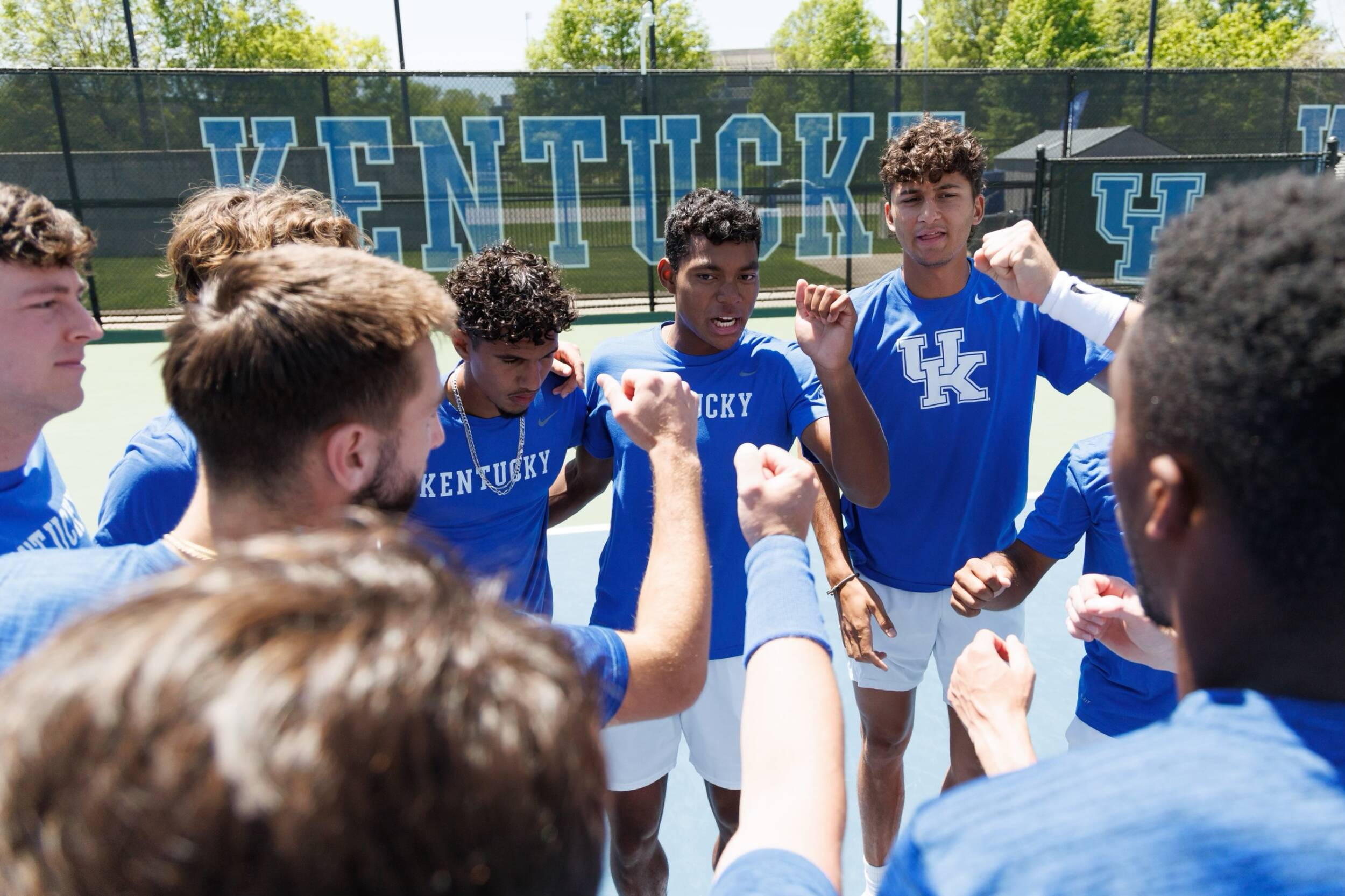 No. 4 Kentucky Delivers 4-0 Victory in NCAA Tournament Opener
LEXINGTON, Ky. – After winning the doubles point and claiming the first set in five of the six matches to start singles play, the No. 4 University of Kentucky men's tennis team (25-4) rolled to a 4-0 victory over Presbyterian (16-10) on Friday in the first round of the 2023 NCAA Men's Tennis Tournament at the Hilary J. Boone Tennis Complex.
Kentucky improves to 33-29 all-time in the NCAA Tournament and 18-9 in first rounds. The Cats have now advanced to at least the second round in each of the last six NCAA Tournaments.
Despite falling on the top court in doubles, Kentucky was able to put a point on the board with wins at the second and third positions. Liam Draxl and Jaden Weekes improved to 13-4 on the season with a stellar 6-1 victory, while Joshua Lapadat and JJ Mercer clinched the doubles point, winning 6-4 over Sebastian Dominguez and Denim Yadav.
The Wildcats took firm control of the match with five first-set victories in singles play, putting the Blue Hose on the ropes. It was the middle of the Wildcats singles lineup which rose to the occasion, sealing the victory and advancing the home team to tomorrow's second round.
Kentucky's singles wins leader, Lapadat breezed to a 6-2, 6-1 result at third singles for his 21st victory of the season to put UK in front, 2-0. Weekes followed, continuing his solid play by upending Presbyterian's David Mamalat, 6-3, 6-2. Mere moments later, Taha Baadi provided his team-leading seventh clinch of the year, dismissing Denim Yadav, 6-1, 6-2 at fourth singles.
Courts one, two and six all went unfinished on the afternoon. Kentucky's Charlelie Cosnet owned a 6-2, 5-1 advantage at the time of the match's end, while Ayeni was in front 7-6, 0-1 at second singles. Draxl trailed 6-7, 1-0 at first singles when the action was stopped.
An all-Wildcat battle is in store for tomorrow when Kentucky meets Northwestern at 1 p.m. The matchup will mark the second-consecutive year in which the two programs have met in the second round of the tournament, with Kentucky winning, 4-2, a season ago. Fans are encouraged to purchase tickets for the event, while live stats and streaming will be available for those unable to attend.
Doubles:
Court 1 – No. 57 Benson/Milanovic (PC) def. No. 28 Ayeni/Baadi (UK): 6-1
Court 2 – No. 67 Lapadat/Mercer (UK) def. Dominguez/Yadav (PC): 6-4
Court 3 – Draxl/Weekes (UK) def. Cariov/Mamalat (PC): 6-1
Order of finish: 1, 3, 2
Singles:
Court 1 – No. 13 Liam Draxl (UK) vs. No. 60 Dusan Milanovic (PC): 6-7 (5), 1-0 (unfinished)
Court 2 – No. 18 Alafia Ayeni (UK) vs. Max Benson (PC): 7-6 (3), 0-1 (unfinished)
Court 3 – No. 59 Joshua Lapadat (UK) def. Sebastian Dominguez (PC) – 6-2, 6-1
Court 4 – Taha Baadi (UK) def. Denim Yadav (PC) – 6-1, 6-2
Court 5 – Jaden Weekes (UK) def. David Mamalat (PC) – 6-3, 6-2
Court 6 – Charlelie Cosnet (UK) vs. Pedro Cardoso (PC) – 6-2, 5-1 (unfinished)
Order of finish: 3, 5, 4
For the latest on UK Men's Tennis, follow the Wildcats on Twitter and Instagram at @UKMensTennis.