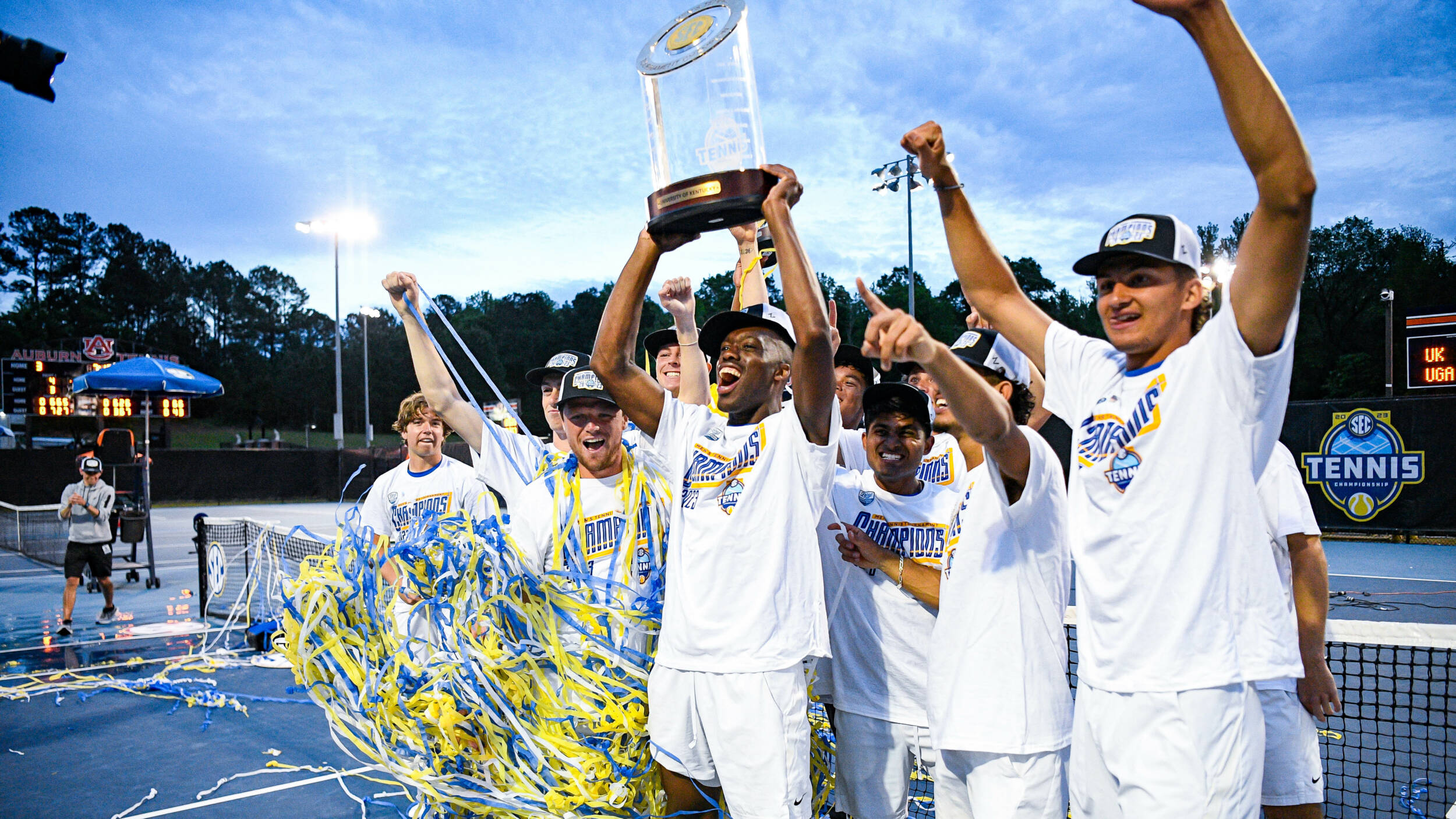 April 23, 2023 - 10:19 PM
Kentucky Beats Georgia for SEC Tournament Title
AUBURN, Ala. – No. 5 Kentucky men's tennis (24-4) claimed the program's second-ever SEC Tournament title, emerging on top in a 4-3 classic against No. 4 Georgia (20-6) on Sunday evening at the Yarbrough Tennis Center.
With the match tied 3-3, all eyes were on court five where Kentucky freshman Jaden Weekes played beyond his years, winning a third-set tiebreaker to clinch the program's first SEC Tournament title since 1992.
"What a win for our program," head coach Cedric Kauffmann said. "We had to battle through tough competition all weekend long, facing match points down against Tennessee and today. It is an unbelievable accomplishment. This was our third final with this group, having played the SEC Tournament Final and NCAA Tournament final last year. They [the team] wanted it really bad. All the players and staff contributed to this win. I am proud of everybody on this team one through twelve. If I had to say anything else, I would say Matt Gordon is the best coach in the country. He has changed our program. Credit goes to him."
Joshua Lapadat earned the tournament's Most Valuable Player award after going a perfect 5-0 on the week between singles and doubles. Weekes was also named to the All-Tournament Team for his title-sealing result in the Championship match.
Georgia struck first with the doubles point going to the Bulldogs after wins on courts one and three. Blake Croyder and Britton Johnston topped Kentucky's Liam Draxl and Jaden Weekes at third doubles, 6-3, before the No. 7 tandem in the nation, Ethan Quinn and Trent Bryde, broke serve in the final game to win at first doubles, 6-4. The second doubles match between UK's Joshua Lapadat and JJ Mercer and UGA's Teodor Giusca and Philip Henning went unfinished with the teams on serve at 5-6.
Kentucky, as it has many times this season, clawed back in singles despite losing four of the six first sets. Lapadat was quick to put a point on the board, knocking off No. 119 Trent Bryde, 6-2, 6-4 for his 20th singles victory of the season and his sixth against a ranked opponent.
Georgia moved in front, 3-1, with wins on courts six and one, putting the Wildcats against the wall for the second-straight day. Ayeni began the comeback quest, storming back after losing the first set to defeat No. 15 Philip Henning 1-6, 6-3, 6-3. The San Diego, Calif. native scored his team-high ninth ranked win of the season and his third this week, keeping the Wildcats alive.
Trailing 3-2, Kentucky needed results in the final two matches and found themselves on the brink of defeat with the Bulldogs serving for the championship on both courts four and five  simultaneously. The Wildcats refused to surrender, however, as both Baadi and Weekes broke their opponents at 4-5 down, forcing play to continue. Baadi soon tied the team score at three, winning the match's final three games to secure the comeback win over No. 101 Blake Croyder, 7-5, in the third set.
That left court five as the only remaining match, where Weekes and Miguel Perez Pena dueled it out in a tiebreaker for the Championship in front of a rowdy bunch of onlookers. After saving two-match points against him, Weekes converted on his first clinching attempt, winning the breaker 9-7 and sending Kentucky home with the trophy in hand.
"It's amazing to play with these guys, to play for these guys," Weekes said. "To clinch the SEC title, I don't even believe it."
Kentucky improves to 9-1 this season in matches ending with a score of 4-3. The Wildcats are also now 2-1 on the season against top-five ITA opponents.
Doubles:
Court 1 – No. 7 Quinn/Bryde (UGA) def. No. 23 Ayeni/Baadi (UK): 6-4
Court 2 – No. 67 Lapadat/Mercer (UK) def. Giusca/Henning (UGA): 5-6 (unfinished)
Court 3 – Croyder/Johnston (UGA) def. Draxl/Weekes (UK): 6-3
Order of finish: 3, 1
Singles:
Court 1 – No. 4 Ethan Quinn def. No. 19 Liam Draxl (UK): 7-5, 6-2
Court 2 – No. 25 Alafia Ayeni (UK) def. No. 15 Philip Henning 1-6, 6-3, 6-3
Court 3 – No. 56 Joshua Lapadat (UK) def. No. 119 Trent Bryde: 6-2, 6-4
Court 4 – Taha Baadi (UK) def. No. 101 Blake Croyder: 3-6, 6-2, 7-6 (7)
Court 5 – Jaden Weekes (UK) def. Miguel Perez Pena: 3-6, 6-2, 7-6 (7)
Court 6 – Teodor Giusca def. Charlelie Cosnet (UK): 6-4, 6-3
Order of finish: 3, 6, 1, 2, 4, 5
For the latest on UK Men's Tennis, follow the Wildcats on Twitter and Instagram at @UKMensTennis.