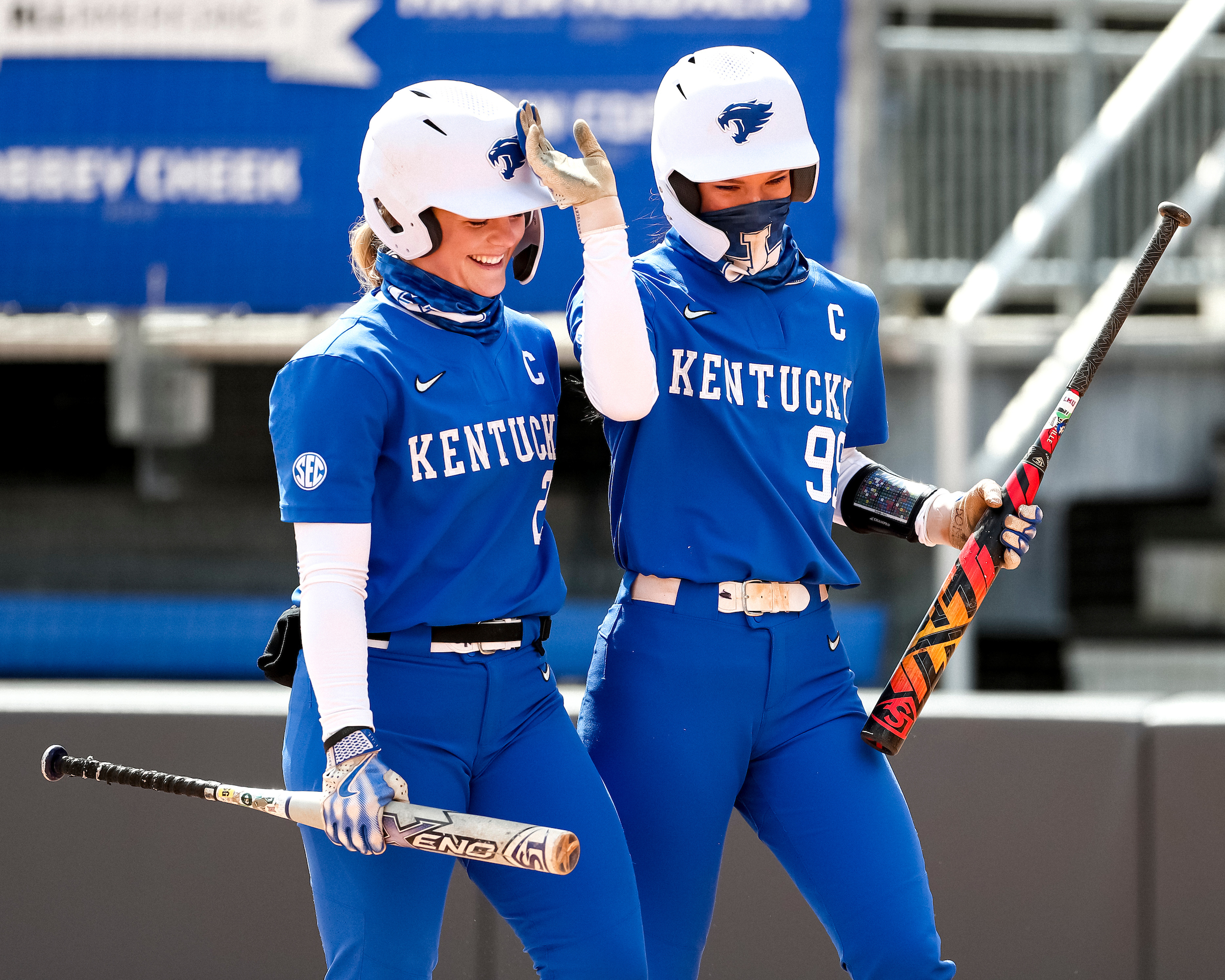 LEXINGTON, Ky. – Kentucky Softball players Erin Coffel and Kayla Kowalik have been named finalists for 2023 USA Softball National Player of the Year, the organization announced Wednesday morning. Their names are two of 25 on the finalists list, and that will be narrowed down to 10 on May 3.
Coffel leads the nation in walks, and recently ascended to second all-time at UK in career home runs with her 14th long ball of the season for her 50th career homer. Tuesday afternoon, she hit a two-run bomb for her 15th of the season and 51st of her career to pull within 10 of Abbey Cheek for the Kentucky all-time lead. She's hitting .424 this season with 15 homers, 48 RBI, 47 walks, nine doubles and 39 total hits.
Kowalik leads all UK players with a .440 average on 59 hits in 134 total AB's. She was drafted No. 8 overall in the second round of the 2023 WPF Draft on Monday night by the USSSA Pride. She has logged a homer, 15 RBI and 10 extra-base hits on the season while hitting leadoff in 39 of Kentucky's 40 games.
The Wildcats host No. 11/12 Arkansas over the weekend for a three-game Southeastern Conference series at John Cropp Stadium beginning on Friday night at 6:30 p.m. ET on SEC Network+ with Dave Baker and Jenny Dalton-Hill on the call. Tickets for all three games of the weekend set are available at UKathletics.com.
The Top 25 Finalists will be narrowed down to 10 athletes on May 3, followed by the Top 3 Finalists set to be released on May 17. The 2023 USA Softball Collegiate Player of the Year will be revealed prior to the Women's College World Series, which is scheduled to take place June 1-9 in OKC. Paired with the USA Softball Collegiate Player of the Year award, USA Softball is also in its 21st season of presenting the ESPN.com/USA Softball Collegiate Top 25 Poll, which is released every Tuesday throughout the regular season.
For the latest on UK Softball, follow the Wildcats on Twitter and Instagram at @UKSoftball.