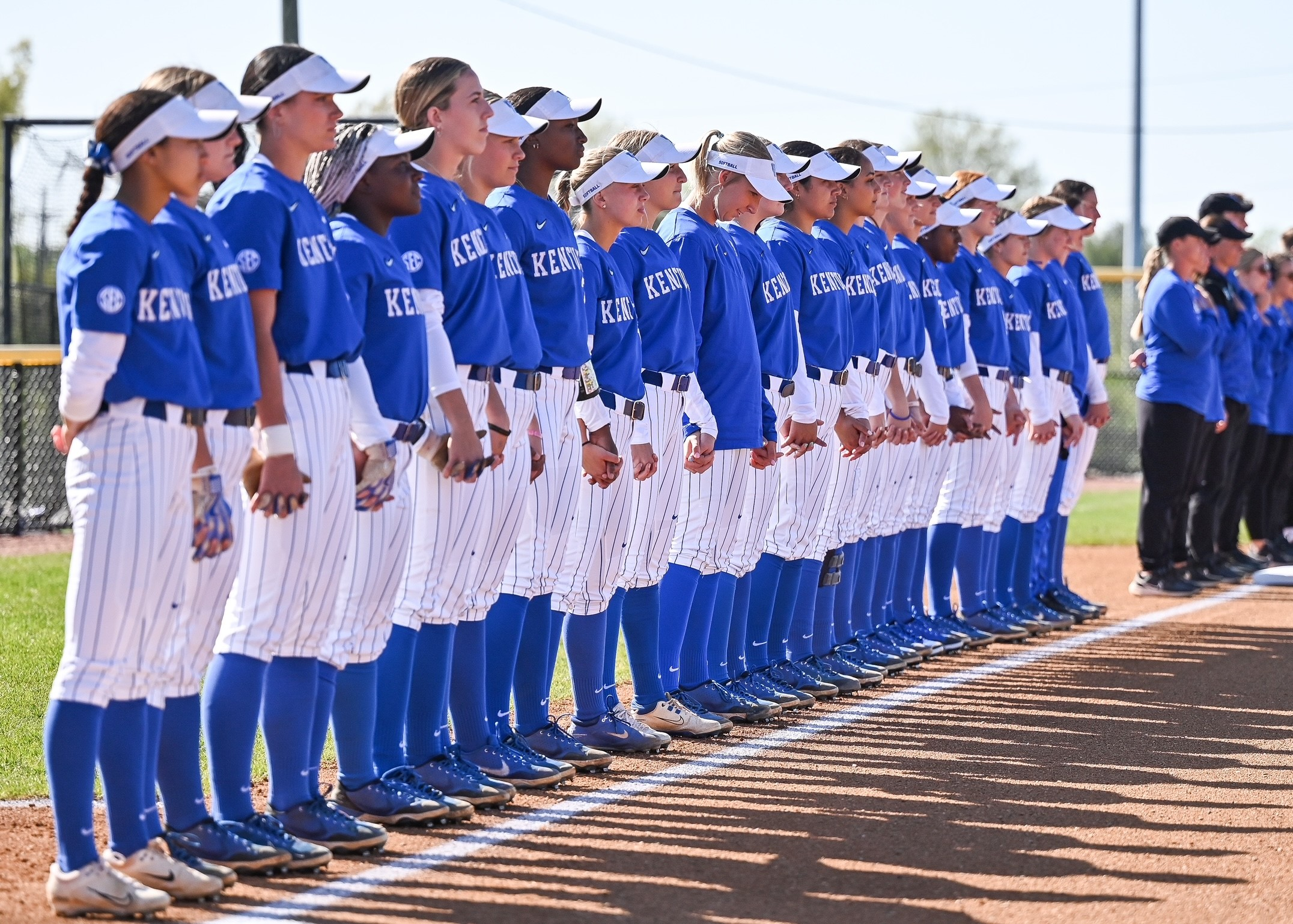 HIGHLAND HEIGHTS, Ky. – The No. 20 Kentucky Softball team rode the arm of sophomore Alexia Lacatena, who threw a one-hit complete-game shutout as the Wildcats won in five innings over Northern Kentucky, 9-0, on Tuesday afternoon just outside of Cincinnati.
Lacatena had six strikeouts and didn't allow a hit until the fifth inning, with one out on a bloop single into center field. The sophomore pitcher threw just 66 pitches and retired 15 of the 18 batters she faced in the game.
The Wildcats took a 1-0 lead in the top of the third thanks to an RBI single by Kayla Kowalik, with the score remaining that way until the top of the fifth, when the UK offense struck for eight runs on six hits in the frame to put the run rule in effect for the contest.
The top three batters in the UK order each had multiple hits, with Vanessa Nesby and Kayla Kowalik both tallying two and junior shortstop Erin Coffel going 3-for-3 including hitting her 15th home run of the season in the fifth inning to put the run rule in effect. Coffel, Kowalik and Sullivan all had multi-RBI games, with Sullivan driving in three on a bases-clearing double.
Kentucky improves to 26-13 overall on the year with Tuesday night's result. NKU falls to 14-27. UK will host No. 11 Arkansas for a three-game series beginning Friday night at 6:30 p.m. ET on the SEC Network+ with Dave Baker and Jenny Dalton-Hill on the call.
Key Play
Kennedy Sullivan cleared the bases with a three-RBI double in the top of the fifth inning to give Kentucky some insurance in the game.
Key Player
Alexia Lacatena was the key player in the game, throwing a complete-game shutout.
Key Stat
Kentucky logged 13 hits in the game.
Run Recap
Kayla Kowalik hit an RBI single into left field to score Vanessa Nesby and give Kentucky the early lead in the top of the third inning to break open the scoring. UK 1, NKU 0
In the top of the fifth, Erin Coffel led off the inning with a single. Kayla Kowalik tripled to left center to score Coffel and Kowalik came around to score on Hallie Mitchell's RBI single into left. Taylor Ebbs doubled for her second extra-base hit of the game to score Mitchell and she was plated along with Meeko Harrison and Margaret Tobias as Sullivan roped a double to the gap in left center. Erin Coffel then hit a home run to left field, her 15th of the season, to close out the scoring. FINAL – Kentucky 9, Northern Kentucky 0
For the latest on UK Softball, follow the Wildcats on Twitter and Instagram at @UKSoftball.