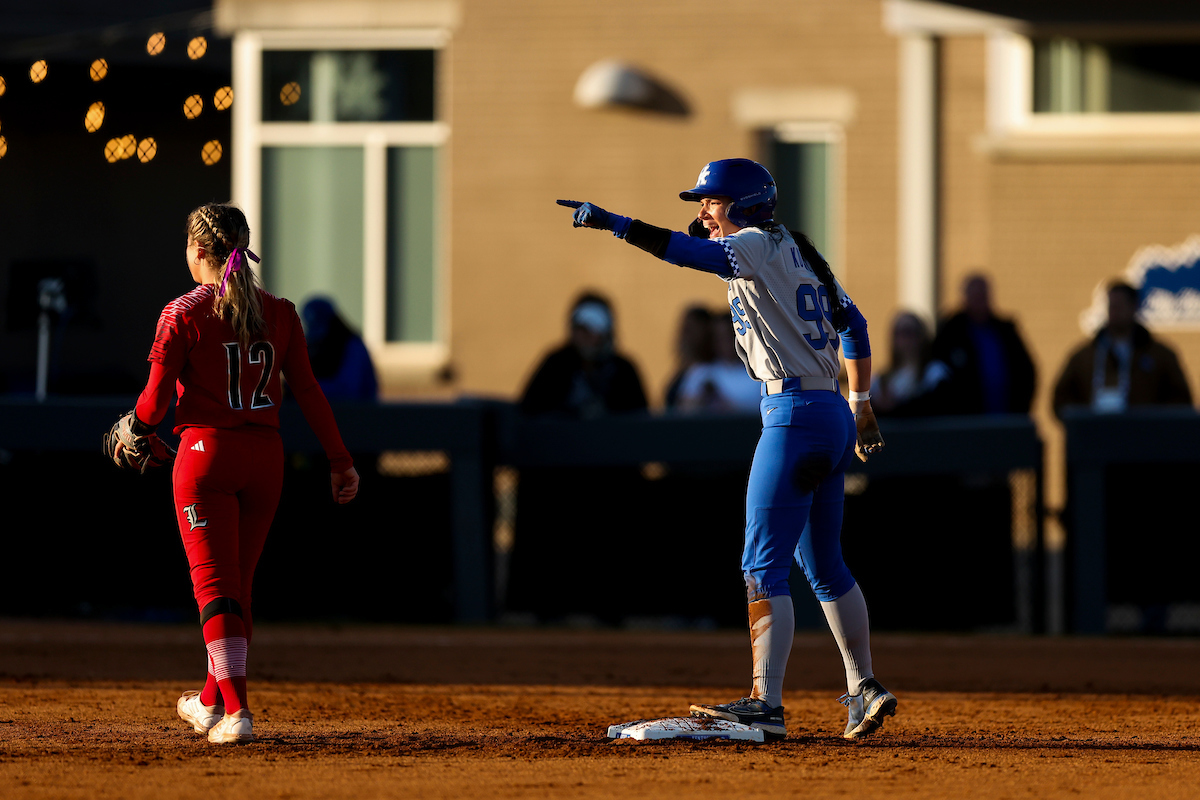 LEXINGTON, Ky. – The No. 6 Tennessee Softball team beat No. 17 Kentucky 10-2 in six innings Saturday to secure the series thanks to a six-hit offensive performance and 4.1 innings in the circle from Karlyn Pickens.
Tennessee with the win improves to 33-5 on the year and holds its game-and-a-half lead in the Southeastern Conference with a 12-2 SEC record. Kentucky falls to 25-12-1 overall and is 7-7 in the SEC.
Game three of the series will be on Sunday at 2 p.m. ET with a live telecast on ESPN2 as Mark Neely and former Texas A&M pitcher Amanda Scarbrough on the call from Lexington. Sunday is sold out.
Tennessee outfielder KiKi Milloy went 2-for-3 in the game with three runs scored and a pair of runs batted in, as she was one of two UT players who had multiple hits in the contest. Eight of Tennessee's 10 runs came from the top three in its order with Milloy scoring three times, Lair Beautae scoring three times and first baseman McKenna Gibson scoring twice.
For Kentucky, Kennedy Sullivan took the loss in the circle, allowing five runs, all earned on 1.1 innings of work. Tennessee's Karlyn Pickens earned the win with 4.1 innings thrown, one run allowed and three hits. Sullivan had a pair of strikeouts in the game and Pickens logged four.
Offensively, UK got two of its four hits from senior Kayla Kowalik, who went 2-for-3 in the game with a single and a double, scoring both of Kentucky's runs in the game as UK's all-time runs scoring leader added to her total. Karissa Hamilton had an RBI double into CF and Rylea Smith had a single in the sixth.
Key Play
The key play in the game was a two-run home run in the top of the second inning off the bat of Kiki Milloy to make it a 5-0 lead for the Lady Vols.
Key Player
Kentucky's key player in Saturday's game was Kayla Kowalik, who went 2-for-3 in the game.
Key Stat
1,887. The crowd of 1,887 was a new season high.
Run Recap
Tennessee scored three in the top of the first on a two-RBI single and a sac fly. UT 3, UK 0
Kiki Milloy hit a two-run home run in the top of the second. UT 5, UK 0
A three-run homer off of Megan Gibson's bat gave Tennessee an 8-0 lead. UT 8, UK 0
In the bottom of the fourth, Karissa Hamilton hit an RBI double to center to score Kayla Kowalik from second. UT 8, UK 1
Tennessee scored twice in the sixth on an RBI double. UT 10, UK 1
Kentucky scored a run in the sixth on a Grace Lorsung RBI groundout that was upheld on review. FINAL – Tennessee 10, Kentucky 2 (F/6)
For the latest on UK Softball, follow the Wildcats on Twitter and Instagram at @UKSoftball.