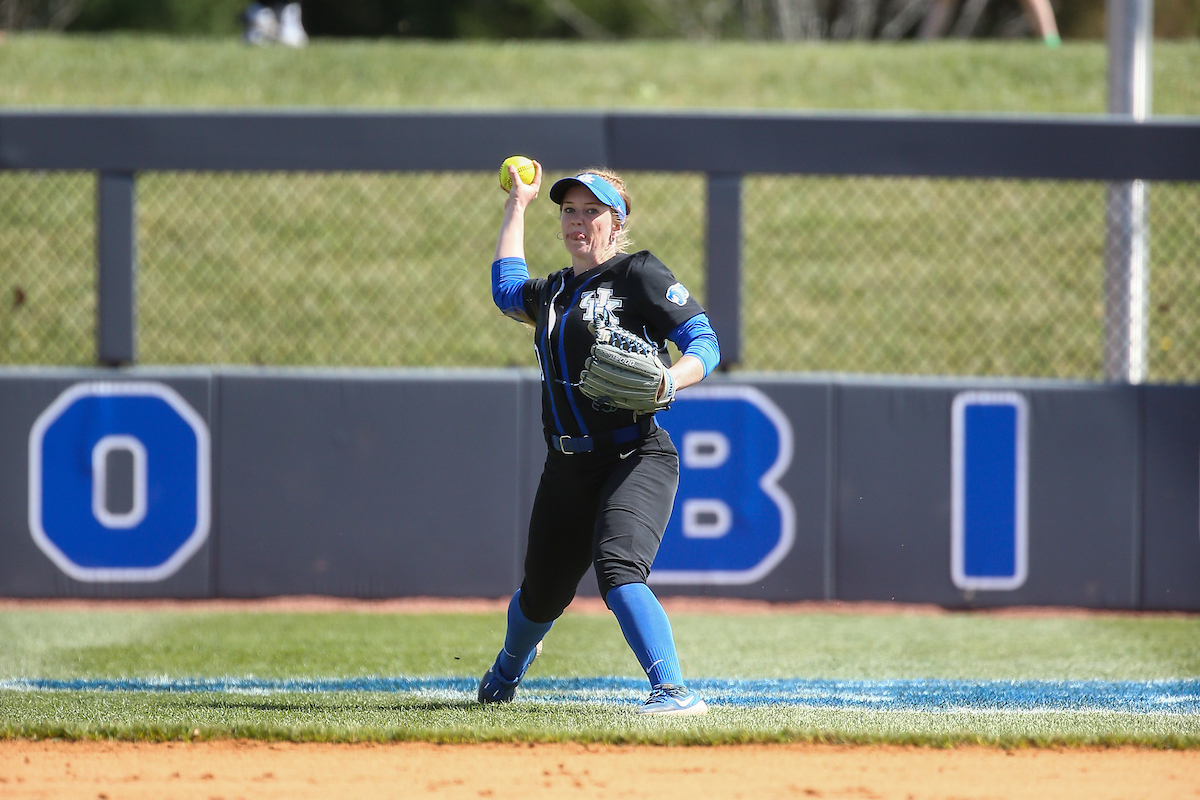 LOUISVILLE, Ky. – Jenna Blanton hit her first-career home run and went 3-for-4 at the plate with four runs batted in and Erin Coffel hit a grand slam, knocking in five runs during the game as No. 17 Kentucky beat Bellarmine 13-4 on Wednesday afternoon in Louisville.
Kentucky's offense exploded for 13 runs on 11 hits, with every UK starter in Wednesday's contest reaching base in the game. The Wildcats had runs in the first, second, third and seventh innings to complete the win, as UK won the first game between the Knights and a power-five team at Bellarmine.
With Wednesday's win, Kentucky improves to 25-10-1 on the year. Bellarmine falls to 4-32 with the loss. Kentucky will host No. 7/8 Tennessee this weekend at John Cropp Stadium beginning Friday night at 6:30 p.m. ET on SEC Network+ and the ESPN app. All three games are close to a sellout with extremely limited tickets remaining, so fans need to buy tickets now before it's too late.
Key Play 
Erin Coffel's grand slam in the top of the third inning was the key play in the game, as four of Coffel's five runs driven in were on that swing of the bat to left field with UK taking a 6-2 lead at the time. UK ended up scoring seven runs in the inning.
Key Player  
Jenna Blanton was the key player in the game, going 3-for-4 with her first-career home run, two singles and four RBI, with two separate two-RBI hits in the contest.
Key Stat 
1. Erin Coffel became the first player in program history to have three seasons of 45+ RBI, as she now has 46 on the season.
Run Recap
Grace Lorsung had an RBI single up the middle in the top of the first inning to score Erin Coffel from second with two outs. UK 1, BU 0
Bellarmine hit a two-run homer in the bottom of the first inning to take the lead after one. BU 2, UK 1
Margaret Tobias had an RBI triple to left center and Jenna Blanton hit a two-run homer to right to score three runs in the inning for UK in the top of the second. UK 4, BU 2
Kentucky scored seven in the third with four coming off the bat of Erin Coffel's grand slam, a walk forcing in a run, and a Jenna Blanton two-RBI single up the middle. UK 11, BU 2
Bellarmine hit another two-run shot in the bottom of the fourth. UK 11, BU 4
In the top of the seventh, Coffel hit and RBI single and an error plated a run. FINAL – Kentucky 13, Bellarmine 4
For the latest on UK Softball, follow the Wildcats on Twitter and Instagram at @UKSoftball.