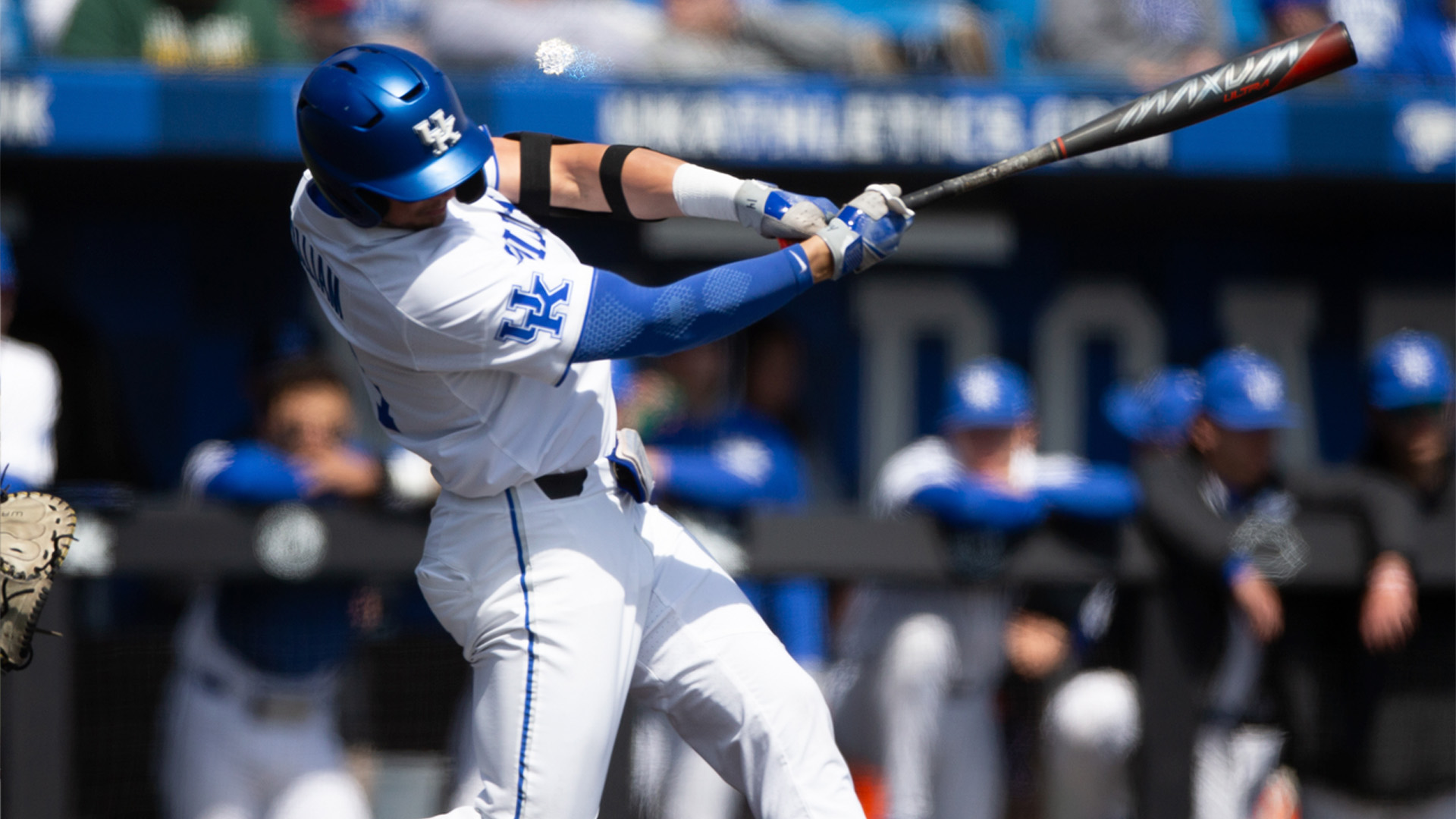 Sweep symphony.
No. 16 Kentucky dodged threats all afternoon to defeat No. 25 Missouri 3-1 on Sunday in front of 2,646 fans at Kentucky Proud Park to sweep the Tigers and secure the best Southeastern Conference start (8-1) in school history.
Seth Chavez induced a mile-high foul popup behind home plate with the bases loaded to close out his first save in blue and move the Wildcats to 25-3 on the season. The win was not without drama though, as Missouri left 16 runners on base in the game and both first baseman Hunter Gilliam and centerfielder Jackson Gray made run-saving defensive plays in the late innings.
Gilliam, who singled in his first at bat to run his hit streak to 21 games, the third-longest at UK since 2005, dove to his left to snare a hot shot down the first base line, keeping two runs from scoring. Gray made a diving grab in center and also threw out a runner trying to go first to third.
Relievers Jackson Nove, Mason Moore, Zach Hise, Ryan Hagenow and Chavez each made important pitches as Mizzou did not score over the final four innings.
NOTES
Kentucky is 32-6 over its last 38 games dating to last season.
UK is 17-7 in its last 24 games vs. SEC opponents.
UK now has 17 wins vs. the RPI Top 100 and 10 vs. the Top 50.
The last time UK won its first three SEC series was 2017, Mingione's first season.
The 8-1 start to SEC play is the best in school history.
UK Coach Nick Mingione is in his seventh season at the helm and now owns a 201-132 career record.

UK is 44-44 in the month of April under Coach Mingione.
Mingione is 11-7 vs. Missouri.
Mingione is 89-43 at Kentucky Proud Park.

UK has scored in 327 of 333 games under Coach Mingione.
The Cats stole one base and now are 54-of-68 on the season.
UK pitchers have held opponents to three or fewer runs in 20 of 28 games.
UK has had a different winning pitcher in each of its eight SEC victories.
Kentucky stranded 16 Missouri runners on base.
UK allowed three runs in the series.

It is the fewest in an SEC series in the 21st
1996, it gave up four to Ole Miss.

First Baseman Hunter Gilliam ran his hit streak to 21 games and he now has reached safely in all 27 games in which he's played.

The streak is the tied for the second-longest at UK since 2005.
He made a diving stop and tag to end a scoring threat.

Catcher Devin Burkes has reached safely in 17 consecutive games.
Outfielder Ryan Waldschmidt has reached base safely in 16 straight games.
Outfielder Jackson Gray has reached safely in 19 consecutive games.

He has been hit by 15 pitches this season.
He legged out two infield hits and made a phenomenal catch of a sinking liner.

Infielder Grant Smith has started all 144 games of his collegiate career.

He has reached in 16 straight games.

Pitcher Seth Chavez picked up his first save in a Kentucky uniform.
 ON DECK
Kentucky will host Dayton at 6:30 ET on Tuesday. It will be streamed on SECN+. The radio call will be on the UK Sports Network (630 AM WLAP, locally).