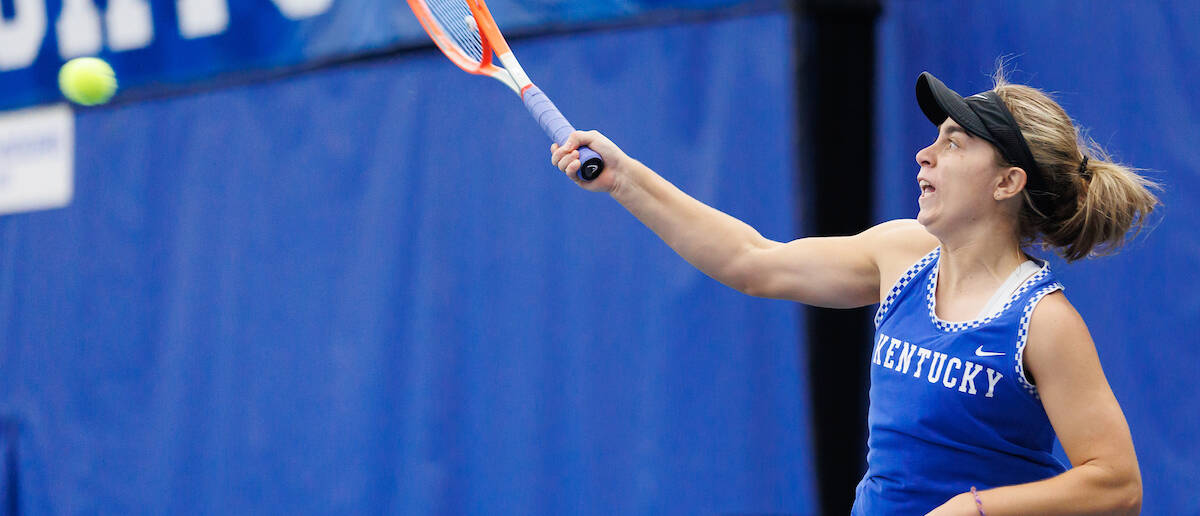 March 26, 2023 - 05:59 PM
No. 45 Kentucky Runs Over Razorbacks for Fifth-Straight Win
FAYETTEVILLE, Ark. – No. 45 Kentucky (12-7, 4-4 SEC) extended its season-long five match win streak, defeating No. 65 Arkansas (9-8, 3-5 SEC) 5-2 at the Billingsley Tennis Center in Fayetteville. With today's victory, Kentucky has now won three consecutive Southeastern Conference matches for the first time since April of 2017.
The Wildcats found victory through a total team effort, backing up their ranked stars with solid play throughout the lineup. Kentucky won at least one set on all six singles courts, in addition to going a perfect 2-0 in doubles play. SEC Player of the Week candidate Florencia Urrutia, Carlota Molina, and Lidia Gonzalez all turned in 2-0 performances on the day.
The doubles lineup from Kentucky continued its stellar form, improving its 2023 record to 14-3. Gonzalez and Urrutia kicked off play in high gear, racing to a 6-1 win at third doubles. Needing only one more set to clinch, the top Wildcat pair of Molina and Elizabeth Stevens did not mess around. Ranked No. 63 in the nation, the duo claimed a 6-4 victory on Court 1 to gift the early lead to the visitors. Molina and Stevens are now 5-0 since Molina's return from injury. Zoe Hammond and Ellie Eades had just begun a tiebreaker at No. 2 doubles when play concluded.
The Wildcat momentum was sustained into singles action, as Kentucky claimed first sets on four of the six courts. No. 48 Urrutia continued her hot play, winning her fourth straight match at No. 1 Singles. The senior from Santa Fe, Argentina claimed a 6-2, 6-4 decision, marking her third consecutive win over a ranked opponent in SEC action.
Arkansas was able to claim one point back, as a furious comeback attempt by Hammond fell short. Despite not winning a game in the opening frame, Hammond fired back to win the second set, 6-1. After falling behind an early break in the decider, Hammond got back on serve before ultimately falling short, 0-6, 6-1, 4-6.
With its lead trimmed to 2-1, Kentucky would never let the match get any closer, rattling off three consecutive points to seal the deal.
Senior Maialen Morante continued her stellar play over the past two weeks, as improved her undefeated conference mark to 4-0. With another straight sets win on Court 6, Morante has yet to drop a set in SEC play this year.
Needing only one more point to claim its fifth victory in a row, Kentucky turned to Gonzalez, a sophomore from Madrid, Spain, to close the door on any Razorback comeback. Playing at No. 5 singles, Gonzalez roared back from a 3-6, 0-3 deficit to give her team the win. Winning 12 of the final 14 games of the match, Gonzalez clinched the Kentucky victory with a 3-6, 6-3, 6-2 decision on Court 4.
Playing on her birthday, Molina, a senior from Gran Caneria, Spain, sealed her undefeated day with a straight sets victory at No. 3 singles, winning 7-5, 7-6 (4). Despite leading 5-2 in the second frame and losing her first six match points, Molina buckled down to force the set into a tiebreak, where she ultimately claimed victory.
Arkansas was able to claim one final singles win at No. 2 singles, as Eades could not sustain an early lead against No. 85 Gomez. Despite the loss, Eades' first set tiebreak victory was the first set win of her young Wildcat career against a ranked opponent.
After playing its last four conference matches on the road, the Wildcats will finally return to the friendly confines of Hilary J. Boone Varsity Tennis Center for two SEC matches next weekend. Kentucky will open up a two-match set against the constituent members of the SEC from Alabama on Friday afternoon. The Cats will square off against No. 11 Auburn on March 31 at Noon EST before hosting No. 58 Alabama for a Sunday matinee, beginning at Noon EST on April 2.
Both matches will be available to watch on Track Tennis and fans can follow along with live stats as well. As always, admission to home matches at the Boone is free to the public.
RESULTS
Kentucky vs. Arkansas
Doubles
No. 63 Stevens/Molina (UK) def. No. 23 Spink/Cross (UA) 6-4
Hammond/Eades (UK) vs. Stara/O'Donnell (UA) 6-6 (unfinished)
Gonzalez/Urrutia (UK) def. Gomez/Keller (UA) 6-1
Singles
No. 48 Florencia Urrutia (UK) def. No. 79 Keller (UA) 6-2, 6-4
No.85 Gomez (UA) def. Ellie Eades (UK) 6-7 (4), 6-0, 6-2
Carlota Molina (UK) def. Spink (UA) 7-5, 7-6 (4)
Lidia Gonzalez (UK) def.  Stara (UA) 3-6, 6-3, 6-2
Cross (UA) def. Zoe Hammond (UK) 6-0, 1-6, 6-4
Maialen Morante (UK) def. Harvey (UA) 6-3, 7-5
Order of Finish:
Doubles— 3, 1
Singles— 1, 5, 6, 4, 3, 2
For the latest on UK Women's Tennis, follow the Wildcats on Twitter and Instagram at @UKWomensTennis.