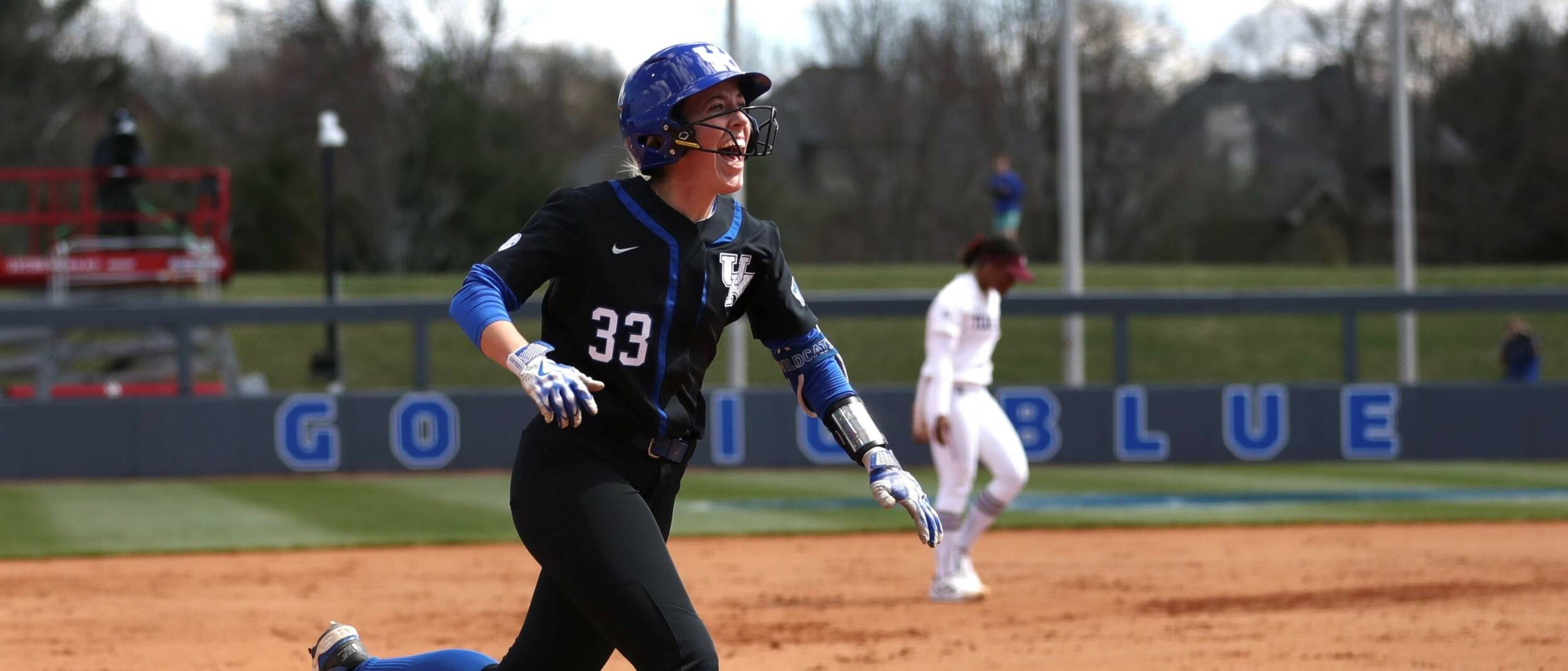 *Grace Lorsung's seven RBI (tied, not broke as the first edition of this story said) the school record set in 2022 by Erin Coffel in the 2022 NCAA Regionals vs. Miami (OH)
LEXINGTON, Ky. – Grace Lorsung tied a school record with seven runs batted in for a single game and Kayla Kowalik broke the school record with her 455th career total base, but the No. 11 Kentucky Softball team lost both games of a doubleheader, 14-13 and 10-0 against Texas A&M.
Kentucky scored five runs in the bottom of the first inning of game one with four of them coming on a grand slam off the bat of Lorsung to left field. With a 5-0 lead, the Wildcats then succumbed 14 runs on 11 Aggie hits to close out the game. Texas A&M tied the game at 5-5 before an Erin Coffel bases-clearing double to center gave UK an 11-6 lead with six outs to get going to the sixth.
The 13 runs scored by UK is the most in program history without winning the game.
In the sixth inning, the Aggies scored three runs to cut into the Kentucky lead before scoring five runs thanks to two home runs in the top of the seventh to take a 14-11 lead going into the bottom of the seventh. In the bottom half, Lorsung got her sixth and seventh RBI of the game with a homer to LF, but a strikeout ended the game for the Aggies.
In the second game, Kentucky lost 10-0 after surrendering a run in the first, three in the third, four in the fourth and two in the fifth spread out across three pitchers. Texas A&M run-ruled the Wildcats, winning 10-0 in five.
Kentucky falls to 19-7-1 on the year and is now 3-2 in the Southeastern Conference. Texas A&M improves to 19-10 and 4-4 in the league.
The series concludes Sunday at 1 p.m. ET from John Cropp Stadium
For the latest on UK Softball, follow the Wildcats on Twitter and Instagram at @UKSoftball.