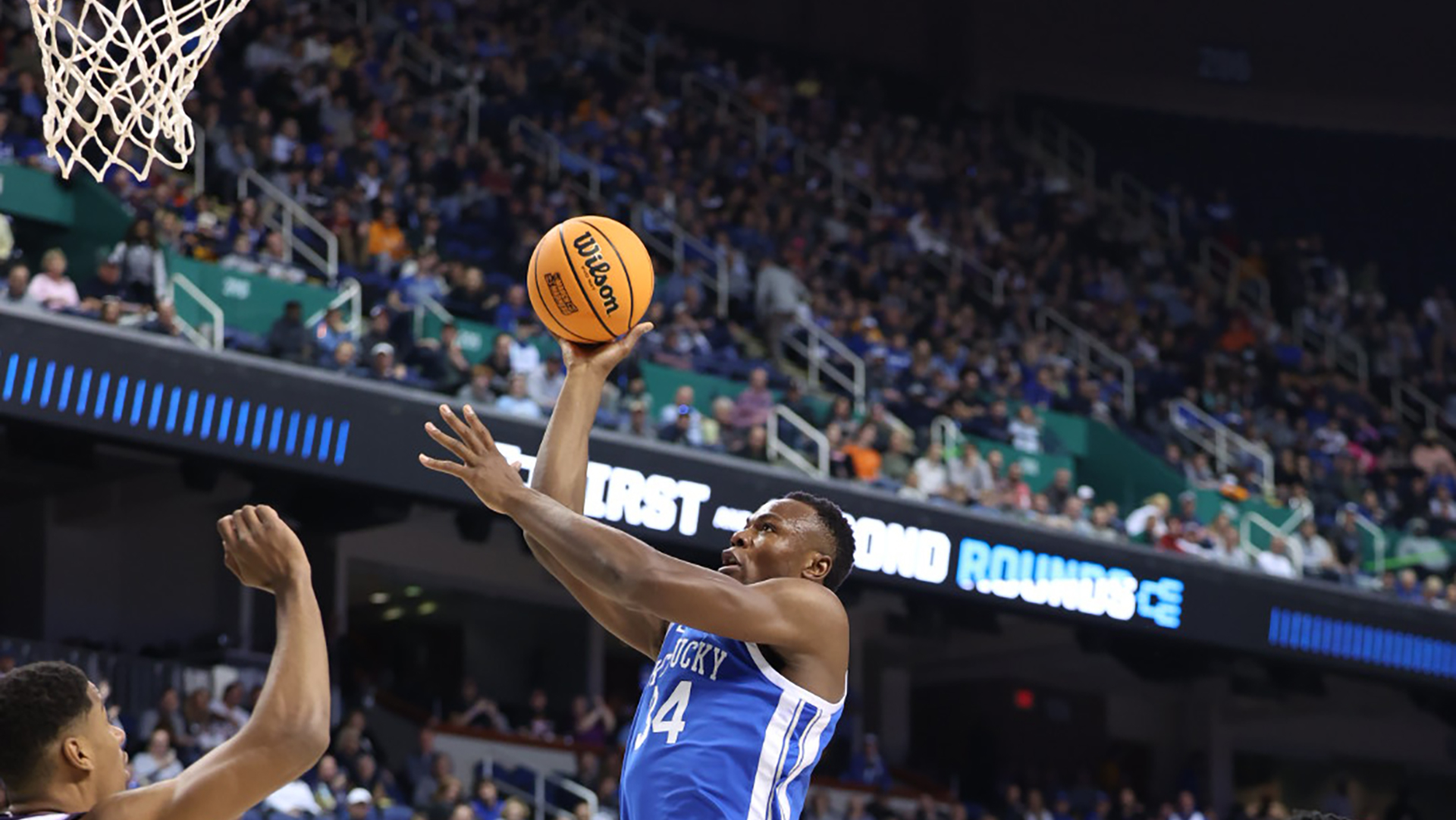 March 19, 2023 - 07:26 PM
Kentucky Falls to Kansas State in NCAA Tournament
Oscar Tshiebwe had 25 points and 18 rebounds, but third-seeded Kansas State used a late 13-2 run to beat sixth-seeded Kentucky 75-69 in the second round of the 2023 NCAA Men's Basketball Tournament on Sunday in Greensboro, North Carolina.
Freshman Cason Wallace had 21 points, nine rebounds and four assists for the Cats, while classmate Chris Livingston had 11 points and seven rebounds.
The blue-clad Cats struggled offensively for most of the game. Kentucky made 26 of 63 (41.3 percent) from the floor, including just 4 of 20 (20 percent) from three-point range. UK also committed 16 turnovers in the game.
Kentucky led for 14:34 of the first half, but the Cats went cold at the end of the first half, missing nine of their final 10 field goals and K-State closed the first 20 minutes on a 12-4 run to lead 29-26 at the break.
The purple-clad Wildcats got the first two points of the second half to lead by five, 31-26. That's when the Cats from Lexington responded, scoring nine in a row, including five from Wallace, to lead 35-31 and force a Kansas State timeout. The Cats would get four more points after the timeout to complete the 13-0 run and to take a 39-31 advantage.
Kansas State would respond with eight points in a row to tie the game at 39-39 with 14:32 to play. K-State would go ahead 47-43, using a 6-0 run to grab a four-point lead and force a Kentucky timeout with 10:15 to play.
UK would get a three from Livingston out of the timeout to get within one. Those were the first points in a 17-9 run that gave Kentucky a 60-56 lead with 3:58 to play.
That's when K-State went on its decisive 13-2 run to take a 69-62 lead. From there, Kentucky could get no closer than four points, which came on a Reeves three with eight seconds to play.
Kentucky finishes the 2022-23 season with a 22-12 record.