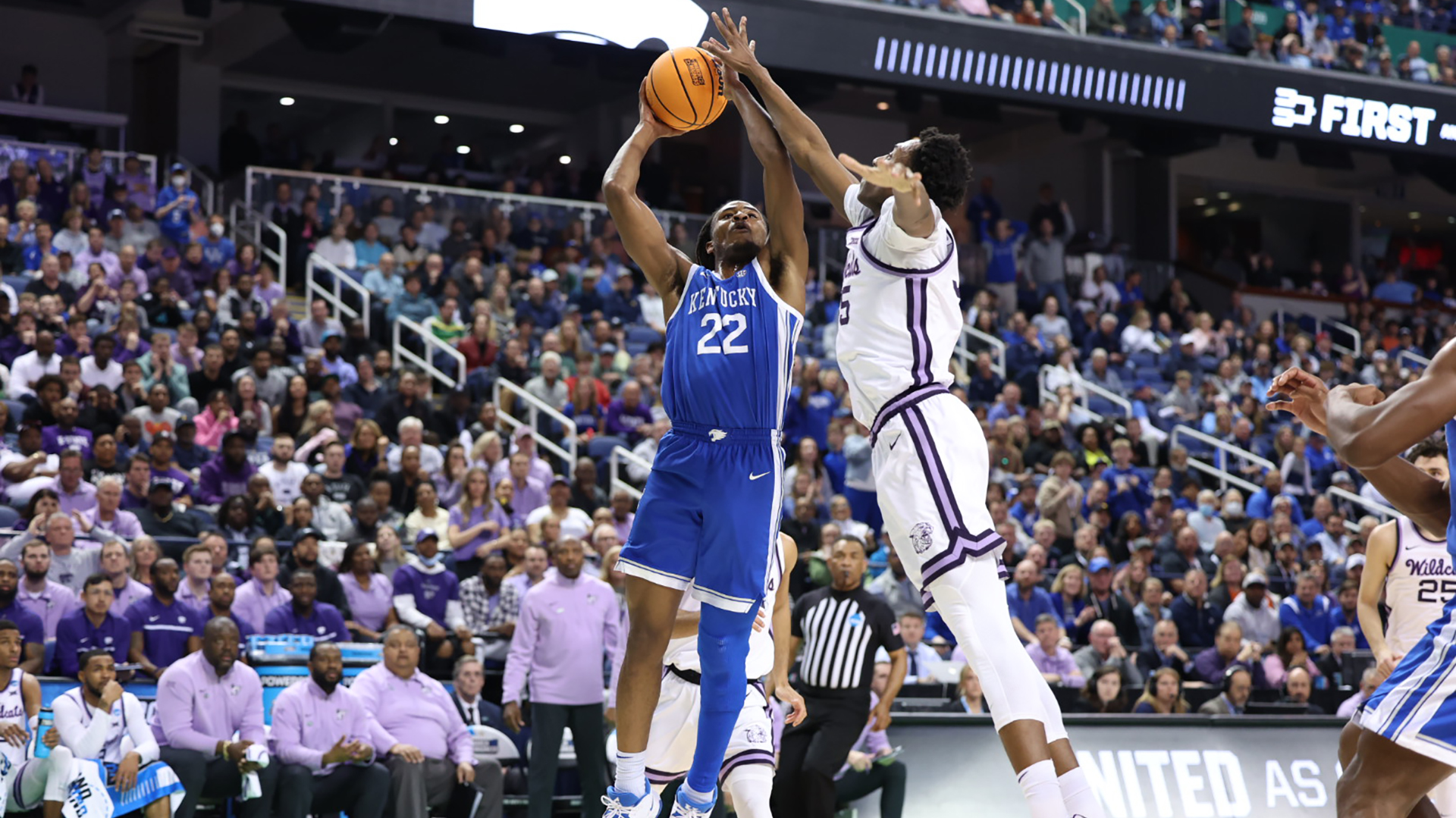 March 19, 2023 - 07:30 PM
Kentucky-Kansas State Postgame Quotes
March 19, 2023
John Calipari
Cason Wallace
Chris Livingston
Greensboro, North Carolina, USA
Greensboro Coliseum
Kentucky Wildcats
Media Conference
Kansas State 75, Kentucky 69
JOHN CALIPARI: Tough way to end. We had some guys really fight like crazy and then had a couple of guys offensively not play their game the way they played all year, but that stuff happens in this tournament.
We did a pretty good job on Johnson, and he makes that three. The little kid makes a three. He made a deep three. We miss a couple, and all of a sudden it gets out of hand.
These kids fought. They never stopped, these two. Oscar was — again, did some special stuff.
Q. Coach, and then the players can answer as well. You did a really good job defensively on them on three-pointers in the first half. I believe they were 0 for 12. They were 5 for 9 in the second half. Was it a matter of them doing something different to get better looks, or was there something else?
JOHN CALIPARI: Who was shooting? We did. The guys, I told them at halftime — the guys that we wanted to shoot the ball shot the ball. We've got to keep playing those other couple of guys.
The second thing is we had 11 turnovers at halftime, and I said, you did the same thing to Providence, and that's why they have breakout layups. If you held those breakout layups and we finished the half a little bit better, it's a different story. We only had five turnovers in the second half. So there were things we did.
But you can't go 0 for 20 or 1 for — you can't in these games. And then we say how? You know, you look at the shots and say, oh, my gosh, you know.
Like I told them after the game, what this team had been through individually, as a group, how they stayed together. They loved each other. They covered for each other. They were there for each other, and they worked their butts off for us as a staff and me as a head coach and each other.
But the guys that made them, you think about who made them. They did not shoot them. They shot a couple, but not that many in the first half.
Q. Cal, how tough is it for this team when you — you know, you count on Antonio a lot offensively, and he doesn't score his first points until 23 seconds are left and his first field goal until 6 seconds.
JOHN CALIPARI: It hurts you, but I don't want to put it on him. We had other guys that didn't post much either, and so it wasn't just one guy.
Then you are left to playing one way, and that's to try to throw it in to Oscar or try to get one of these two to get a basket, and Chris got that offensive rebound and made a three in the corner. Cason was — you think about it. Here's a guard who has played solely point guard, which has made him a better player, but he goes 9 for 11 and gets nine rebounds. What? We outrebound them by 19.
We only have five turnovers in the second half, and we lose? And we lose. So, again, when you look at that, you can't — in these kind of games, you've got to make those shots. You've got to make baskets. You've got to make those free-throws.
Oscar made free-throws, I mean, down the stretch. All we were trying to do is, all right, let's get this. It's the only way we're getting baskets.
Q. John, you have talked a few times this week about how every job is tough, and they come with their own things that make them difficult. But, obviously, one of the things that makes your job tougher than some is the expectations that surround Kentucky. As you mentioned, the number of things that probably went your way to still lose, is there a sense of — or do you empathize with the sense of frustration that I'm sure some Kentucky fans feel right now about kind of where things are?
JOHN CALIPARI: I have empathy. I understand what this program is about. I think, again, that's what makes it what it is, and that's why I tell players, this isn't for everybody because the expectations are so high.
The same with coaching. It's not for everybody. This thing is — there's a high expectation level, and it is Kentucky. You put that on. The other team is going to play out of their minds, and they're going to play like they have nothing to lose.
That means you've got to play that way. So, yeah, I understand it, but, you know, my concern are these kids, and I tried to keep what you are saying off of them. Obviously, with a couple maybe I didn't do as good a job as I thought I did. I wanted them to just play, have fun, enjoy the experience. You know, make the plays you make, take what they give you.
Q. Cason and Chris, I know your freshman year didn't end as you would hope, but how would you reflect on your year in Lexington?
CHRIS LIVINGSTON: Like Coach said, this group has been through a lot. It was definitely like a journey of ups and downs. We fought with each other. We learned a lot of things about each other. Learned about each other as a group and as individuals. So, you know what I'm saying, I feel like it's a lot, but I wish we could have continued our season on today, but I feel like we had a lot of things to be proud about looking back on the season for sure.
CASON WALLACE: I loved every moment of this year. I mean, getting to know each one of these players. Even as players, but as men and growing a bond with them. Even with Coach and the staff, I mean, I made some lifelong friends here.
CHRIS LIVINGSTON: Most definitely.
Q. Cal, I'm not trying to shift the focus too quickly to next season, but all six of year seniors can come back. What for you is hopefully the timeline on when you would talk to them about what their role would be if they do decide to come back next year?
JOHN CALIPARI: My guess is they will all leave. That's my guess, but I have not talked to them all.
You know, I think you start winding down this COVID stuff where that's your extra year, but these kids accomplished a lot. We'll sit down. Now is not the time. I hugged them all after the game, told them I loved them, and appreciated everything they've done.
But those conversations will be for a little later date.
Q. John, do you feel like the things that hurt you in games that you lost this year, those things happened again in this game, or do you think this was just a different game?
JOHN CALIPARI: First of all, let me give Kansas State credit. They played really rough. They played active with their hands, especially in the first half. And they made basketball plays at the end that we did not make. So give them credit.
But, yes, this is what happened in certain games. You know, you turn around, and you are, like, guys, you can't — you don't have to make them all. You just can't miss them all.
And we've had games like that. It's, you know — you just hope in the NCAA Tournament you can go on a run. And I thought after the first game where we fought, and we didn't shoot it great, but I thought that was a good sign.
Talking to friends of mine, they were like, You are due for a big shooting night. You guys are due. You know, I was trying to, as these two know, trying to build up Antonio for two days: You're going to have a great game. You're going to shoot it.
Then throughout the game we just kept telling him what? Keep shooting. Shoot it. Just wasn't that day for him, and it wasn't his fault. We had other guys not make any shots either.
So, you know, that happens in this sport, but, yes, those — again, you out-rebound them, you have five turns in the second half. These two play the way they do. Oscar plays the way he does. You needed one more guy to play and go get baskets and play with that swagger that you have to play with in this tournament.
Q. John, with about a minute left in the half, you pulled Oscar and a few other guys. I was wondering, did you consider calling a time-out?
JOHN CALIPARI: Yes, I did, and I should have, and I told them at halftime I should have. But we came out the second half and got up, so it didn't hurt us.
But, yes, that — to get them back in. I didn't want Oscar to get a second foul. That's why I took him out. Then they were shooting. Yeah, I told them I should have called a time-out right then.
They come down. We throw it away, and they make that shot. But, again, we got up. We had our chances.
That wasn't what it was. I told them, just make it up for me, and they did. Came out in the second half, and they played well.
THE MODERATOR: Coach, guys, thanks.
FastScripts Transcript by ASAP Sports