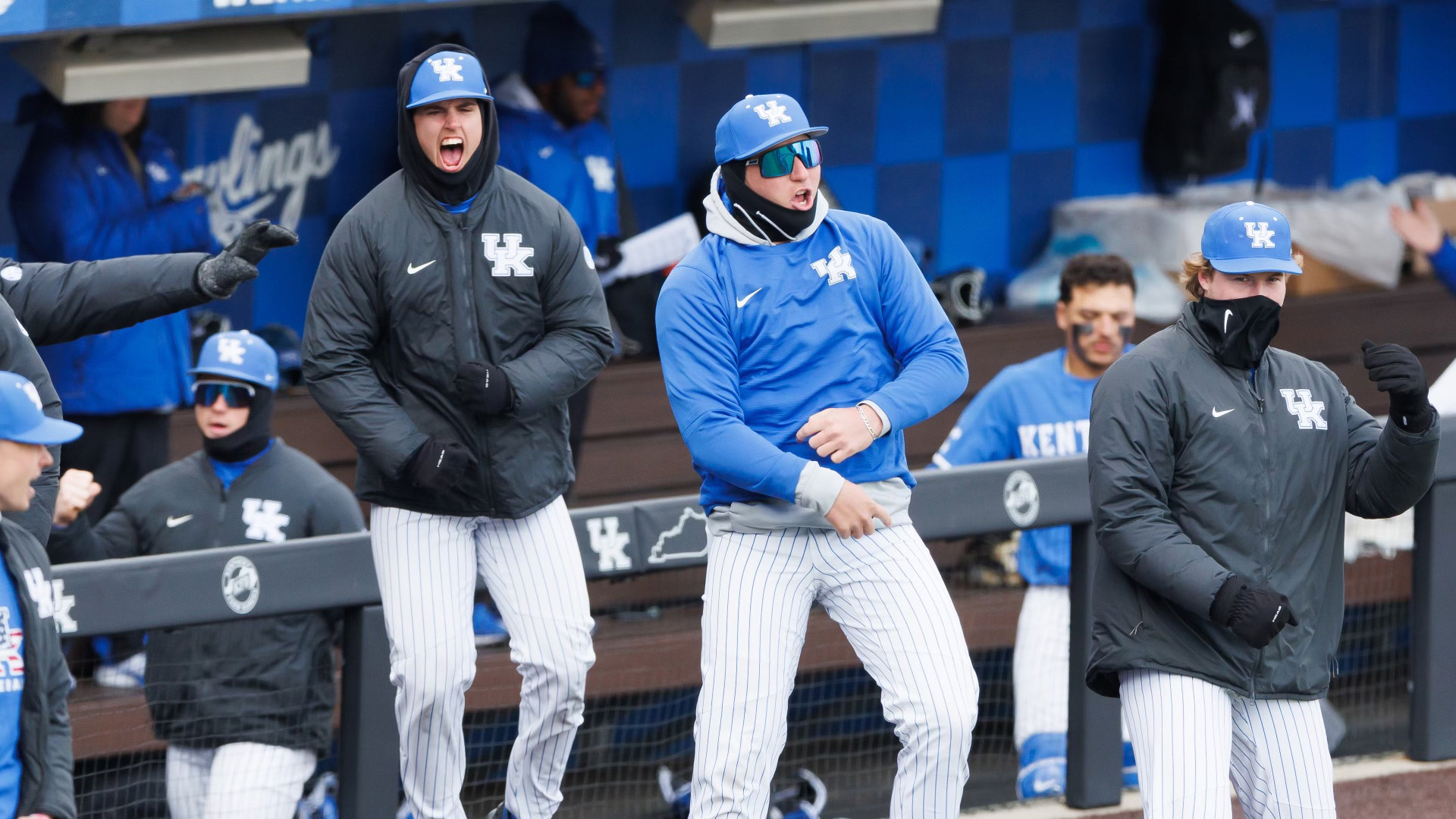 Kentucky stormed the gates on Saturday, erasing a three-run hole and scoring a dozen unanswered runs en route to claiming the first Southeastern Conference series of the season with a 12-3 victory over Mississippi State at Kentucky Proud Park.
Hunter Hines gave the Bulldogs a 3-0 lead in the fourth inning with a pair of home runs before the Wildcats (17-2, 2-0 SEC) tied the game with a 413-foot blast by Hunter Gilliam. An inning later the Cats added five more runs and the rout was on, leaving UK with a chance to sweep its first conference series since traveling to Auburn in March of 2021.
James McCoy added the first home run of his collegiate career, the Cats stole seven bases and Ryan Hagenow threw 4.1 innings of one-hit, scoreless baseball out of the bullpen to earn the victory. Eight Cats had hits in the game and UK now has scored 51 runs in its past 32 innings.
NOTES
UK Coach Nick Mingione is in his seventh season at the helm and now owns a 193-131 career record.

UK is 79-33 in the month of March under Coach Mingione.

UK pitchers have struck out 186 through 19 games.
UK pitchers have limited opponents to three or fewer runs in 14 of 19 games.
UK has scored in 318 of 324 games under Coach Mingione.
UK has drawn 15 walks and four hit by pitch in the series
UK stole seven bases in the game.
UK scored five runs in the fifth, the 15th time this season it has scored four or more runs in an inning.
UK has scored 51 runs in the past 32 innings.
First baseman Hunter Gilliam has started 132 consecutive games at the collegiate level.

He has reached safely in all 19 games this season and owns a 13-game hit streak.
He hit a 413-foot three-run home run, his fourth, in the fourth inning.

Infielder Grant Smith has started all 135 games of his collegiate career.
Outfielder Jackson Gray drew his 12th hit by pitch of the season, which ranks in the top five in nation.
Infielder Emilien Pitre has reached base safely in 17 consecutive games.
Infielder/Outfielder James McCoy hit his first career home run, a two-run shot in the seventh inning.
Pitcher Ryan Hagenow threw 4.1 scoreless innings of relief, allowing just one hit and striking out five.
ON DECK
Kentucky will try to sweep a series vs. Mississippi State on Sunday at Noon ET at Kentucky Proud Park. The game will be aired on the SEC Network. The radio call will be on the UK Sports Network.