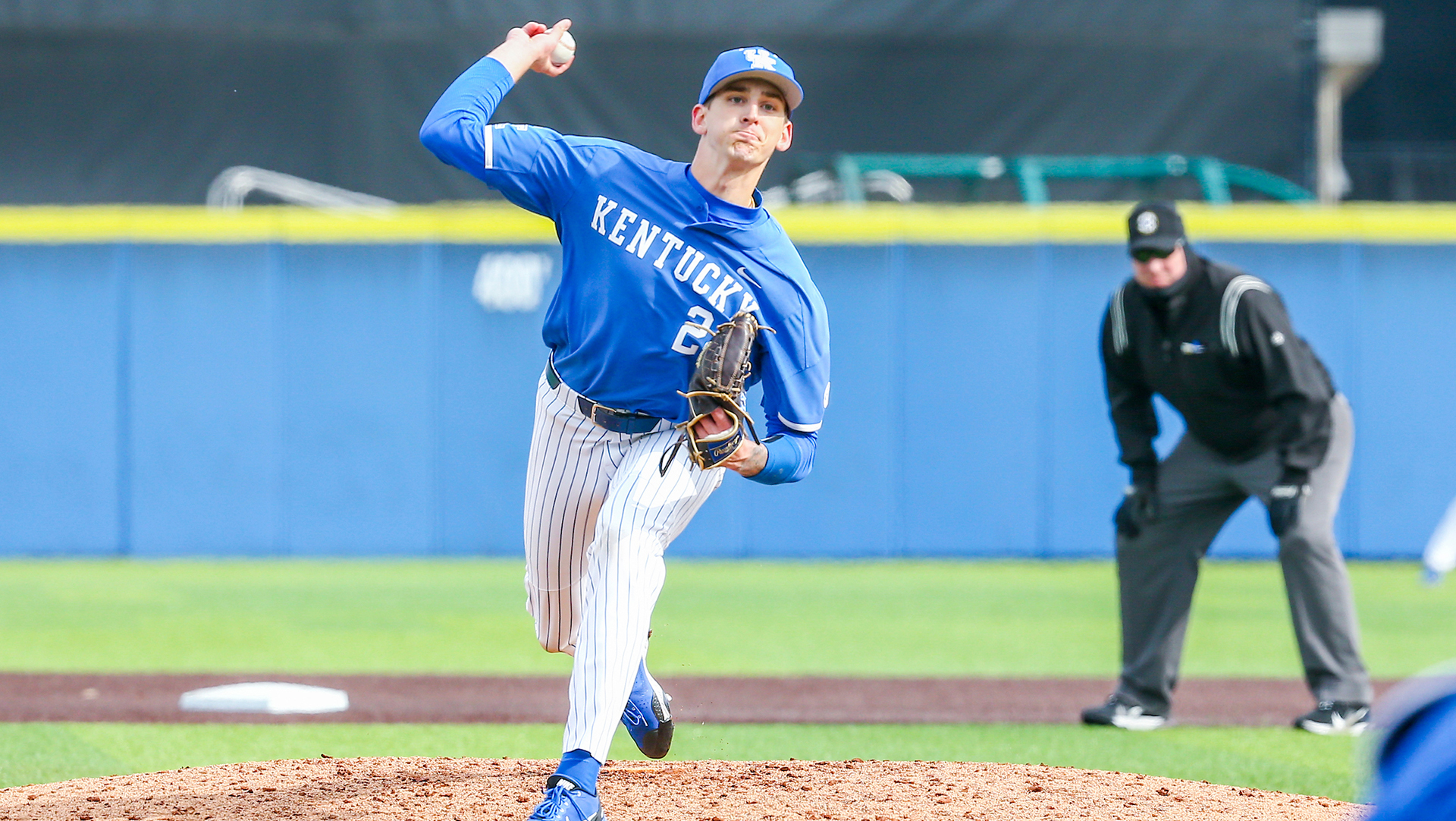 The Kentucky baseball team won its 13th straight game on Saturday, topping Mississippi State 12-3 at Kentucky Proud Park. With so many runs on the board, it would make sense if the player who made the biggest impact in Saturday's game was a hitter. But that was not the case.
While Saturday's victory was definitely a team effort, the player who probably had a bigger impact than anyone was winning pitcher Ryan Hagenow. The right-hander came into Saturday's game in the fifth inning with a runner on second and two outs. He induced a ground ball but a throwing error allowed MSU's Bryce Chance to reach base. However, with runners on the corners and still two outs, Hagenow got Ross Highfill to strike out, ending the inning.
As an experienced player, Hagenow was not bothered by the pressure of what he faced.
"I came into that situation and, being a junior, I've been in that situation multiple times," Hagenow said. "I just tried to do what I do best, try to pound the zone. I've got eight guys out there who are willing to put their bodies on the line to make a play. Just trusting in them and attacking the other team."
In the bottom of the fifth, the Cats broke the game open with five runs, taking an 8-3 lead in the process. From there, Hagenow was in control.
He allowed a leadoff double in the sixth but pitched his way out of a potential jam. That included one of the two fine defensive plays that Hagenow made on the day.
In that sixth inning, Hagenow caught a line drive off the bat of Slate Alford, then doubled off Kellum Clark at first base to get out of a two-on, one-out rally. In the eighth inning, Hagenow fielded a hot grounder up the middle and threw Luke Hancock out at first.
In all, Hagenow would retire the final 10 batters he faced. He finished with 4.1 innings pitched, allowing just one hit and no walks while striking out five. He needed just 60 pitches to finish out the game. And, more importantly, UK was able to save its bullpen for Sunday's series finale.
Hagenow has now pitched 12.1 innings this season and has yet to allow a run. He has given up just four hits and three walks while striking out 18. He attributes his success this season to a couple of things.
"I think definitely being mature and pretty much being in every situation possible," Hagenow said. "Also, being one of the older guys that younger guys can ask questions (of) kind of boosts my confidence a little bit."
With the win, the Cats clinched the series with Mississippi State and will look for the series sweep on Sunday. Hagenow played a key role in Saturday's win, just as he has done in all seven of his appearances this season. And despite the Cats' offensive heroics, it was Hagenow keeping the Bulldogs off the board that won the game for UK.