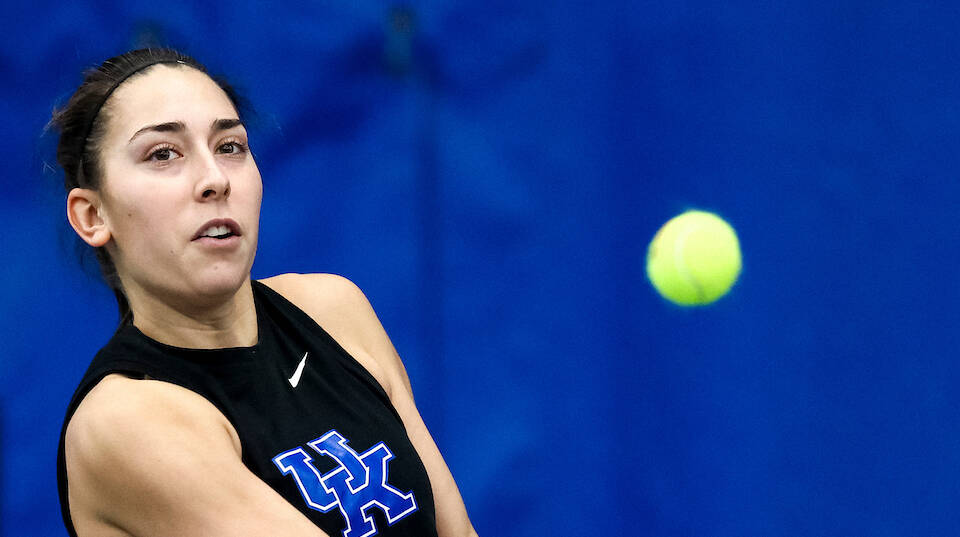 March 17, 2023 - 09:51 PM
No. 68 Kentucky Foiled By Furious Gamecock Comeback
COLUMBIA, S.C. – No. 68 Kentucky (7-7, 1-4 SEC) scored the first three points of the match, but a massive singles rally by No. 34 South Carolina (7-6, 2-2 SEC) secured the win for the homestanding Gamecocks.
Kentucky began the match with stellar play in doubles, securing the opening point of the dual for the 11th time in 14 matches. Rolling with the same lineup for the fourth consecutive match, Kentucky rebounded from a Court 2 loss to claim victory on Courts 1 and 3. Ellie Eades and Zoe Hammond, partners for every match this season, were the first Wildcat duo to win, triumphing 6-2 over the Gamecock's third pair. The clincher was found on the top court by Elizabeth Stevens and Carlota Molina, defeating Ayana Akli and Allie Gretowski, 6-3.
The Wildcats momentum was sustained into singles play, as the Cats took first sets at the bottom three singles slots. However, inclement weather spawned over the Carolina Tennis Center, prompting a half-hour delay and a move indoors.
Despite the interruption, Kentucky managed to expand its lead. Playing in her first Southeastern Conference match of the season, senior Maialen Morante cruised to a 6-2, 6-2 triumph at No. 6 singles to double the Wildcat Advantage.
Freshman Zoe Hammond was not far behind, battling through a tight first set before dominating the second to claim a 6-4, 6-1 victory on Court No. 5.
Only needing one more point to clinch the match, Kentucky found itself in numerous tight sets and matches. However, with their backs against the wall, South Carolina won the remaining singles courts to escape with the victory.
No. 74 Urrutia responded from a 6-1, 5-1 deficit to make things interesting against No. 7 Akli, but she was not able to secure one more break to complete her comeback, allowing Carolina to place their first point on the board.
Playing against the other half of the Gamecock's top-15 singles duo, Elizabeth Stevens came out on the wrong end of a match filled with momentum swings. Down 5-2 in the first, the junior from Tigard, Oregon battled back to 5-4, but was immediately interrupted by the weather delay. Unable to serve the set back to an even score line, Stevens responded fiercely, winning all six games of the second frame. However, No. 14 Hamner would return the favor, claiming the match with a 6-0 third set victory.
South Carolina was able to tie the match up thanks to a straight set victory at No. 3 singles. Molina was able to get back on serve after 5-2 deficits in each set, but Carolina's Gracie Mulville was able to hold firm to claim the match victory.
With the match coming down to Court No. 4, Misa Malkin was able to complete the match's only full comeback, defeating Kentucky's Lidia Gonzalez 1-6, 6-2, 6-2. The win capped off the Gamecock's reverse sweep and marked the third time the Wildcats have lost by a 4-3 scoreline this season.
Kentucky will continue its four-match SEC road trip by travelling to Gainesville for a Sunday afternoon showdown with No. 18 Florida. The Wildcats and Gators will square off at the Alfred A. Ring Tennis Complex with first serve scheduled for Noon ET.
RESULTS
Kentucky vs. South Carolina
Doubles
Stevens/Molina (UK) def. Akli/Gretkowski (SC) 6-3
Hammer/Mulville (SC) def. Urrutia/Mills (UK) 6-1
Hammond/Eades (UK) def. Malkin/Otis (SC) 6-2
Singles
No. 7 Akli (SC) def. No. 74 Florencia Urrutia (UK) 6-1, 6-4
No. 14 Hamner (SC) def. Elizabeth Stevens (UK) 6-4, 0-6, 6-0
Mulville (SC) def. Carlota Molina(UK) 6-4, 7-5
Malkin (SC) def. Lidia Gonzalez (UK) 1-6, 6-2, 6-2
Zoe Hammond (UK) def. Mills (SC) 6-4, 6-1
Maialen Morante (UK) def. Gretkowski (SC) 6-2, 6-2
Order of Finish:
Doubles— 2, 3, 1
Singles— 6, 5, 1, 2, 3, 4
For the latest on Kentucky Women's Tennis, follow @UKWomensTennis on Twitter, Facebook and Instagram, as well as on the web at UKAthletics.com.